Healing Waters Bible Study
A resource review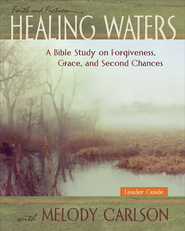 The book:Healing Waters Leader Guide: A Bible Study on Forgiveness, Grace and Second Chances
By Melody Carlson
Published by Abingdon Press
Why I picked up this book:
I have several books come across my desk every day at work. With so many books vying for my attention, a book needs to be unique and purposeful in order to grab my attention. Healing Waters was exactly that. As a Bible study that incorporates a fiction series, I was skeptical right away of its ability to bring about spiritual growth in my life. I doubted its power to use fiction in a way that could truly bring deep, biblical, spiritual transformation. Once I started the first week's study, it didn't take long for me to change my cynical attitude.
Who should use Healing Waters:
I would recommend this Bible study specifically to those who love reading novels. It's a great way to strategically incorporate pleasure-reading with Bible reading. Melody beautifully weaves both together to bring forth reflection and growth—spiritually and emotionally.
What's in store for you:
Healing Waters uses the Christian fiction series The Inn at Shining Waters as a backdrop to explore difficult topics like forgiveness, grace, relationships, and community in eight group sessions. While reading the novels alongside the Bible study is not required or necessary to learn and grow, Melody claims it will enhance your understanding of the characters used as examples throughout the study.
For participants, each day's reading will take approximately 20 to 30 minutes. Each day includes sections for Scripture reading, reflection questions, prayer, and a suggestion for the day—an easy way to respond and reply to what you learned. You'll be challenged to make yourself vulnerable as you reflect deeply and share what you learn. As a small group, you'll learn from each other and grow closer as you share examples from your own life related to the themes of redemption and healing.
As a leader, you'll have a comprehensive leader's guide that will equip you with talking points and discussion questions to keep your group members engaged and encountering truth each week. Because I know how different each of my various Bible study groups are, I really appreciated that the leader's guide offers an additional 30 minutes of material to choose from so you can easily tailor the study to your group. However, my Bible study groups rarely have enough time to discuss a topic for 25 minutes—let alone the 60 minutes originally scheduled!—so I wish the study would have offered a shorter, 30-minute option. And while there is a short video interview with the author to watch each week, I felt like the interviews were solely a promotional guide for the fiction series and for the author.
My personal takeaways:
I was surprised at how well the major themes of The Inn at Shining Waters series were combined with Scripture. The novels complemented the study well by giving examples of how grace, forgiveness, friendship, and more can play out in our daily lives.
I was especially impacted by the Week 5 theme, the value of community. It took me back to journey through Genesis 2, and I was reminded that we were not meant to live in isolation. "We were created in the image of a relational God, and we were meant to connect with and share our lives with other human beings," Melody says. "To live in community with others is a gift, and one that we should wholeheartedly embrace."
Twitter-worthy quotes:
"Leaning into forgiveness means leaning into God for support and healing."
"No matter our heritage…we are loved and provided for by a God who will never fail us."
Another Bible study I would recommend on this topic:
"The Freedom of Forgiveness" from Today's Christian Woman
Natalie Lederhouse is the editorial coordinator for Today's Christian Woman. She has several years of experience working in women's ministry, creating, editing, and leading women's Bible studies.