Leader, Don't Take Yourself So Seriously
Remember, we live by the power of Christ's perfection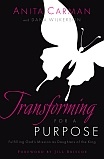 When I was in corporate America, my company's leaders would use fear as an incentive to get the young consultants to work hard. I had attended an orientation session with the top graduates from Harvard, Stanford, Cornell, and MIT, which meant I was surrounded by people who were used to succeeding. The pressure to perform and the pressure to outperform myself stressed me out. I couldn't understand why being successful was so important, yet I worked hard to achieve success in my work because I constantly feared failure.
But when God took over my life, something dramatic took place. I still worked hard, but not because I believed my human flesh could attain perfection. I worked hard as my humble act of service for a God who is perfect, knowing that He has already covered my imperfections. My freedom came from reading Romans 3:22-24: "This righteousness from God comes through faith in Jesus Christ to all who believe. There is no difference, for all have sinned and fall short of the glory of God, and are justified freely by his grace through the redemption that came by Christ Jesus." Did you hear that? We all sin. We all fall short of God's glory. These verses took me from the arrogance of thinking that I could do anything perfectly to realizing that only God is perfect. In fact, I learned that if I could accept my imperfections I could relax and not put unrealistic demands on myself.
Psalm 103:15-16 helped me to take myself less seriously. It reads, "As for man, his days are like grass, he flourishes like a flower in the field; the wind blows over it and it is gone, and its place remembers it no more." When I ask myself, "What will this matter a hundred years from now?" I find myself letting go of details that used to send me into a tailspin. The fact is that when I am gone, the world will remember me no more. The only thing that matters is that I have done my best to leave God's fingerprints behind me.
One of the greatest truths that helped set me free is found in Romans 8:3-4: "For what the law was powerless to do in that it was weakened by the sinful nature, God did by sending his own Son in the likeness of sinful man to be a sin offering. And so he condemned sin in sinful man, in order that the righteous requirements of the law might be fully met in us, who do not live according to the Spirit."
What these verses teach us is that God's Son was the only one who was able to fulfill the perfect requirements of God's law. God is the only one who has succeeded in everything. Jesus lived a perfectly holy life and then went to the cross to pay the price for our imperfections. He then offers us the gift of forgiveness for those same imperfections. More than that, He gives us the opportunity to fully meet God's standards "according to the Spirit." We live the full requirements of God according to the Spirit by admitting that in our human flesh we cannot attain perfection. The only way we can be perfect is by simply receiving Christ's perfection. Then by faith, we allow God to live His perfect life through us.
So how do we live our lives by the power of Christ's perfection? First, we no longer try to be impressive. We acknowledge that we have missed the standard. We then accept the gift of Christ's perfection and know that He has all the answers. We ask God to show us His answers, and we get out of the way by not arguing with Him. Instead, we offer our lives as a living sacrifice and say to God, "All my energy belongs to You. All my creativity belongs to You. All my diligence belongs to You. Use them as You will, and direct me to solve this problem or reach this goal." Are you so focused on successfully completing your goals by your own power that you have overwhelmed yourself? Perhaps it's time to focus on the perfection of Christ and then trust Him to show you day by day how to reach His goals.
The key to releasing your fear of failure is to give God your life as an act of worship and let Him control the results. If you have given God your best, then rest in knowing He is pleased with you. At the end of the day, He is the only person you work for. You exist to fulfill His purposes, not anyone else's. Colossians 3:23-24 teaches us, "Whatever you do, work at it with all your heart, as working for the Lord, not for men, since you know that you will receive an inheritance from the Lord as a reward. It is the Lord Christ you are serving."
Adapted from Transforming for a Purpose: Fulfilling God's Mission as Daughters of the King. Copyright 2009 by Anita Carman. Used by permission of Moody Publishers.