No More Stones
I thought I was beyond redemption, but I learned to accept God's love for me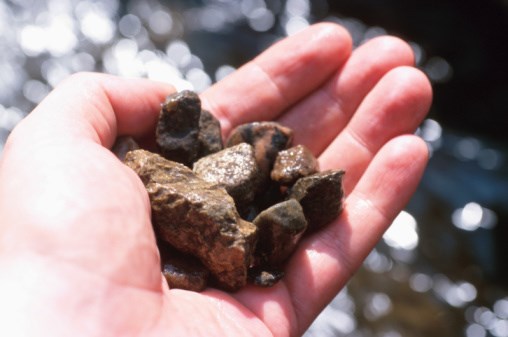 The first time one hit me, it hurt. After multiple hits, I became numb to the pain. The stones thrown at me no longer scared or hurt me. As a twice-divorced women, I faced accusers, the greatest one being myself. To avoid the stones, I relinquished the call God had placed on my life to serve and work with others. I rejected grace and accepted the judgment of others and myself. But although I gave up on God's call in my life, God did not.
John 8:1-11 provides my portrait, and possibly yours. A woman scorned for her lifestyle and offered no hope of redemption, or so she was led to believe as the Pharisees placed her "in front of the crowd." Her sin was on display for everyone to see, for everyone to judge. Eager to throw stones, the Pharisees asked Jesus, "Teacher, this woman was caught in the act of adultery. The law of Moses says to stone her. What do you say?" This question was met with a moment of silence. As onlookers awaited the response, the woman awaited the stones. But Jesus provided something none of them expected.
In his grace and mercy, Jesus responded not with stones, but with a shield of grace and mercy for the woman. Jesus answered the Pharisees' question, "All right, but let the one who has never sinned throw the first stone!"
The Pharisees, ready to attack, stood stunned. Each one walked away. No stones were to be thrown on that day, only grace and mercy were to be hurled. Ready to be stoned to death, the woman wrestled with the redemption she was facing. Jesus rose from writing in the ground and asked, "Where are your accusers? Didn't even one of them condemn you?"
The woman answered, "No, Lord."
And Jesus said, "Neither do I. Go and sin no more." She rose not as an adulterous woman, but as a redeemed woman.
Before experiencing God's redemption, I clung to the stones in my life. I carried stones of rejection, defeat, worthlessness, and self-condemnation. Like the woman the Pharisees displayed, I felt I was always before a crowd, ready to be judged and condemned. While others placed some of these stones within my life, I gladly tied many of them to myself. Even though I accepted God's offer of mercy and grace, I could only stare at the ground ready to be stoned.
However, God is persistent in his pursuit of us. He poured grace and mercy on me until finally I broke through the weight of rejection, worthlessness, and all the other stones heaped on me. Of course, this breakthrough did not occur overnight or in a week. It was a process to be endured, but a process I gladly accepted.
Part of the process I had to embrace was being a divorced woman in ministry and dating a minister. For the first few months of my time in ministry as well as in a relationship with a godly man, I felt like the little kid who wanted the toy displayed in the store window. I could see the good things but believed they weren't meant for me. I could not accept the good that was happening to me because I didn't believe I deserved it. And I didn't. However, God doesn't give us what we deserve. He gives us gifts: mercy, grace, hope, joy, redemption, and more. As I have continued walking in the redemption and grace God provides, I have become enamored with his grace, his mercy, his love.
I once walked in despair, believing that was my only option. I was prepared for the stones. Now I am prepared for grace and love, not because of who I am, but because of who he is. You also can be prepared for God's grace, redemption, and love.
Like the woman in John 8, you may live with your head hung low. You may be afraid to look people in the eyes, afraid of what stones they may throw. You even may be afraid to look at yourself because of your own self-condemnation. With your head hung low, all you can hear is the rustle of hands in the dirt, looking for the right stone. However, if you listen closely today, you will hear one other sound: your Father writing in the sand. Maybe he's writing you a love letter, maybe writing a word of hope to you, but the most important thing is that he is standing between you and the crowd. He is shielding you in love, grace, hope, and redemption.
As a woman in ministry or a woman facing the beauty in your life, you may be struggling with accepting God's love for you. But remember Romans 8:1 tells us, "So now there is no condemnation for those who belong to Christ Jesus." You are free in Christ! You are his daughter bought with a price (1 Corinthians 6:20). His grace is a gift to you. Because of the blood Christ shed on the cross, you can rest assured that "Sin is no longer your master, for you no longer live under the requirements of the law. Instead, you live under the freedom of God's grace" (Romans 6:14).
Battle the self-condemnation and self-defeating thoughts by embracing the truth of God's Word. It hasn't changed in 2,000 years and neither has he! He still believes you are fearfully and wonderfully made in his image and you are a member of a royal priesthood belonging to him (Psalm 139:14; Genesis 1:27; 1 Peter 2:9).
You are a beautiful creation covered in God's grace, mercy, and redemption. No longer do you need to listen for the sounds of the stones, but only the sounds of God's voice. You have been called "according to his purpose" (Romans 8:28). Do not doubt the call God has placed on your life to minister to others or the love he lavishes upon you. He has called, and he will use you to display his glory!
Peri Gilbert is the life group coordinator at The Simple Church in Bossier City, La.