The Disillusionment Solution
The One Thing Every Leader Needs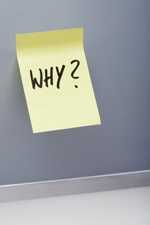 We all have moments, as leaders, when we want to give it up. Maybe you just want to hide after someone critiques your event or questions your decisions, when you're weary from holding others up as they fall apart, or when you feel dry and disconnected from God even as you give it all to serve him.
When those moments come, all I want is a one-way ticket out of my zip code–and a really long nap. But what I truly need in those times is something to cling to when leadership gets tough. And it's in these moments when I ask myself, "Why am I doing this, anyway?"
The reminder of the "why" is what every leader needs. The "why" is an important, sometimes scary question to ask ourselves. The "why" re-centers us on what got us into leadership in the first place. And whether your leadership influence is over a small group that meets in your home or a large, complicated organization, moments of disillusionment are also opportunities to clarify our vision. Here are a few things to remember when you need to refresh your "why."
Leadership Operates in the Background
This seems like a paradoxical truth. Leaders are the upfront ones, right? Leaders get all the glory (and fallout), right? True, but in reality, 95 percent of a leader's time is spent quietly making things happen. The 5 percent that we spend in the spotlight is the part that is often criticized. Remember that the vast majority of your time is spent doing things that aren't up for critique. The phone call you made to your hurting volunteer. The note of encouragement you sent to that new believer. The time you made for the younger leader who was frustrated and discouraged. These are the moments that make a leader, and they remind us that we lead so that others might have footprints to follow. Pay attention to the background work, and allow yourself to celebrate the quiet work that defines a servant leader.
Culture Creators
A young leader came to me last week to show me an email. In it the person gave a full critique of the way everything operates in this leader's ministry–after only attending one event. This leader's natural response was to either defend himself over email or ignore it all together. And that's my natural response too! But I've learned that there can be some satisfaction in facing our critics and taking opportunities to shape the culture around us. We often underestimate our ability to remove the toxins of our environment through our own words and actions. In that moment, I encouraged my friend to be a spiritual leader–to answer the email with warmth, to avoid defensiveness, and to share his own heart in a way that could help this critic see the vision behind our own ministry's "why." It doesn't always work–some people's natural setting is complaint. But as leaders, our reaction to those complaints allows us to proactively create a culture of warmth, strength, and vision.
It's Always Evangelism
Last week I had lunch with a young professional who wasn't sure she should join the church. She had questions–questions about the church's stance on homosexuality is what she said in the email requesting a meeting. But as we sat together over pizza, our conversation turned to all kinds of hot topics–abortion, homosexuality, single people in the church. I tried to ask some questions to help her sort through how God has met her in different places in her life, and where her heart is oriented when it comes to his lordship. And as I left that lunch, I marveled that as spiritual leaders we have the powerful and important responsibility of helping people continue to surrender their whole lives to Christ. It may start with a conversation about homosexuality or worship or marriage problems, but when people invite us into their lives, they are allowing us to help point them back to Christ–and toward lives that are fully devoted to him. This is the reason why I wrote Start Here with my pastor–it's our attempt to help shape a culture that reinforces a relationship with Jesus above everything else.
We are given the opportunity to help people find the rich, full life that God offers and that touches every decision, every belief, and every struggle. Whatever we do, it's always evangelism–offering people life in Jesus Christ–the hurting, the critical, the complainers, and the honest seekers.
And no matter what your sphere of influence, that's the real "why" behind what you do.
Nicole Unice is on the ministry staff at Hope Church and co-author ofStart Here: Beginning a Relationship with Jesus, written with senior pastor David Dwight. Download a free discussion guide a StartHereBook.com.