People's Voices Matter
An interview with Pastor Nadia Bolz-Weber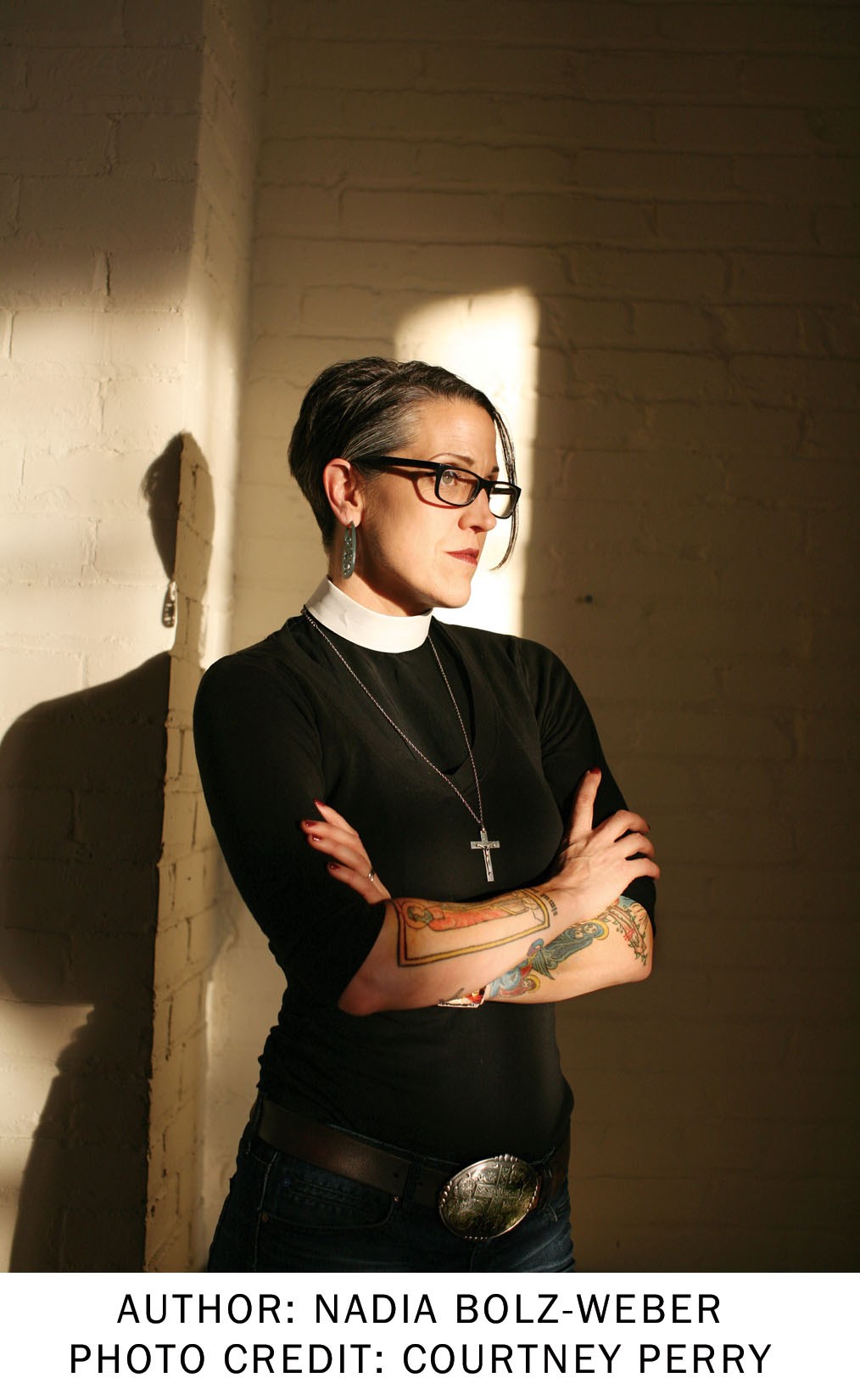 She was called into ministry in a comedy club. When Nadia Bolz-Weber, working as a comic, lost a friend to suicide, her community demanded, "Well, you'll do the funeral, right?" They'd identified her as "the religious one." Nadia describes the experience of delivering his eulogy: "I looked out at this room of hundreds of people—comics, academics, queers—I realized that I felt called to be a pastor to my people." Today she serves the Denver congregation she founded, House for All Sinners and Saints.
Your sense of call to ministry was atypical. Tell us a little bit about it.
Well, I think in a sense I had a very particular call to ministry. It wasn't generic in the sense of, oh, I just vaguely feel called like maybe I should be a pastor somewhere. I felt called to be a pastor to a particular people in a particular place. I could never see myself just serving another congregation. So my call really was just basically to start a church I would want to go to because I just didn't find many out there.
So specifically what need or void in the church's ministry did you recognize that caused you to want to start this? What was missing in the church for you?
Well, I just feel uncomfortable, honestly, in most churches I go to. Either there is a formality to it that makes me uncomfortable or sometimes there is sort of façade of perfection and nicee nice chit-chat but I have a hard time finding accessible. I don't work like a lot of people who are in churches, honestly, and so people may have been nice enough when I got there, but they always just feel like spaces that I have to culturally commute to in order to access.
You pastor a church that's part of the Evangelical Lutheran Church in America. Can you tell us who worships at House for All Sinners and Saints? How do you describe that very diverse demographic?
I think most of them have a strong sense of irony. I think they are people who really just have a low tolerance for bullshit and who want a space where the truth about themselves in the world and God can be spoken out loud. And where they don't have to check parts of who they are, or parts of their story, at the door in order to be a part of it. I think they're people who, you know I always use that phase, they know the difference between American cheese and actual cheese as a metaphor for a lot of things. They know the difference between what is real and what is fake.
For those who haven't experienced the life of your congregation, how would you say that it is different from the typical mainline congregation?
The interesting thing is that we are mainly doing what other Lutheran churches do. We are just doing it differently. For instance, the liturgy is really traditional, very traditional—we always chant the Psalm, and we chant the Kyrie, and the Sanctus—but it is done in a round. We can actually see each other, but the space itself has been democratized. Most churches, there is sort of the actual space for the two special people that stand up front. Right? It's weird.
And the liturgy is led by fifteen or eighteen different people; they choose when they walk in. They can choose a booklet that says "gospel reading" or "assisting minister with the Eucharist" or "prayer of the day" or whatever. People get to decide when they walk in if they want to be readers in worship that day. Nobody deems them worthy of it, or good enough at it, or you have been around long enough to have this role. You can step in the first time and do a major musical in worship. It is really traditional liturgy done nontraditional.
I know that you would not volunteer this on your own, but I am curious what you would say that the larger church could learn from your congregation.
I think people's voices matter. I mean that in many ways. One, it is important to have a lot of different voices saying sacred things in space together as Christians. Two, actual human voices singing matter. We don't have a band. We don't have an organ. We are totally a capella. All of the music you hear comes out of the bodies of the people who showed up. People know that showing up actually matters. They are produces and not consumers. I think that it is a population that generally isn't found in church and yet there they are. We had to add a second service on Sundays because we are running out of space and chairs. Part of it is because on some level, them showing up actually really matters. I think people are looking for that kind of space in their life rather than showing up to consume religious products and professionals that produce it.
Margot Starbuck has fewer piercings and tattoos than Nadia Bolz Weber.