Her Homiletics Professor Didn't Think Women Should Preach
An interview with Dr. Marguerite Shuster, Professor of Preaching and Theology at Fuller Seminary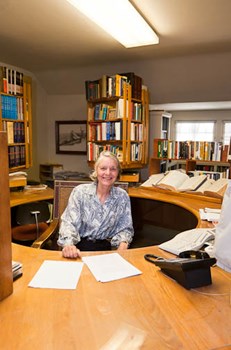 Here at GFL we're interested in the unique journeys of women who are called into leadership. That Dr. Marguerite Shuster, Professor of Preaching and Theology at Fuller Seminary has remarked, "I would never recommend that anyone proceed as I have if she wants to get anywhere," has really only made us more curious.
When did you notice your first sense of calling to the ministry? Were there other voices, at the time, that confirmed it? Was that sense of call particular to either the parish or the academy?
My call to ministry was sudden and altogether unexpected. When I came to Fuller in 1971, I had applied only to the doctoral program in clinical psychology. However, I began in the M.Div. program because, in the interests of getting requisite theology courses paid for, I had applied for and received what was then called a Rockefeller Trial Year in Seminary Fellowship. A homiletics course was required, and I approached it with a bad attitude, thinking it the height, or depth, of wasted endeavors in my circumstances.
I sat down to write my first sermon, on an assigned text, with the same lack of enthusiasm. As I worked on that sermon, the only way I can describe what happened is that it was as if the heavens opened and I knew with a sort of certainty that it was the M.Div. and pastoral ministry, not the Ph.D. and clinical work, that was my real goal. However, when I considered on a couple of occasions simply quitting the Ph.D., there seemed to be guidance not to do so—a matter that would prove key to the possibility of the academic side of my service, since I needed a Ph.D. in something (exactly what was less important!) in order to teach.
Somewhat later in my seminary program, I asked my homiletics professor, who didn't believe women should preach but who was always completely fair to me and became a good friend, what he thought about a woman with a call to preach. He said, "It's not my job to define you; that's God's job." I never looked back. I continue to see my identity as being first and foremost that of a pastor.
When you began your pastoral ministry as an associate pastor, do you remember what surprised you the most? Anything you'd not anticipated?
I should perhaps have anticipated, but didn't, that it would be primarily women in about my own age group who would be most opposed to women in ministry in general and thus to me in particular. I came to suspect that many of these women, often very able ones, really couldn't manage the threat of contemplating wider potential for themselves, lest the very traditional and somewhat constricted lives they had been living come altogether off the rails.