Her Homiletics Professor Didn't Think Women Should Preach
An interview with Dr. Marguerite Shuster, Professor of Preaching and Theology at Fuller Seminary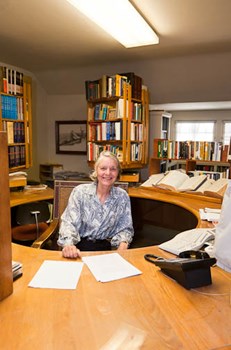 Here at GFL we're interested in the unique journeys of women who are called into leadership. That Dr. Marguerite Shuster, Professor of Preaching and Theology at Fuller Seminary has remarked, "I would never recommend that anyone proceed as I have if she wants to get anywhere," has really only made us more curious.
When did you notice your first sense of calling to the ministry? Were there other voices, at the time, that confirmed it? Was that sense of call particular to either the parish or the academy?
My call to ministry was sudden and altogether unexpected. When I came to Fuller in 1971, I had applied only to the doctoral program in clinical psychology. However, I began in the M.Div. program because, in the interests of getting requisite theology courses paid for, I had applied for and received what was then called a Rockefeller Trial Year in Seminary Fellowship. A homiletics course was required, and I approached it with a bad attitude, thinking it the height, or depth, of wasted endeavors in my circumstances.
I sat down to write my first sermon, on an assigned text, with the same lack of enthusiasm. As I worked on that sermon, the only way I can describe what happened is that it was as if the heavens opened and I knew with a sort of certainty that it was the M.Div. and pastoral ministry, not the Ph.D. and clinical work, that was my real goal. However, when I considered on a couple of occasions simply quitting the Ph.D., there seemed to be guidance not to do so—a matter that would prove key to the possibility of the academic side of my service, since I needed a Ph.D. in something (exactly what was less important!) in order to teach.
Somewhat later in my seminary program, I asked my homiletics professor, who didn't believe women should preach but who was always completely fair to me and became a good friend, what he thought about a woman with a call to preach. He said, "It's not my job to define you; that's God's job." I never looked back. I continue to see my identity as being first and foremost that of a pastor.
When you began your pastoral ministry as an associate pastor, do you remember what surprised you the most? Anything you'd not anticipated?
I should perhaps have anticipated, but didn't, that it would be primarily women in about my own age group who would be most opposed to women in ministry in general and thus to me in particular. I came to suspect that many of these women, often very able ones, really couldn't manage the threat of contemplating wider potential for themselves, lest the very traditional and somewhat constricted lives they had been living come altogether off the rails.
I should note that in the early 80s, women in ministry comprised only 2-3 percent of the clergy in the mainline Presbyterian Church, though the denomination had been ordaining women since 1954, so most people had never heard a woman preach or conduct a funeral. Older women in the rather conservative church I served, many of whom had been missionaries, and most of the men, were fine.
I love that you've remarked, "I would never recommend that anyone proceed as I have if she wants to get anywhere." Fill that out for us!
I have worked hard, but I don't think I have ever quite intended anything important that has happened to me: witness my call. I have set no career goals and have done none of the networking one is supposed to do in order to make progress in one's professional life.
When a new pastor at the church I first served announced to the entire staff that he didn't think he could work with any of us, I returned to my office and found a request from a nearby congregation for my résumé on my desk. I wrote the résumé and sent it only to that one church—not quite the way one is supposed to conduct a job search. (Yes, I got the position.)
My Ph.D. is in clinical psychology; I was hired at Fuller to teach preaching; my writing and research interests are in systematic theology; so I often comment that I have a right to be confused. I have attended exactly one professional guild meeting in my entire academic career. When I had opportunity to move to a more prestigious and much better paying academic position, I turned it down. I have mostly responded to requests to write this or that, which means what I have done is all over the map—with a theological undercurrent, to be sure, but sometimes with homiletical, psychological, or even biblical studies aspects. Talk about being a generalist! It's nice to understand what these various conversations are about, but it would also be nice to feel as if there were some realm of knowledge one actually controlled!
In all of this, I can only say that the Lord has mercifully provided in the midst of the realities of my own psychology and circumstances. I regret none of the decisions, but they hardly constitute a strategy.
Today, can you describe the particular ways that the gifts God has given you are being used in your research, writing and teaching?
Not easily! Of course psychological training has in fact been useful to an extreme introvert like me on both the pastoral and the preaching and teaching side of things: much as I would have liked a degree in systematic theology, I see the Lord's wisdom here. At the end of my formal career—I am "retiring," though not altogether disappearing—I am glad to have continuing opportunities to preach and teach, along with a long-term book contract for a volume on the doctrine of creation that taps into my environmentalist concerns as well as my theological predilections. I am fortunate to be in superior health, so I am curious to see what I shall be when I grow up.
If a student came to you for advice, because she was torn between the complementary callings to the parish and the academy, what wisdom might you want to share with her?
Both of these are hard callings—intrinsically so, but all the more given the state of the church today and the increasing economic pressures on the academy: it will be harder and harder to get full-time positions either in the church or in higher education. More and more people will be tentmakers, or will serve as adjuncts for whom tenure track positions are simply not available. Neither of these callings should be approached simply as a job one could do, even if one has appropriate gifts at the objective level. One really does need a deep sense of commitment to the preparation and the task, along with the knowledge that there are no guarantees that one's efforts will pan out as hoped and expected. One shouldn't, for instance, go for a Ph.D. if one doesn't really like studying and find value in it for its own sake.
Beyond that, I hardly know what to say. Obviously, my own history demonstrates that God can make a way where there is no way, but presumption is always unsafe. Even so, I believe that God does both guide and redirect according to his own wisdom and purposes. "It's not my job to define you; that's God's job."
Margot Starbuck is a frequent contributor and editorial advisor to Gifted for Leadership, an author, a speaker, and a volunteer among friends with disabilities. Her most recent book is Permission Granted: And Other Thoughts on Living Graciously among Sinners and Saints. More at www.MargotStarbuck.com.