On Not Getting Killed
I have a lot to learn about Jesus' kind of love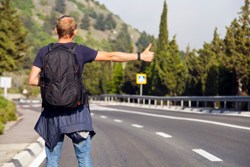 Great psychological thrillers, combined with innumerable episodes of crime drama, have given me a healthy appreciation of the dangers of picking up hitchhikers.
In sum: hitchhikers bad. First nicey nicey and uber-friendly. Then stabby stabby and a cold, shallow grave. Generally and basically, it's not the way I want to end my life. So up to this point, absolutely and categorically no picking up strangers along country lanes.
But then there was a bright autumn week that turned out unexpectedly to be hitchhiker week.
It all started in Sunday's sermon. I had a week to prepare, to dig into the calling of the disciples, to Matthew's unashamed challenge to my complacency: "Jesus called out to them, 'Come, follow me, and I will show you how to fish for people!' And they left their nets at once and followed him" (Matthew 4:19-20). The message? When Jesus invites us to follow, our only sane response is to actually and immediately follow him. To literally get off our bottoms and go where he goes, see what he sees, do what he does. To expend our energies, resources, and gifting in following the person and practices of Jesus Christ. To become, like him, a "Your will be done" kind of person.
I hear you (you sound like my mother, by the way): "But that doesn't mean being foolish and putting your life in danger, Christine." Well now, your loving concern is comforting, but I'm not so sure that Jesus' call was a call to safety.
The disciples followed him into danger, prison, shipwreck, hunger, poverty, and beheading. They followed him into amphitheatres where they were torn apart by wild animals for the sport of the baying public. They followed him into homelessness and injury and job loss. They were only following their Jesus. Hounded by criticism, unjustly tried on trumped-up charges, flogged, stabbed, and crucified.
I reckon a choice to see the world through his eyes and respond, in spite of my fear, might not be such a stretch of obedience. It is the pain and privilege of following.
Teaching Jesus' call turned the dimmer switch way up to bright-white. I started to see need. On the afternoon school run, a boy stood by the side of the road, hitching. He looked half frozen by the bitter wind. He was shivering, and he thanked me over and over for turning up the heater. He stared ahead, arms wrapped around himself, hands buried in his armpits, knees drawn up, shrunken. I imagine he was quite tall for his age, but the chill in his bones made him small and vulnerable. He was matter-of-fact. The bus fare for the eight miles home from school was too much. Four days a week he got a ride with a neighbor, but not on Tuesdays. He'd been trying to get a ride for 40 minutes, he said. I asked if he'd forgotten his coat today. "I don't have one," he said.