The Strong Power in Every Woman
Reclaiming Eve's place in history means claiming our own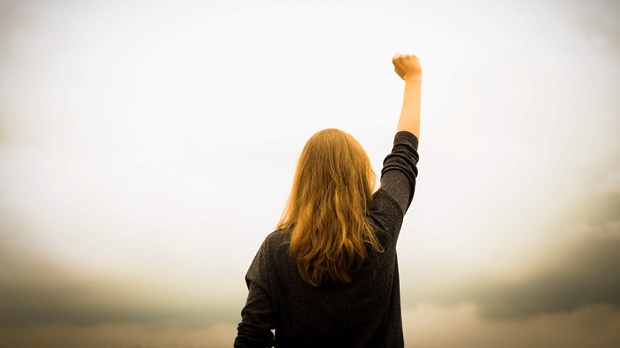 Hot tears splashed down my cheeks as my new husband stared at me in confusion. I had been studying the creation story when I stumbled across the strong Hebrew word God used when creating Eve: the ezer. In that moment, God's intentions leapt off of the printed page and started a revolution in my heart. I never would have guessed how highly God thinks of his daughters. I hadn't understood how invaluable we are to his kingdom. I felt a strange combination of exhilaration and anxiety about what it would mean to stand shoulder to shoulder with my Christian brothers, instead of taking my usual safer back row seat.
The tears eventually dried, but the question remained: Would I be willing to follow the blueprint I discovered in God's Word, or would I shrink back in fear? The journey for me would mean reevaluating why I wasn't using some of my spiritual gifts, asking what God meant for my marriage relationship, and reimagining how I and my sister-ezers could more effectively join with our brothers in Christ to better serve a world that desperately needs God's love.
A few years have passed since my initial discovery, but since then I've become even more convinced of the necessity of women fulfilling the original purpose God called them to in the garden of Eden. So let's rejoin the place where it all began–the unfolding creation story in Genesis 2. Unlike Genesis 1, God zooms in to give us a more detailed account of the creation of Adam and Eve.
Picture this: Adam lovingly placed in a garden of exquisite beauty; surrounded by animal couples of every form, color, and kind; with plenty of food and drink, and a benevolent Creator to enjoy. But following the animal parade, in which Adam named the creatures God had created, we get the first hint that things are not as they should be, that God himself isn't satisfied.
Although up until this point God had declared all things "good," he now makes a startling statement in Genesis 2:18: "It is not good . . ." That is, "It is not good for the man to be alone. I will make a helper [ezer] suitable for him" (emphasis added).
Let's see. It is not good for man to be alone, so I will make him a servant or a slave. Nope. It is not good for man to be alone, so I'll create someone who will be a slight help to him in the future. Not hardly. "It is not good for the man to be alone, so I will make [an ezer] suitable for him." An agent of rescue suitable for him!