Lead Me On: When Doubt Dominates
When we express our doubts, we're in faithful company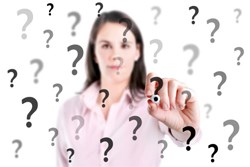 Fish sticker on the car bumper? Check.
Kid who can buzz in with "begotten!" for VBS Bible relay? Check.
Woman who should know better but still, sometimes, just a little, wonders? About, um, God?
Check.
There. I said it.
I'm just mentioning it for a friend. Not for me. That would be ridiculous.
I do not doubt! Geesh. Sometimes, however, on occasion, when things are confusing, I might mention aloud something like this, "But. God. You're, ah, real. Right?"
Doubt. It happens to the best of us.
We would all like to sustain a deliberate walk. A steadfast faith. Not even perfect–just forward trajectory at least, please.
But this is earth, not heaven. This place is rough. It can be confusing. Even for steadfast giants in the faith. Like John the Baptist.
John the Baptist said a lot of bold things. He behaved in a lot of bold ways. But the quote from him that stopped me in my tracks came after his locust-eating, itchy clothes-wearing, preaching-for-Jesus extravaganza–as he sat in jail.
This great man called his disciples over and had them ask Jesus this one question: Are you the one?
When the men approached Jesus, they told Jesus that John the Baptist had sent them to ask, "Are you the Messiah we've been expecting, or should we keep looking for someone else?"
It is written in the gospel of Matthew (11:3) and then it is written again in the gospel of Luke (7:20). John the Baptist dared to boldface, irreverently, go to God and…ask: Are you the one?
What kind of man does that?
A human.
Attempting to be in this world but not of this world. Sweaty. Stretched thin. Stressed out.
Do you ever feel doubt? Don't panic. We stand in good company.
I appreciate when Bible people show their vulnerable walks in this life and with their God. It gives me the idea that their God is not so … moody. That He is not waiting with a paddle stick when we just ask a question. Like, "Hello? God? Are you there? It's me, John. So…I believed you. And that wasn't a bad idea or anything. Right?"
Their vulnerable walks reflect a God who says to us by saying to them, You are not less in My eyes because you are frail. Bruised. In need of clarification.
This is a God of reassurance.
Jesus replied, "Go back to John and tell him what you have heard and seen…" (Matthew 11:4)
The text doesn't mention John's reaction. As for me, I had a hard time getting past the detail that John was in jail. JAIL. If it is true that "now our knowledge is partial and incomplete…" (1 Corinthians 13:9) then I would start with that part right there–the part of HE'S IN JAIL.