Restoring Fallen Leaders
What a healing response produces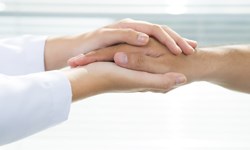 By all measures, Tom* was an A-list pastor. He had charisma, humor, and huge musical skills, and he grew the start-up church into a robust congregation. Around year 8, a few of us began to notice subtle changes. Tom's sermons got a bit flat and curiously unreflective. He then became controlling, in one instance telling my husband that he was not allowed to get mad at him.
Our red flags were waving long before we were called to an "urgent" meeting at the assistant pastor's home. Surrounded by 20 of the top leaders, Tom stated flatly that he needed to step down because he had been having an affair with a married woman in the church.
Sadly, Tom's fall is far from unique. Among the participants of one study done in 2005-06 by the Francis Schaeffer Institute of Church Leadership, "Thirty percent of the male pastors said they had either been in an ongoing affair or a one-time sexual encounter with a parishioner." And sexual sin is but one of many ways a leader can disqualify himself/herself.
What often happens next is even more disconcerting. If the leader is a charismatic, well-liked person and operating without strong oversight, congregations normally minimize (and sometimes outright dismiss) the incidents, quickly forgive, and move on. If the body has been looking for an excuse to jettison said leader, this provides a perfect excuse to claim 1 Corinthians 5 and "remove the person from fellowship." Are there other options beside ignore or zap?
Minimizing or dismissing never serves anyone. It perpetuates a system of deceit and rewards lying. But option 2 is flat, unredemptive, and punitive. It rarely provides the one who fell an opportunity to grow and also may actually propel them into another unsuspecting church.
For the sake of the wounded church body as well as the one who did the wounding, we need to work toward restoration on all fronts. Restoring the Fallen: A Team Approach to Caring, Confronting, and Reconciling defines restoration as follows: "True restoration is achieved through a process of discipline that recognizes both grace and responsibility as it seeks to guide the individual back to a God-centered life."
As simple and straightforward as that sounds, it's anything but. When authentic restoration takes place, the following will be evident from the one who has fallen.
1. Proactive and thorough confession (James 5:16)
A leader who chooses to confess, before being found out, typically progresses more quickly through the process of restoration. The confession needs to be completely thorough. "I had a moral failure" does not do the trick, but admitting, "I have watched online pornography and visited massage parlors for the past three years" does. Those who fall often need help understanding that specificity matters, though they can leave out gory details.