What Feeds Your Soul?
4 ways to redefine work as creativity instead of achievement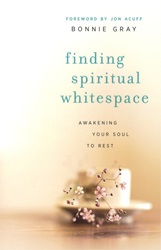 I didn't understand why I was having panic attacks.
Writing a book wasn't easy, but I was writing a Bible study guide to explore the topic of rest. If there was anything I knew how to do, it was unpacking Scripture.
Yet here I was lying on my bed, unable to sleep, my brain muddled with worries. I found it difficult to breathe, a tightness clamped around my chest. If I dozed, my pounding heart would jolt me awake with rapid-fire palpitations.
You couldn't tell from the outside looking in, but I was exhausted. I didn't want to see anyone or do anything. I just wanted to pull down the shutters and stay in bed.
Have you ever felt that way about work?
No matter what kind of work we do–whether we're wearing heels in the office delivering presentations, cooking dinner for our families in sweats, or leading ministries of faith at church–there comes a point where we grow tired. Burned out.
I'm not talking about the kind of tired that goes away after getting days off or catching up on sleep.
I'm not talking about weariness others claim would disappear if we were better organized. Even if life hums along like a well-managed project, our souls can feel like something's missing.
Even though we are grateful for all God's given us, there is a kind of tired that drags us down and dulls our joy.
Soul stress.
Soul stress happens when the work we do becomes separated from our hearts–when work becomes a to-do, compartmentalized from who we are.
What feeds my soul?
This is a hard question for us to answer as women who are intentional about serving God, our family, friends, and others.
I've learned that God wants me to answer these questions during my struggle with debilitating anxiety. Childhood trauma, triggered by the act of writing, reignited painful memories through post-traumatic stress (PTSD).
The me who always achieved&;mdash;the oldest in a single-parent family who put herself through college, traveled overseas as a missionary, and managed a corporate career in high-tech–had to confront the questions of my soul.
God used my brokenness to make something beautiful.
Soul rest.
God transformed how I work and my choice of work by taking me on a journey to explore what feeds my soul.
Asking what feeds my soul has redefined work as creativity instead of achievement.
God brought me back to a garden to show me four ways to redefine work as creativity:
1. Do work that brings you rest
The first scene in which we catch a glimpse of God shows him at work creating.
"Let there be light." He spoke this into the darkness.