Don't Hide from Hardship
A devastating diagnosis showed me how God uses weakness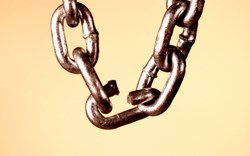 I wept as I heard the diagnosis four years ago: "You are losing your hearing."
Questions about my job, relationships, and life in general permeated my brain. Every "what if" plowed over me, and they were mowing me down quickly. Everything seemed a blur that day. But God spoke to me in a way I was sure to hear.
I'd spent eight years in the classroom, and both the doctor and I were stunned that I had done so without complication. The doctor stated, "Your brain adjusted to your loss. Although you couldn't hear, your brain taught you to read lips and monitor body language so that you believed you were hearing what was happening." It still amazes me that my brain knew to do that. But it shouldn't be a shock. God did not create us as simple beings. He created us to know him, reflect him, and hear him. He created us to crave him.
Last fall I sat among some of the greatest leaders in Christian counseling at the American Association of Christian Counselors World Conference. There was a dominant theme throughout the conference: Our brains are wired for God. We crave Christ and our brains know it. As I listened to these speakers and presenters, I couldn't help but be drawn back to my hearing diagnosis and the journey I have been on the past four years. Although I now wear hearing aids, the frustration of not being able to hear is still fully present. But what I have come to recognize is that God wired my brain to work in such a way that I would understand that his grace is all I need and that the voice of Lord will rise above everything (2 Corinthians 12:8-10; Psalm 29:3-5). In the midst of my pain, he began to show me how my hearing was a human weakness but a conduit for his supernatural strength.
As I reflected on the hearing diagnosis, I evaluated how God's hand has been ever present through this weakness. While I am no longer in the teaching profession, God has given me the opportunity to flourish in my first love: ministry. I currently work at a church where I counsel others and help people connect through serving and small groups.
Although I struggled with accepting this call because of my weakness, God has shown me how he uses it. Due to my hearing loss and my brain's adjustment to a pattern of lip reading and monitoring body language, I am constantly aware of the atmosphere of a given environment as well as the mood of individuals. Whether in an individual counseling session or a small group, God's use of my weakness helps me monitor individuals and notice things that I may not if not for my loss. I actually hear people better now than with my normal hearing because God allows me to hear more than just a person's words. He allows me to see hurt in a new way.