You Are the Missing Link in Your Ministry
To make an impact with women, we have to be willing to connect on a personal level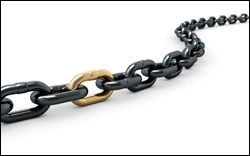 You spend hours in planning meetings, trying to put together wonderful events for the women
in your church with the hope of helping them live productive Christian lives. Yet time and again, they don't show up. Your leaders have done all they can to get the women in church excited and nothing seems to be working. You've prayed and you've fasted and the only logical conclusion left is to dissolve women's ministry altogether—after all, there's no need to separate men and women; Jesus didn't appoint a director of women's ministry to assist him in feeding the five thousand.
In Everyone Communicates, Few Connect, John C. Maxwell illustrates the points of success, which boil down to connection. How well we connect is the foundation that relationships are built on, and that includes relationships with our spouses, children, co-workers, business partners, and people in ministry. If we want to make an impact we have to be willing to connect on a personal level.
Something Is Missing
A while ago, I attended a church that produced weekly bulletin announcements for the congregation. I would often respond, with much anticipation, to requests for people to serve in women's ministry. However, my anticipation turned to aggravation while I waited for responses. I finally contacted the church secretary to find out why I was not hearing from anyone, and I was told it was due to the busyness of the year. Okay, I can certainly understand busy seasons at church; however, I was slightly confused as to why announcements were created, printed, and distributed if no one was prepared to respond to people interested in serving.
Communication gaps appear when we do not make ourselves available to people. I formed an opinion about this particular church as I felt they weren't compassionate, and my desire to participate in events, outside of regular service, began to fade. Jesus may not have appointed a women's ministry director during his day, but he also did not sit in coordination meetings. He was often on his way somewhere when he was stopped by people who wanted prayer, healing, or deliverance, and he took the time to connect with them. Jesus blessed the woman caught in the act of adultery, he spoke to the woman at the well, he healed the woman crippled for 18 years, and he freed the woman of her 12-year issue of blood.
Social Media Taught Me a Few Things
As social media have grown, I have attempted to indulge in them myself. I have a Facebook account, and I recently started a blog and tried my hand at Twitter—again. I tried Twitter five times prior and each time deactivated the account because I did not understand how to use it. For this latest attempt, I decided to study the "how to" section Twitter offers to learn how to increase my followers. At the same time, I started a blog and decided to study the "how to" section as well—and to my complete surprise, both "how to" sections emphasized the same point: connection.