Married, Spiritually Single, and Called to Lead
Managing tension between marriage and ministry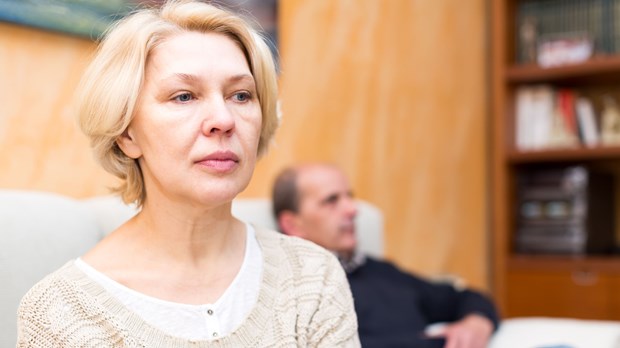 As a married woman in leadership whose husband doesn't share her faith, I've learned that managing the tension between marriage and ministry is hard. Navigating competing values and priorities, cross-gender relationships, and loneliness can be frustrating and discouraging. But if you and your husband are willing to invest time and effort, you can make it work.
Recently, my husband and I faced a difficult decision that allowed us to see the fruits of our efforts and just how far we'd come.
A few weeks ago, as I was finalizing preparations for a retreat I was leading, we received a call from our nephew. My husband's brother had died, succumbing to the cancer that had ravaged his body for months. His family and their spouses agreed to meet the next day to plan the memorial service—the same day I was due to begin the retreat.
My heart was with my husband, and I wanted to be him as a source of support. However, knowing the hours of preparation I had put into this event, my husband urged me to follow through with my commitment to lead the retreat, assuring me he would be fine. "As long as we're together for the memorial service in a few weeks," he said.
Our hard work had paid off. We each had the other's best interests at heart. I was at peace with our decision.
But things don't always go so smoothly.
Last spring, I planned to fly to the Midwest to spend time with a client, a Christian man I had started working with a few months before. He invited me to stay at his home with his wife and seven children rather than book a hotel.
It seemed like a great idea to me. But not to my husband.
"You've just started working with this man, and you're staying at his house?" my husband asked. "How do you know he's not a criminal or something worse?"
Despite our new business relationship, I had known my client for years. His reputation was stellar, and I had no doubt that it would be a gift to stay in his home and to get to know his family.
To put my husband's fears to rest, I offered to stay at a hotel. After seeing my willingness to compromise, my husband agreed it would be better to stay at my colleague's home—for convenience's sake.
Despite the frustration we both felt as we worked through our differences of opinion, we negotiated the situation with ease because we had invested significant time and effort.
We have chosen to build our marriage on an unyielding commitment to each other, and we have learned practical skills like healthy communication and compromise. But in my experience, it takes more than that.
Here are three suggestions for making the most of your marriage and ministry.
Hope in God More than Your Marriage
Recognize that no man, Christian or otherwise, can satisfy you fully. The temptation for married, spiritually single women called to lead is to assume that the obstacles they face stem solely from their husbands' unbelief. This simply isn't true. If you believe this lie, a wedge will form between you and your husband that will probably widen over time. Don't go there.
Years ago, God spoke this Scripture to me during an especially trying time in my marriage: "For your Creator will be your husband; the Lord of Heaven's Armies is his name! He is your Redeemer, the Holy One of Israel, the God of all the earth" (Isaiah 54:5). When you look to the Bridegroom to meet your needs, you free your husband from unhealthy expectations and make room to receive what your spouse can offer you with gratitude.
Practically, this means your support will often come from sources other than your husband.
Cultivate Intimate Spiritual Friendships
Perhaps the greatest pain a married but spiritually single woman feels is the lack of spiritual intimacy she shares with her husband, which often spills over into a lack of emotional intimacy.
To thrive in marriage and ministry, I need intimate spiritual friendships. At each step of the journey, God has brought seasoned women into my life to meet the spiritual, emotional, and relational needs my husband can't meet.
A handful of these friends know the intimate details of my life—my areas of weakness, my temptations, and my ugly thoughts. They hold me accountable, helping me guard my heart and my mind.
Take the Initiative
I'm lonely in my marriage, and so is my husband. I turn to God's Word, prayer, and others to meet my needs, but where can he go for support? Because we have different interests and values, he often feels alone.
To make our relationship work, I've learned to take the initiative—to pursue him and to express my love for him in tangible ways, even when it's inconvenient.
I've learned to invite him out on dates—lunch on a Saturday afternoon, a movie, or even a walk through the neighborhood. He enjoys being pursued.
I also recently accompanied my husband on a 5K walk for charity, sponsored by his employer, in 19-degree weather. He woke up uncertain about whether he really wanted to go, and I playfully urged him to give it try. Getting up and going out in the cold at 8:30 on a Saturday morning isn't usually my idea of fun, but it was something my husband and I could do together. So I pushed. He enjoyed introducing me to his colleagues, and not surprisingly, we had a lot of fun.
Yes, it's challenging to be a married woman in leadership when your husband doesn't share your faith. And yes, moments of discouragement and disappointment are inevitable as you maneuver the twists and turns of life. But God will use the challenges to shape your character and transform you into the image of Christ. You will be richer for the experience, and so will your marriage and ministry.
Mary J. Yerkes is a writer and spiritual director who helps church and marketplace leaders develop healthy spirituality and sustainable intimacy with God. You can learn more about Mary at www.maryyerkes.com and http://conversationsthattransform.org.