Top 10 in 2014
A list of our most popular reads last year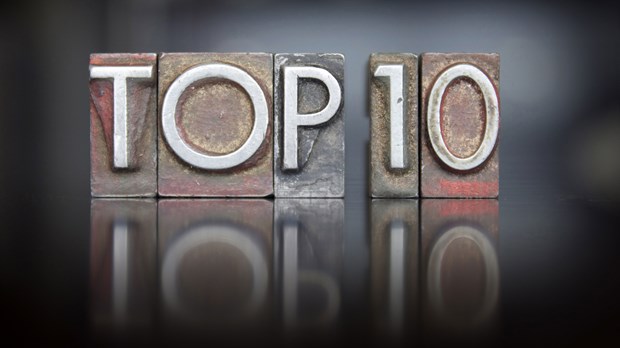 Top 10 in 2014
Happy New Year!
Let me be among the first to welcome you to 2015! None of us can know what this year holds in store, but we can all know that God has gone before us and has good plans for all of us. Today I pray that you are walking forward in the confidence and hope that comes from knowing the one who holds the future.
In keeping with our custom at this time of year, once again I pause to tell you which of our blog posts and downloads were most popular in 2014. If it's been a while since you read these resources, or if you haven't seen them yet, follow the links to check them out. You and your fellow leaders have voted with your clicks, so click again to see what rose to the top.
Top 10 Blog Posts
By Amy Simpson
2. Does the Bible Really Say I Can't Teach Men?
By Jill Briscoe
3. Mental Illness and the Church
By Gillian Marchenko
4. 3 Temptations of Leadership: Abuse of Power
By Marlena Graves
5. Who's Holding up Your Arms?
By Halee Gray Scott
6. The Strong Power in Every Woman
By Suzanne Burden
7. How Should the Church Handle Adultery?
By Domeniek L. Harris
8. When Your Calling Feels too Small
By Alison Dellenbaugh
9. Don't Be a Victim of Your Intellect
By Carmille L. Akande
10. Why I Don't Do Women's Ministry
By Amy Simpson
Top 10 Downloads
1. Christ-Centered Women's Ministry
2. Help Others Use their Spiritual Gifts
4. Assess the Effectiveness of Your Women's Ministry
5. Leading a Women's Ministry Team
6. How to Draw Millennials to Your Women's Ministry
7. Ministry to Domestic Violence Victims
8. Help Others Find Freedom through Spiritual Discipline
9. Ministering to the Sexually Broken
10. Communicating Your Ministry's Vision
As we're making plans for 2015, we'd love to hear from you. If you have ideas for how we can serve you better, please drop us a line by email.
God bless you this year as you seek to serve him through the gifts he has given you.