Alone in Marriage
How church leaders can support spiritually single women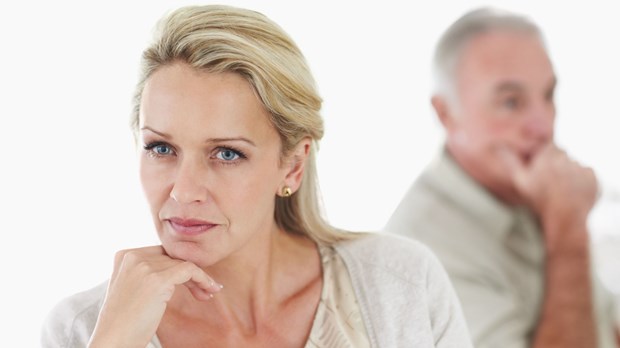 Married, spiritually single women may be the most underserved segment of the church, primarily because many church leaders don't understand how best to support them. As a woman whose husband doesn't share her faith, I've learned that church leaders play a pivotal role in the lives of spiritually single women—for good or for bad.
Here is an honest, no-holds-barred look into the lives of a handful of married, spiritually single women, myself included, and some practical tips about how to support them.
I came to faith a year after I married, much to the dismay of my husband, who initially considered my passion for God a fluke, something that would pass. Over time, it became clear that my faith was more than a passing fad. By the time I started attending weekly Bible studies, he had had enough. He grew increasingly sullen and withdrawn, shutting me out of his life.
"You don't need me anymore. God is enough for you," he said at one point. Granted, if I had fallen in love with another man, he might have tried to compete. But who can compete with God?
Over time, my husband's sullenness morphed into criticism and contempt. He expressed his unhappiness in verbal jabs and workaholism. As he pulled away from me, my emotional tank emptied and I grew depressed.
So I did what any good Christian woman would do: I spent hours in prayer and reading Scripture, and I sought out my pastor for counseling. Although I can't recall exactly what he said, the essence of it was something like this: "Just love him and submit to his authority. Things will get better over time."
Unfortunately, things got worse. Much worse.
My mild depression blossomed into major depression, requiring medication and counseling. Then I was diagnosed with a few serious autoimmune diseases, which, according to the doctor, were "probably brought on by stress." While autoimmune diseases develop for many reasons, in my case, the cumulative stress of a challenging career and a difficult marriage, as well as some unresolved issues from my past, played a significant role in triggering my genetic tendency toward developing these diseases.
Fast-forward a number of years.
My husband and I have made it to the other side; our love has deepened and matured. We have survived against all odds. Our marriage is evolving into a partnership, and we are holding onto each other for support as we face the challenges ahead. Our life together is hard as we continue to struggle to navigate our many differences.
Over the years, I've learned that I'm not alone.
My friend Sandy walks on eggshells in an attempt to keep her husband's anger at bay. As her involvement in ministry has grown, so have her husband's violent, verbal outbursts. Another friend, Christina, has a husband who is addicted to pornography. He blames her for "not being sexy" anymore. She struggles with self-esteem issues.
Through listening to stories like these and reflecting on my own experience, I've learned that while some leaders offer practical support, helping married, spiritually single women thrive amid challenging circumstances, others fall short, crushing the souls of the very women they are called to lead with careless words or actions.
It doesn't have to be this way.
Scripture admonishes, "Know the state of your flocks, and put your heart into caring for your herds" (Proverbs 27:23) .God calls church leaders to care for those he has placed under their care. But it can be hard if you don't know how.
Here are a few practical ways church leaders can support married women who are alone in their faith.
Pastors, you're often the first place women go when they are facing challenges in their marriages. In my experience, pastors often assume that spouses support each other. But for the married, spiritually single woman, the opposite is sometimes true. Because her husband can feel threatened by her "new love," he may oppose her, whether consciously or unconsciously, even exhibiting passive-aggressive or violent behavior.
The spiritually single woman probably also lives with rejection and contempt, which, over time, can erode her confidence and sense of identity. Patterns of unhealthy communication in her marriage can undermine her mental and emotional health. It's important for you to tell her that she is not called to submit to patterns of destructive words or behavior that undermine her physical or emotional health or the health of her children. Submitting to abuse—whether physical, verbal, emotional, or financial—is never God's will. Love draws a line of respect.
Ministry leaders, you are also on the front lines of defense. While most women married to unbelievers are eager to use their gifts and serve in the local church, be willing to alter your expectations. If a woman spends too much time serving, it could antagonize her husband and lead to added conflict in the home. Watch for signs of isolation or depression.
Encourage the spiritually single woman under your care to forge relationships with other women and plug into a small group. Validate her gifts. Affirm her worth. You can't imagine the difference it will make.
Small group leaders, you probably are the primary source of pastoral care for the married, spiritually single woman. Give her the gift of presence, a listening ear, and a tender heart. Withhold judgment and extend grace. Provide a safe place where she can take off her mask and be real, sharing her fears and challenges openly. Ask her how she's doing, and be proactive in meeting her need for love and affirmation.
Marriages wherein one spouse doesn't know the Lord are complex. They require a nuanced, compassionate response from church leaders. If you don't know what to say, try asking, "How can I support you? What do you need from the church?" She will be more than happy to tell you.
A married, spiritually single woman faces challenges most people don't understand. Give her your love and support, creating a safe place for her to blossom fully into the woman God created her to be. When you do, she just might become one of your church's greatest assets.
If she continually chooses to stand firm in her commitment to Christ, the challenges in her marriage will teach her perseverance, shape her character, and mature her faith. She will also become a woman of prayer, as she must depend on God daily for strength and wisdom. But not every woman will choose wholehearted devotion to Christ. A woman may choose compromise in the face of opposition. Another, despite her best efforts, will be derailed by poor emotional or physical health. Still, each of these women is worthy of honor because she has paid a high price for her faithfulness to God.
But the woman who endures is "a vessel for honor, sanctified, useful to the Master, prepared for every good work" (, NASB). Seek this woman and ask her to serve in ways that align with her giftedness. She will truly count it all joy to pour into others what God has poured into her. A married, spiritually single woman with proven character makes a strong leader, pastoral care team member, ministry leader, mentor, and more.
As you invest in the life of a married, spiritually single woman, she will, over time and with perseverance, become a valuable contributor to the church, to the community, and to the world. God has entrusted this woman to your care. Serve her well, and she will, in turn, wholeheartedly serve the cause of Christ.
Mary J. Yerkes is a writer and spiritual director who helps church and marketplace leaders develop healthy spirituality and sustainable intimacy with God. You can learn more about Mary at www.maryyerkes.com and http://conversationsthattransform.org.