Technology Has Changed My Role as Pastor
In 13 years, our church plant has transformed.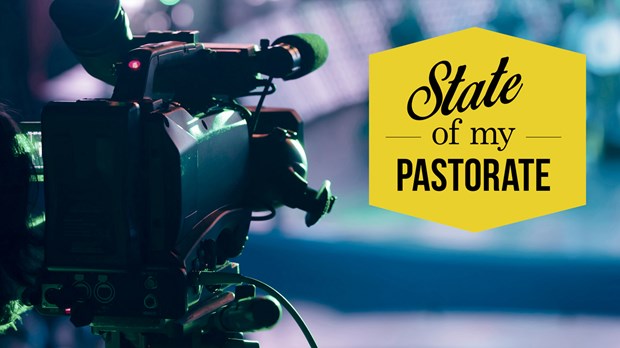 This week, in conjunction with the most recent issue of Leadership Journal, which explores the state of the pastorate, we're featuring two articles by pastors answering one question: what is the current state of your pastorate? Click here to see all the articles in this series.
What's the state of your pastorate? Let us know online through tweets, blogs, drawings, or smoke signals. Include the hashtag #mypastorate, and we'll feature our favorites in a post next week.
"Vanity of vanities, all is vanity." Those words from Ecclesiastes 1:2 (NKJV) have been rolling through my head for the last few weeks.
Our church just spent over $6,000 on new lights, cameras, and video equipment to use in our Sunday services. With the video camera we already had, there are now four cameras pointing directly at me while I deliver the Sunday message. This allows the team to project me onto a screen during the service. Plus, for the first time this week, we put the video of our service online for the whole world to see.
It's been a humbling experience. On the lighter side, it's one more opportunity for me to surrender my worldly self to Christ. Vanity, vanity, let's just get rid of all the vanity!
Thank God for the Holy Spirit who comforts us and gives us wisdom. Because of his help, I've been able to surrender my apprehensions. I've come to embrace and even celebrate this brand-new chapter in our church's life. Those cameras that stare at me as I speak have added an amazing new dimension to our worship services and our people absolutely love it. On top of that, I know it's a big deal that sharing our services online gives us the opportunity to reach many more people with the gospel of Jesus Christ each week.
Technology Has Changed My Role
When God called me to start a non-denominational church 13 years ago in Upstate NY, I never could have imagined the role technology would play in our church. I average 15 texts a day from church members—not to mention our communication on Facebook. I spend at least 15 hours a week on my computer researching and writing my sermons each week, and the Bible I use most often is the app on my smartphone.
My son who is a pastor and worship leader on staff at our church is also a graphic artist and web designer. His gifts and talents have been a huge blessing to our church, and with his guidance technology has been part of our church's DNA from the beginning. It also helps that the venue we rent for weekend services is a theater with a 50-foot movie screen behind me as I speak.
But truthfully, it's somewhat of a miracle that we've been able to do this in our church of 140. I know many churches five times our size that are not able to do this or have hired several full-time videographers in order to make it happen. My son, though, leads a team of 30 volunteers each week to make it happen. To add to the difficulty, we're a mobile church. That means that everything has to be set up each and every Sunday morning, and adding the additional video equipment and lights has only added to our volunteers' work.
I have just enough knowledge to know that what our team is accomplishing each week is incredibly high level stuff. The complexity is certainly way beyond my level of understanding, and most of our volunteers have learned along the way. One of my favorite parts of every Sunday morning is watching all our people seamlessly work together for the glory of our Lord. To me, that's what the church is really all about—I just didn't expect that to be highlighted through our use of technology. The best relationships, both with God and each other, are built through our time serving the Lord together side by side, even if that's while working on a video camera.
Because I'm certainly not going to jump in to help with lighting anytime soon, one of my important roles in helping the technology efforts advance is to appreciate our volunteers. I want to make sure they don't burn out, so I'm constantly encouraging them and thanking them. I check in to see how they're doing with the additional stress, and I communicate my concern for their well-being. I'm encouraged by their commitment to the ministry and to finding new and more efficient ways to use technology in our context.
This has been a huge change to my role as pastor. When we planted our church, there were only three of us who planned and set up for services. We made the bulletins, the slides, the coffee, and refreshments. It's amazing to see the transformation from our simple beginning to where we are now.
The Balance Between Building and Managing
In church planting, there are two responsibilities: building and then managing what you've built. I find myself continually shifting gears between these two very different roles. I think I'm an okay manager, but to be honest, managing drains me. What gives me the most energy is starting new things—after all, I was called to plant a church. One of my biggest challenges is finding a healthy balance between the two, especially as our church grows older and there's a bigger need for me to manage rather than start new things.
But I still look for outlets for new opportunities. For instance, I was thrilled to help relaunch our outreach team recently. It was exciting to identify the right people to lead the team, recruit other members, and encourage the team to think in fresh new ways.
I got the same thrill recently when my son and I put together a Christian concert that involved six other area churches from a variety of denominations. We worked together for the good of our community, and it was an energizing experience. I love to watch simple dreams become spirit-led, physical realities.
The day-to-day management of the church, though, doesn't thrill me. Preparing church budgets, running leadership meetings, dealing with difficult and disgruntled people, and taking care of the administrative needs of ministry leave me feeling very tired. As I've learned to implement a balance between starting new things and managing what's been built, though, I've discovered a boost to my overall mental health.
As challenging as the new technology endeavors have been, it has been fun and energizing to be part of—especially because there is the potential of much kingdom fruit. My pastorate certainly looks different today than it did when we planted our church 13 years ago, but I appreciate the new challenges and opportunities to grow as a leader.
Linda A. Wurzbacher is Lead Pastor of Blessed Hope Community Church in Rochester, New York.