Take Time to Color
Coloring took my mind off ministry long enough to meet with God.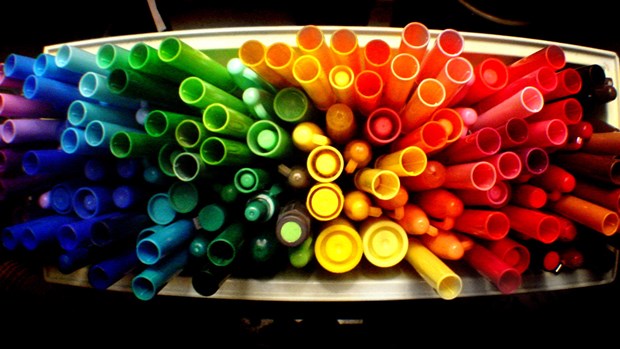 Editor's Note: The New Yorker recently reported a rising trend: adult women coloring to rest, relax, and rejuvenate. Could coloring help us connect with God in some way? This author shares what she's gained—both in her ministry and personally—by spending time with markers and blank paper.
My friend Naomi once offered me her home as a quiet space for prayer and reflection. I was worried about taking a few hours away that morning to pray and journal. Instead, I was thinking about the emails that needed to be sent, the students I was going to meet with later that day, and the week's worth of dishes that had piled up in my kitchen. (You know it's bad when you've been eating cereal for dinner because you don't have any clean dishes in which to cook.)
I knew none of these things would change if I took a few hours to pray, and I hoped to overcome the crushing tiredness I was feeling. My life felt out of balance, my schedule too frantic, and my body weary. Even the things that were important to me—having friends over for dinner, going hiking, or having a clean bathroom to enjoy while I soaked in the tub—took a back burner to the all-consuming work of ministry on a college campus. I was putting in the time doing the "right things" but I felt empty, angry, and like Jesus was far away.
At Naomi's house, I settled onto the red wing-backed chair in her quiet, bookshelf-lined den. I glanced through the poetry and photography books my friend had laid out to inspire me. They looked more inviting than the devotional and Bible tucked into my black messenger bag. I thought, You're such a loser. You can't even bring yourself to have a quiet time and crack open your Bible. What kind of a minister are you?
Pangs of guilt shot through me for feeling not only like a loser but also like a hypocrite since my job was to help students connect with Jesus and tell others about how amazing he is. A box of colored pencils, markers, and paper lay next to the books. Without thinking much about it, I picked up a few markers and a blank sheet of paper and began to draw. The silence in the room was unnerving. I wasn't used to it, and I felt like I needed to do something to push the negative thoughts out of my mind and focus on good Jesusy thoughts instead.
An Image Emerges
I didn't have any image in mind as I chose a green marker and began drawing lines across the page. Slowly, the emerald lines curved as I continued to sketch, tracing the lines over and over again, the repetitive movement almost feeling like a liturgy, like my joining in with something that many had done before. The shape began to look like a bird; the emerald green reminded me of a peacock. I added some blue plumes, a long ornate tail with turquoise and red lines. The colors popped out in contrast with one another. I drew and drew, the colors deepening, the peacock becoming clearer.
It didn't occur to me until later that I wasn't berating myself for not doing a "real Christian" thing. Nor was I wasting time worrying that it might look more like a chicken than a peacock to other people who saw my sketch. I was lost in delight of creating and enjoying the presence of God while doing so.
As I laid the marker down and looked at what had emerged on the page, I sensed God speaking to me through the picture. He knew me. He loved me. There was no guilt in how I was spending time with him. He invited me to be with him and enjoy our time together.
I had unsuccessfully tried to be one of those Christians who gets up at 6 a.m. to study a chapter of the Bible every day, to diligently pray for ten people in my life to become Christians, and to like Christian music (usually Pink, Stevie Wonder, or David Bowie won out). But recently, images had begun to appear as I prayed, images that led me into worship of God and a connectedness with him that felt fresh and vibrant. I was having genuine encounters with God like I'd never had before. I wasn't just reading Scripture; the Holy Spirit was drawing me into the text to see the dust on the disciples' feet, to feel the tension in the room when the woman came to wash Jesus' feet, and to linger on words and phrases that I had never noticed before.
I had been encouraged to study the Bible inductively, to dig for meaning in the text, to use Bible commentaries, but I had never been taught to invite the Holy Spirit to use my imagination, my creativity, and my senses to help me experience Jesus in prayer or Scripture. At the time, I didn't know that St. Ignatius was one of the foremost people to engage creativity with prayer and Scripture reading. Gary Neal Hansen, in Kneeling with Giants, writes, "Ignatius' prayer of the senses allows the Word of God to be the forum for prayer as real conversation, asking God questions, knowing we are heard, and actually hearing answers."
I stared at the bright swirl of a bird and sensed God saying to me in a bold but loving way, "You are a peacock, not a pigeon. Stop trying to hide who you are. I meant for you to show the brilliance of how I've created you for my glory. Strut and all. You are not meant to blend in."
Unlocking Scripture
The Holy Spirit brought to mind Joseph and the dreams God had given him (see Genesis 37–45). He wore his flashy rainbow robe that made him stick out like a brilliant bird among his brothers and anyone else who saw him. He didn't blend in. Though it would have been easy to simply look at his external appearance and judge him as flashy, Joseph was a peacock because he demonstrated bold and extravagant faith in God. He was a peacock because that's who the Lord called him to be.
But being a peacock wasn't a glamorous experience for Joseph. It hurt. It involved suffering through messed-up relationships, loneliness, fear, and doubt. It involved anger and betrayal. Joseph's experience of following the Lord includes an astounding amount of highs and lows. It was painful to be sold into slavery by his brothers. To be wrongfully accused of raping Potiphar's wife and thrown in prison. To languish for years in that same prison hoping to be remembered by the cupbearer whose dream he interpreted. To deal with the pain, confusion, and sadness of seeing his brothers begging him for food during the famine, then wrestle with whether or not to be merciful to them or to exact vengeance that perhaps he had been imagining for years.
For Joseph, being a peacock wasn't about the external things in his life or the relationships he had with others. He enjoyed his father's love and approval (Genesis 37:3); he was a dreamer (Genesis 37:5); he became a powerful attendant in Egypt after coming in as a foreign slave (Genesis 39:2–4); he was a stone-cold fox (Genesis 39:6); he had the most luxury clothing and jewelry (Genesis 41:42).
But being a peacock didn't mean looking a certain way; it meant living a certain way. For Joseph and the many other peacocks in Scripture and in history, it meant living with the faith that the Lord was with them. Joseph believed and acted upon his belief in the Lord, trusting him whether in plenty or in want, whether betrayed by people or seeking approval with important people.
Joseph could have acted out of fear and anger because of his circumstances, or brought those fears to the Lord and asked, Are you here with me? Why is this happening to me? One of the most often quoted lines from Joseph reveals his deep faith that the Lord was with him, for him, and guiding him. That he was able to deal with his anger and questions, and that his heart was transformed in the process of trusting God whether he was in a prison or a palace. At the end of Genesis when Joseph's brothers are afraid that he will hold a grudge and pay them back for the evil they did against him, Joseph tells them, "Don't be afraid. Am I in the place of God? You intended to harm me, but God intended it for good to accomplish what is now being done, the saving of many lives. So then, don't be afraid" (Genesis 50:19–21).
Connecting with God
That morning at Naomi's, tears welled up in my eyes and all I could do was lie face-down on the carpet, making a puddle of tears and marveling at how well Jesus knew exactly how to love me. The story of Joseph was profound and spoke to me in a way that colored my imagination of what the experience of following the Lord had been like for Joseph. He knew the stories I needed from his Word to live into who he was calling me to be. I exhaled the prayer, Daaaaaaaannng, Jesus.
Even in my tiredness and my inability to engage in the things I thought would bring me closer to him—Bible study, guided prayer, the latest devotional—he spoke. He spoke through my fears and insecurities, and he guided me in a gentle way that would get at the heart issues with which I was wrestling. I was afraid to be a peacock. Afraid of what others thought of me, afraid to be myself, afraid I wasn't enough, afraid that I was going to mess things up in my ministry, my family, my marriage, my body. I was cowering in fear and the crushing tiredness was the perfect façade to keep me ignorant of it until I actually stopped and let Jesus speak into it.
Staring at the peacock on the page, I realized that my fear was eclipsing my belief that God was with me. It was strangling out the woman God was calling me to be, because I knew it would be uncomfortable, I would stick out, I would piss people off, just like Joseph did when he excitedly shared with others about what God spoke to him, unaware of any negative ramifications.
"Don't be afraid"—God's words to me through Joseph, the original peacock. He spoke in his Technicolor-Jesus way of popping out unexpectedly as he often likes to do. It wasn't until many years later I realized the irony that he spoke to me through a peacock, the showy male of the species, rather than the peahen. Jesus, such a jokester.
When we take the time to be with Jesus, inviting the Holy Spirit to guide our time rather than bringing an agenda of what we think God should do, he meets us in profound ways. He invites each of us to be a peacock in unique, painful, and magnificent ways.
—Jessica Leep Fick is a writer, speaker, and Evangelism Resources Director at Stonecroft Ministries living in Kansas City, KS. This article is taken from Beautiful Feet by Jessica Leep Fick. Copyright 2015 by InterVarsity Christian Fellowship/USA. Used by permission of InterVarsity Press.