I Grew Up with Two Women Pastors
Seeing two women lead our church gave me the freedom to pursue the gifts God had given me.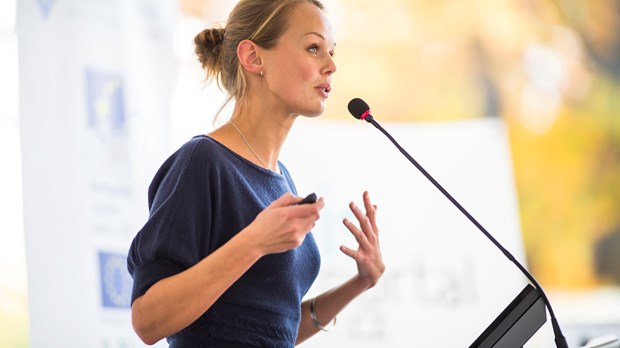 I was brought up under the leadership of two women pastors, Sister Opal Eckert and Sister Mary Slaughterbeck. It was a small country church, and God chose these women to mentor me in leadership, especially church leadership. These women knew how to serve others, loving and caring for those around them. They knew their Bibles, not only for information but for transformation. They knew how to pray, and we spent midweek prayer night on our knees before God. It's a rare occurrence to have two women pastors, but I'm thankful I had the advantage of having women role models that developed me for kingdom work. These women continually shaped me by their prayers and leadership. Their spirit has gone with me throughout my life and ministry.
Not only was I led by two women pastors, but also I had dear female friends who were pastors, worship leaders, evangelists, and so on. I was surrounded by the women of God, single and married, in a variety of roles, so I stepped into leadership more rapidly than may be the norm for females. Seeing these women serve the kingdom gave me the freedom to seek out what God wanted for my life. I never thought "I can't" because I saw these women teaching and leading.
Throughout my teen years, these women mentored me in teaching and preaching. Because of their leadership, I was teaching Sunday school by age 13, teaching adults by age 14, and preaching by age 16. They gave me feedback, support, and love in the midst of mistakes. They encouraged me to be a student of the Word and to let the Holy Spirit speak to me as I studied and prepared messages. When I started to preach, one of the pastors assisted me in preparing, delivering the message, and making improvements.
Freedom to Be Me
Having female models from a young age gave me a freedom that I didn't even know I possessed until years later. I gained the freedom to explore who I am in Christ, grow into my gifts, use my gifts, and be empowered for kingdom work. These women supported me and taught me that my freedom came from the Holy Spirit speaking into my life through the Word of God.
Scripture states, "It is not that we think we are qualified to do anything on our own. Our qualification comes from God. He has enabled us to be ministers of his new covenant. This is a covenant not of written laws, but of the Spirit. The old written covenant ends in death; but under the new covenant, the Spirit gives life" (2 Corinthians 3:5–6). We are sufficient because God has made us sufficient. It comes from him, not from ourselves; it's his work, not ours. The Spirit made me sufficient, and the discipleship and training I gained from the women leading my spiritual life helped me embrace the freedom God gives. This empowered me to become who God created me to be.
This freedom led me to be a youth pastor, divisional youth director, assisting minister, ordained preacher of God's Word, and Christian education director at various stages of my life. Now I'm free to serve at a seminary after 20 years of full-time ministry on staff at churches. I'm free to share with other women and men contemplating ministry and leadership. Free to pray boldly, to teach, and to serve wholeheartedly in places that God designed for me. I understand that God not only chose me, but also qualified me for his work (Colossians 1:12). If he has qualified me, then I can trust him in the midst of this freedom.
Let's Support Each Other
But freedom always comes with a price. There have been times that male leaders have been intimidated by my leadership and gifts. I find that typically these men are not secure in their own identity and calling. In their insecurity, they have questioned my calling and even removed me from ministry situations. Some of my best ministry colleagues, however, have been men who are secure in their God-given identity and calling. Some women have also judged me as a pastor and leader. Sometimes they're insecure. Other times, there's jealousy. Many times they feel unfulfilled in their calling or life journey.
When women are quick to judge and condemn, it stings. How can you possibly teach children in the church if you haven't given birth to children? Why would you want to pursue a doctorate when the highest calling is having a home, to cook and bake for your husband? All I can say is not all women are called to bear children or to be the homemakers some have aspired to be. Instead of criticizing, we should be supporting one another in our individual callings. Yes, I am barren and will never give birth to a physical child, but I have given spiritual birth to many around me throughout the years. To solve the homemaking issue, God brought me a wonderful husband who knows how to cook and bake. Now that is answered prayer! God has called us to love each other, even if we're on different journeys. When men and women are secure in Christ, we can create bonds of strength and work together for the kingdom. When we meet people who aren't secure in their identity and calling, we are called to love them in the midst of their journey. When our own love is not enough, we ask for the compassion of Christ.
But even with conflict on the horizon, we must not be afraid of the journey God has for us. Woman of God, you are qualified by the Holy One. Do not fear! If you're a woman pursuing the call of leadership, I want to encourage you. You are not alone on the journey. Other women have gone before you, and God is with you as you travel. Don't be afraid of the call that God has placed upon your heart and life. If he has called you, he will equip you! He will make a path for you! Don't be afraid of people who are intimidated by your leadership or those who are jealous of you. When you are called to lead, God will take care of the rest. Embrace the call he has for you. He has made you sufficient and has qualified you for the work. That is the only approval you need.
Also, remember that the younger generation is watching. There are little girls on the pew, and teenage girls who are looking for female mentors and friends to shape their lives. They are waiting for you to step up to the challenge of leadership, which will assist them in the same process. Are you ready to step into the freedom that God has given you?
Dr. Dawn Morton has a Doctor of Education in Leadership and serves as the Associate Dean for Institutional Assessment, Assistant Professor for Christian Formation and Leadership, and the Doctor of Ministry Track Leader for Transformational Leadership at Ashland Theological Seminary in Ashland, Ohio.