Making Space for Women Leaders in the Church
The day my bubble burst about women in ministry.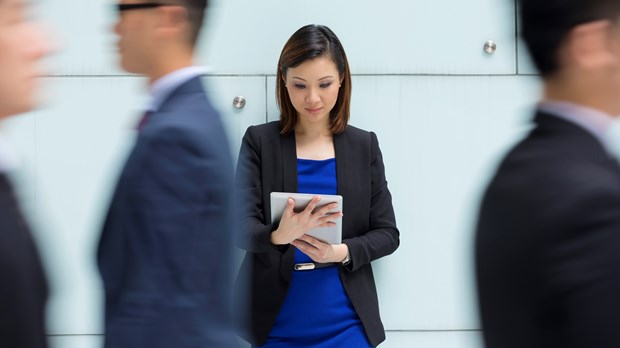 Being a woman in ministry has its perks—I take particular delight in surprising people. "Wait, you're a minister?" they ask. "But you're so [insert the quality that busted their expectations]!"
I'm an ordained Presbyterian minister, and I come from a tradition and a family where this is relatively unremarkable. Both of my parents are Presbyterian pastors. My father has served primarily in parish ministry, while my mother has served in both parish ministry and spiritual direction.
When I was a toddler, my father served at a three-church-yoked parish. It was there I first saw someone in ministry who looked like me—an Asian American woman. She was a seminary intern my father supervised. The second was a pastor my parents knew in their presbytery. The third was my mother, who started seminary when I was in junior high, interned at a church when I was in high school, and was ordained when I was in seminary.
The Bubble Bursts
Unaware of any reason this vocational path wouldn't be open to me, I began to pursue parish ministry. The primary obstacles I saw were the ones everyone in our denomination has to tackle: passing the exams, obtaining a Master's of Divinity, and undergoing the care process with a judicatory that oversees ministry formation. I expected some adversity because I was young, a woman, and a person of color. I was no stranger to cultural and structural inequality, but I'd had few experiences of anyone challenging my calling.
It wasn't until I had graduated from seminary and was serving as the coordinator of a ministry program for Asian American young adult Christians that I realized my work would bring me into contact with Christians that, due to their reading of Scripture, do not consider women appropriate for some areas of church leadership. That was the sound of my bubble bursting.
The kingdom of God has plenty of room for all sorts of callings—and one person's call doesn't have to threaten another's. I had always assumed women could be leaders in the church, even if it was difficult. Even if the theology of some maintained a hierarchy of genders. Even if the church has difficulty seeing younger women and women of color as capable of leadership, instead of token representation. In light of this, I had always operated under the assumption that women and men can be equally legitimate manifestations of God in this world. The day my bubble burst, I realized I needed to hold onto this ideal, to stand strong against the thought that women are inferior. This is a lie that leaches into our lives without our consent, shaping us in countless ways. It's used by our society to dehumanize us throughout our lifetimes. Sadly, the church has, at times, been a participant in and promoter of this dehumanization, even if some denominations and traditions have worked to shake it off.
In my own denomination, women face different access to ministry opportunities at a structural level, along with harassment based on gender and race. An extensive research project conducted by PCUSA in 2016 reported on the status of women in the denomination. It found that despite the denomination being composed of 58 percent women, men are in official leadership positions at higher rates, while women are most often found serving in volunteer positions. Women are not only underrepresented as pastors and church officers, but the vast majority of women in pastoral leadership report having experienced gender-based discrimination, harassment, or bias. Women who are pastors of a certain age are asked about their family planning. People call the church and ask to speak to the pastor, and oftentimes promptly hang up when a woman comes on the line.
Women of color face additional obstacles in order to serve in a ministry that is a match for our talents and calling. Even when we do find a good fit, we can face ongoing struggles. It is a standing joke in our denomination that most people can't tell the Asian American women pastors apart. We have been known to take a picture of our group at conferences, standing together with our nametags held up next to our faces.
Despite these challenges, women have learned to navigate these dynamics, serving in a variety of contexts. I know women in associate and senior pastor positions, the academy, campus ministries, parachurch organizations, and church-associated publications. I know women who began non-profit ministries for homeless women, and women who have started organizations to provide services to immigrant women escaping domestic violence. Some women actively work to change systems of misogyny, while others challenge the culture simply by virtue of being themselves in ministry wherever they are called.
A Calling Wider than I Imagined
I intended to do parish ministry—I wanted to serve a congregation. But it didn't turn out that way. I turned down some positions in parish ministry, and some parish ministries turned me down. So, I have become, for the moment—because God's ways are mysterious—a person ordained to ministry who serves outside of a congregational setting. First, it was with Asian American young adults and pastors, which later included Latinos and African Americans in our ministry. Then, I worked in leadership development with seminarians, new pastors, emerging scholars of color, and in and around theological education. Now I serve in religious publishing, relating with individual churches and the wider church.
I see myself as a person in ministry with a congregation that is far wider than an individual local congregation. My congregation is fluid and ecumenical, sometimes international. I'm able to bring together my longstanding interests in books, leadership development, gender and racial justice, the church, and ecumenism. I can satisfy my academic interests without having to be part of the academy (that's someone else's call!). I also experience ministry with a layer of protection provided by human resources staff. If someone is inappropriate with me or unnecessarily interferes with my work, I have a place to go that abides by U.S. employment law. This isn't a privilege people who work in congregational ministry often have.
Unity in Difference
I was nervous about the ordination process, but I had a surprisingly good experience. The reason is because the committee saw itself not as a gatekeeper, but as a partner in discernment. Instead of grilling me on my beliefs, they had conversations with me about my call. And while God hasn't called me to parish ministry right now, he's called me to important work. (Plus, my calling could always change.) I learned from the committee—and from many colleagues with whom I differ theologically—that we don't have to police each other by doctrine, although such matters are important. We don't have to invalidate forms of ministry that are different than our own. Rather, we can respect each other and our callings. The best manifestation of the church is one that is flexible and ample enough to create space for all the ministries to which we are called.
Welcoming more women leaders in the church is not about ensuring every woman will be a senior pastor, but that women are not de facto restricted from positions to which they are called and qualified. It's about making space for women to serve as themselves in ministry—created, beloved, and called by God. And that's worth working toward.
Laura Cheifetz is Vice President of Church & Public Relations at Presbyterian Publishing Corporation.