Encourage More Women to Lead
Regardless of theology, we need to empower more women to use their gifts in the local church.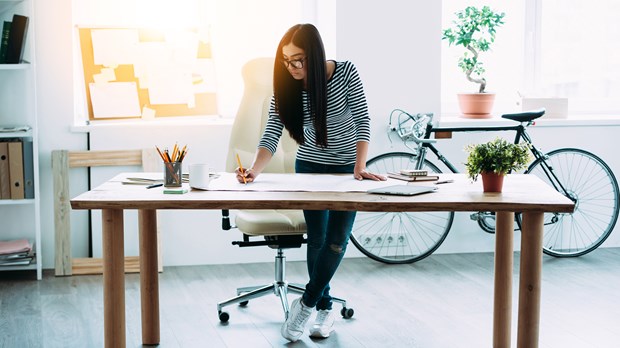 I'm not here to convince people to change their theological stance on the role of women in pastoral ministry. What I would like to ask everyone to consider, however, is:
How can I maximize the gifts and talents of women given the particular theological context of my church?
To encourage more women to lead (whether in the hospitality ministry, the women's ministry, or the pastoral ministry), we must learn to look first at the gifts, talents, and experiences that they bring to the table. Then, and only then, should we consider how she could best utilize her gifts, talents, and experiences in the theological context and culture of our church. When we look first at gender, we risk pigeonholing people based on gender stereotypes and missing the incredible potential God has given them.
In some theological frameworks, there are roles that only men can fill. In this case, it's important to be consistent and live out your theological convictions. It is just as important, however, not to exclude women from serving in particular roles simply because it breaks a stereotype. If, for example, a church believes the role of elder is specifically for men, but there's no theological prohibition to women serving on the finance committee, it's appropriate to look for a female member of the church with financial expertise to bring onto the team. Another church might believe the role of preaching on Sunday morning should be reserved for men, but could still invite a woman gifted at public speaking to give announcements or read Scripture. Be consistent with your theological convictions and flexible with cultural stereotypes.
Ephesians 4:11–12 calls the pastors, prophets, teachers, apostles, and evangelists of the church to equip the people of God for works of service, and 1 Peter 5:1–2 urges elders to shepherd and serve the flock under their care. If you currently serve in any role of leadership in your church, you are responsible to care for, develop, and equip the people of God under your care. This includes helping them identify their gifts and talents and looking for ways they can serve in their areas of giftedness. One of the greatest gifts you can give someone is to call out the strengths God has given her and help her find a place to grow and develop those strengths.
When God gives a woman in your ministry the gift of leadership—something we see throughout the Bible and the history of the church—how will you help her steward her gift well in your church? Today, women are leading Fortune 500 companies and serving at high levels of government. They are professors, doctors, lawyers, entrepreneurs, and engineers. When the female CEO of a successful business becomes a member of your church, what opportunities will she have to use her leadership gifts to advance the gospel?
All Hands on Deck
On a quest to discover if America has truly become a post-Christian nation, the Barna group conducted a survey of over 60,000 individuals. Findings indicated that in as little as 2 years, from 2013 to 2015, the percentage of Americans categorized as "post-Christian" grew from 37 to 44 percent.
Does that mean America is a post-Christian nation? Not necessarily. But it does indicate we're headed in that direction, which means it's as good a time as any to ask some hard questions about what might turn this ship around. The church in America is facing an "all hands on deck" scenario. We all need to pull together in order to keep advancing the gospel and building the kingdom of God—including women.
If the church in America is going to turn from the current trends, it's essential that we mobilize, equip, and empower every single member to maximize their gifts and apply them appropriately in the context of the local church. If you identify a woman gifted with planning, ask her to speak into your next building project. If a woman in your church is exceptional with strategy, ask her to review your assimilation process for first-time guests. When you meet a woman who has a background in marketing, ask her what she thinks of your social media and branding. A stay-at-home mom in your church who loves writing could contribute to a monthly publication encouraging stay-at-home moms.
A woman who naturally influences others could rally people and move them in directions that build the kingdom of God. Imagine if you helped her start a new outreach in your community to serve the homeless, build a mentoring program for young women, or lead a seminar for your staff in her area of expertise. Be creative and dream about how the kingdom of God could be impacted if all the gifts and talents of the women in your church were used to advance the gospel.
When God Calls You to Stay
I want to give one final encouragement to the women who feel called to continue serving in churches where the opportunities afforded them do not match the gifts God has given them. First, thank you for serving. You care deeply about serving the local church and advancing the gospel, and that makes you a great leader. God sees you, knows your struggle, and has not forgotten you.
All I have ever wanted is the opportunity to use the gifts God has given me to serve him, and I am deeply grateful for the pastors and leaders who have afforded me those opportunities. Sometimes I've had to wait, watching others get opportunities I thought I deserved. God used those moments to refine my character, teach me humility and patience, and remind me that my gifts were never about me anyway. He has asked me to wait and trust him, and he's challenged me to find worth and contentment in my identity in Christ—not in my accomplishments.
You are called to build the kingdom of God, to love and serve the local church. Leave the results up to God. Will you trust that God knew what he was doing when he gave you your particular gifts, abilities, and experiences? The God who gave you these gifts will open doors for you to use them.
Laura Copeland serves on the Small Groups team at Saddleback Church in California.