My Friendship with Elisabeth Elliot
Leadership lessons over decadent desserts changed my life.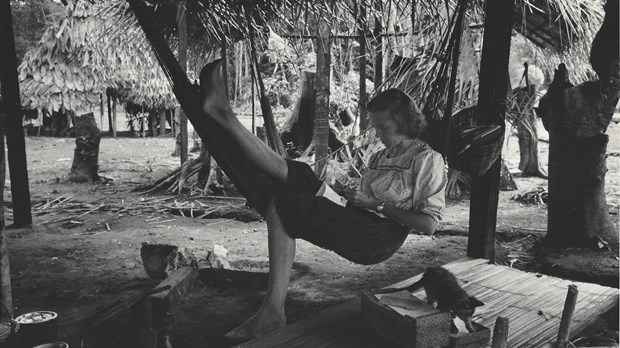 "The fact that I am a woman does not make me a different kind of Christian, but the fact that I am a Christian makes me a different kind of woman." —Elisabeth Elliot
On June 15, 2015, Elisabeth Elliot, one of the most influential Christian women of the 20th century, passed away. On that day, The New York Times, The Wall Street Journal, and The Washington Post ran stories about her life. I'm fairly certain that Elisabeth would have been appalled that her life took up that much newsprint.
In the 1950s, Elisabeth was thrown into the public eye when, as a young mother, she became a widow in a horrific way. The world recoiled at the news of five American missionaries speared to death in the Ecuadorian jungles by Auca Indians. Elisabeth's husband, Jim Elliot, was one of those men.
Remarkably, three years later, Elisabeth with her toddler daughter Valerie in tow, moved into a hut with the tribe that had murdered her husband. Today, there are many Auca Christians, including the very men who speared Jim Elliot.
In college I devoured Elisabeth's writings. Then later as a journalist, I had the privilege of interviewing her in person. Afterward we had lunch together. When the waitress asked the obligatory, "Any room for dessert?" Elisabeth replied, "Of course we want dessert." She then turned to me and asked if I would split something chocolate with her. In that moment, a friendship was born.
We didn't agree on everything, in fact we had some lively discussions, and yet, Elisabeth was an extraordinary spiritual mother who shaped my thinking as a Christian, a woman, and a leader.
Three Lessons Elisabeth Elliot Taught Me
"You can be assured that the God who orchestrates and harmonizes all the world knows exactly what you need for the job he wants you to do." —Elisabeth Elliot
1. Hardheaded women love Jesus, too.
When her husband Jim died, Elisabeth never considered returning to the states, even though many folks advised that she should. Elisabeth said, "I couldn't even understand why they asked."
That wasn't the only time she showed tenacity. Elisabeth majored in Greek at Wheaton College in the 1940s. She was in the minority as a women but she was not dissuaded. She was also an avid writer in a time when evangelical publishing rarely featured female voices. I can only image how difficult it was for Elisabeth to be heard, especially writing authoritatively about theology. And yet, Elisabeth published over 20 books.