My Friendship with Elisabeth Elliot
Leadership lessons over decadent desserts changed my life.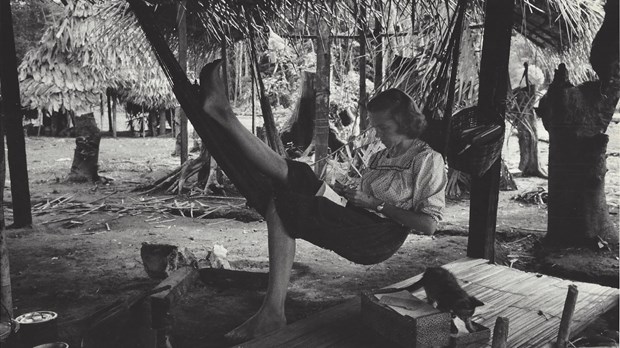 "The fact that I am a woman does not make me a different kind of Christian, but the fact that I am a Christian makes me a different kind of woman." —Elisabeth Elliot
On June 15, 2015, Elisabeth Elliot, one of the most influential Christian women of the 20th century, passed away. On that day, The New York Times, The Wall Street Journal, and The Washington Post ran stories about her life. I'm fairly certain that Elisabeth would have been appalled that her life took up that much newsprint.
In the 1950s, Elisabeth was thrown into the public eye when, as a young mother, she became a widow in a horrific way. The world recoiled at the news of five American missionaries speared to death in the Ecuadorian jungles by Auca Indians. Elisabeth's husband, Jim Elliot, was one of those men.
Remarkably, three years later, Elisabeth with her toddler daughter Valerie in tow, moved into a hut with the tribe that had murdered her husband. Today, there are many Auca Christians, including the very men who speared Jim Elliot.
In college I devoured Elisabeth's writings. Then later as a journalist, I had the privilege of interviewing her in person. Afterward we had lunch together. When the waitress asked the obligatory, "Any room for dessert?" Elisabeth replied, "Of course we want dessert." She then turned to me and asked if I would split something chocolate with her. In that moment, a friendship was born.
We didn't agree on everything, in fact we had some lively discussions, and yet, Elisabeth was an extraordinary spiritual mother who shaped my thinking as a Christian, a woman, and a leader.
Three Lessons Elisabeth Elliot Taught Me
"You can be assured that the God who orchestrates and harmonizes all the world knows exactly what you need for the job he wants you to do." —Elisabeth Elliot
1. Hardheaded women love Jesus, too.
When her husband Jim died, Elisabeth never considered returning to the states, even though many folks advised that she should. Elisabeth said, "I couldn't even understand why they asked."
That wasn't the only time she showed tenacity. Elisabeth majored in Greek at Wheaton College in the 1940s. She was in the minority as a women but she was not dissuaded. She was also an avid writer in a time when evangelical publishing rarely featured female voices. I can only image how difficult it was for Elisabeth to be heard, especially writing authoritatively about theology. And yet, Elisabeth published over 20 books.
Elisabeth bemoaned that she was not born with a shred of meekness. The first time she was in my home, Elisabeth inquired about the abundance of horse brasses hanging on the fireplace. When I told her I collected them, she replied, "Why would anyone collect that?" And yet, I also saw firsthand Elisabeth's humility to admit when she was wrong. In fact, I once received an apology note for a silly debate about hymns and choruses.
Since I was a girl, I've been called hardheaded, and I've been known to do things that people advised against. But knowing Elisabeth gave me courage—I wasn't alone in my tenacity. I learned that I can be hardheaded and love Jesus, and that still gives me courage today.
To my fellow hardheaded women who love Jesus, you are not alone. Your tenacity is needed. We need your voice.
2. Even in suffering, we can trust God.
When I interviewed Elisabeth, I asked her about suffering. She said without missing a beat, "I have never been in that situation myself, but certainly have known people whose lives look as if God has provided mostly suffering." I kept scribbling notes but wanted to say, "That would be how most people see you!"
Not only did Elisabeth downplay her suffering, she also never blamed God. Instead, she claimed that her loss drove her to him. When she first learned of her first husband's death, Elisabeth said, "Jim's absence thrust me, forced me, hurried me to God." Later, when her second husband passed away from cancer after only five years of marriage, she continued trusting God. When asked to sum up what God's message was to her in her struggles, Elisabeth answered simply, "He said, 'Trust me.'"
Life is hard. As leaders, unquestionable trust in the Creator is a sermon we regularly need to preach to ourselves and to those in our care. I appreciate that Elisabeth often preached this to me.
3. You are loved.
Elisabeth suffered from dementia toward the end of her life. The last time I saw her, we enjoyed banana cream pie together, and it was difficult for her to carry on a conversation. I often prayed, God, why Elisabeth? It had to be so hard to have her gift of writing and public speaking taken away—and now even lunch chitchat was gone.
At our goodbyes, I couldn't understand her words, and yet I knew what Elisabeth was saying. We always parted with the same words, and I had memorized them back in college. Elisabeth spent her life preaching a message of redemption and love, and she often repeated these words that I write to you now: "You are loved with an everlasting love. And underneath are the everlasting arms."
To learn more about Elisabeth Elliot, visit her website or read The Savage My Kinsman, Through Gates of Splendor, or Keep A Quiet Heart. Click here for CT coverage on Elisabeth Elliot's life and ministry.
Lesa Engelthaler is a senior associate for Victory Search Group, assisting nonprofit organizations to recruit executive leaders. Friend her on Facebook: Lesa Shackelford Engelthaler or follow her on Twitter: @lengelthaler.
[Photo credit: Used with permission of Lars Gren.]