Bring Your Full Self to the Table
When we allow God to use our full identity, amazing ministry can follow.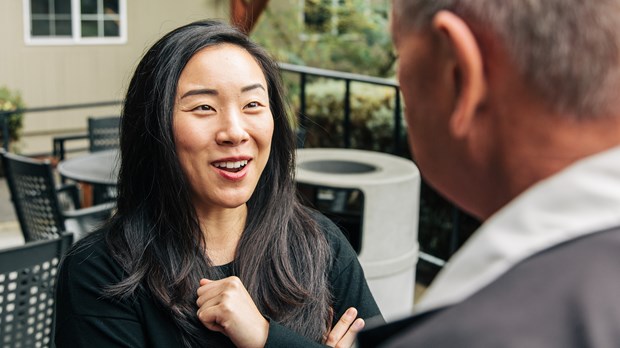 Do you ever find yourself wondering how you ended up in full-time ministry—but can't imagine yourself doing anything else? Have you ever looked back at the threads of your life and marveled at the seamlessness of God's handiwork and precision, time and time again?
These questions are at the heart of Insil Kang's story. A 30-something Korean-American woman who serves as the Director of Community Connections and Communications at Village Baptist Church in Beaverton, Oregon, Kang never expected to find herself called to church ministry—the word "calling" in and of itself a strange and uncomfortable sound to her ears.
Three years ago, Renjy Abraham, associate lead pastor of Village Baptist Church invited her out for coffee. What Kang assumed would be a catch-up conversation with a friend turned into a request to consider working for the multicultural church community.
At that moment, Kang realized that saying "Here I am, Lord," has nothing to do with fully knowing or understanding your plans for the future. Rather, it has everything to do with getting out of the way of the One who does know your future. It dawned on her that all of the plans she had for her life didn't actually make sense.
"Maybe that was the Spirit nudging me—let's be real, it had to have been," Kang said in an email. "It was crazy considering what I had trusted in regarding my future and being 'set' in life."
So Kang left a career in higher education, quit pursuing a master's degree in intercultural relations, and turned down a corporate job offer. Serving within the walls of the church, God gave her a heart that sides with the marginalized and the oppressed.
Bring Your Story
In a way, Insil Kang returned to her roots. When Kang was 6 years old, her family moved from Akron, Ohio, to Salem, Oregon, so her parents could take over ownership of a local motel chain. The daughter of immigrants, she remembers anxiously witnessing her parents' lack access to the resources available to those Americans without language and cultural barriers. As one of only a handful of Korean families in Salem at that time, Kang recalls the tension of retaining her ethnic heritage while seeking to assimilate into mainstream culture.
She remembers her mother carefully planning out meals, so that the non-American smells of Korean soups and kimchee wouldn't conflict with guest check-ins or busy travel seasons. Kang also felt tension navigating cultural differences, like when she went to a friend's house after school for dinner. Although everyone sat at the table together, spaghetti noodles and sauce were plated separately in the kitchen. This stood in stark contrast to her dinner table, where all the food sat in the middle of the table and was served family style. Lacking the resources and tools to flourish in mainstream culture, Kang did her best to catch up on cultural "secret codes" as she tried to assimilate.
On the other hand, Kang always felt at home in the church. Attending a Korean church, Kang experienced blurred lines between family and faith. Family get-togethers always began with a shortened sermon, a few hymn sings, and a "too-lengthy prayer to bless the now-cold food," says Kang. Sundays, were a longer version of the same template—sermon, hymns, and prayers—but with a more formalized dress code.
By creating a culturally specific church setting, Kang's church community became a triage center for Koreans who were new to America, fully supporting them and meeting their most urgent needs. Kang remembers the church of her youth emphasizing Scripture from the Old Testament; they were a people who found solidarity with the wandering Israelites. Their church was not only a place of worship, but a community center for immigrants trying to survive the difficulty of being new Americans. Accordingly, the gospel shared at her church reflected that belief: God was the God of the marginalized and the oppressed, the One who sees, notices, and loves those who have been forgotten and cast aside by the rest of society.
Unfortunately, while the church preached a compassionate strand of Liberation Theology, they neglected to teach the fundamentals of grace. Kang believed Jesus a good man, but she remained clueless to the concept of a personal relationship with him. When her family went through a personal crisis in 2006, Kang suddenly felt like there wasn't room enough for grace in the church. The place that had been part of her foundation seemed to focus on the obligations of religion and the exterior appearances of faith.
So, when Kang left Salem after college, desiring the diversity of the East Coast, she also left the church. Like many young professionals, she distinctly remembers telling God, "I'll take my Bible with me, but, no offense, I just can't do church anymore."
But God wasn't done with her yet. A year or so later, she found herself hungry for the Good News, and on Easter Sunday, of all mornings, she walked into Redeemer Presbyterian's Hunter College service, and she was smacked upside the head with grace. Suddenly, she understood the concept of God as Father. She embraced the One who sought and desired a relationship with her. She began to see that churches really could be communities that majored in messiness and prayed without judgment, all in the name of Jesus.
And that's how our story comes full circle: when Renjy Abraham asked her to consider working for Village Baptist Church, Insil began to see God's heart for the marginalized, reaching from her past to her present.
Bring Your Passions and Gifts
"Insil is passionate and willing to step out for the sake of others, ensuring that the most vulnerable person is heard," says Abraham, her current supervisor, who praised Kang for having the heart of a pastor with the innate ability to step in and out of various cultural contexts. In addition, Kang moves with fluidity between Korean, English, and Spanish. The three languages she speaks fluently happen to be the three languages represented by the church's first generation multicultural ministry. As one of two women on full-time staff at the church, she also finds herself in the role of advocate, not only when the potential blind spots of a Western staff culture are revealed, but also when the needs of their diverse ecclesial body aren't communicated or realized.
Although hers wasn't a normal path into ministry, it's obvious to Abraham, to their church community, and now to Kang that she was called into ministry. When she reflects on various life experiences, on the subjects she studied in school and on the various work projects she initiated in higher education, it feels like the role at Village was written just for her.
She represents and communicates on behalf of those whom society oftentimes overlooks. By forming partnerships with groups outside of Village, particularly within the school district and the local homeless population, Kang reaches people who wouldn't necessarily choose to step into a church. By listening to and fighting on behalf of minority groups, she inadvertently drives growth in multicultural ministry. Now, Insil Kang embraces the whole of herself: fully Korean, fully American, and fully stamped with the image of the God who created her. And by embracing every part of herself, Insil Kang lives out the story given her from the beginning of time. For she who was marginalized finds that her heart beats for the marginalized, too. And that, I say, is hope enough for the rest of us.
Cara Meredith is a writer and speaker from the San Francisco Bay Area. She is a member of the Redbud Writers Guild and co-host of Shalom in the City's monthly book club podcast. She holds a Masters of Theology (Fuller Seminary), and can be found on her blog, Facebook, and Twitter.