Bring Your Full Self to the Table
When we allow God to use our full identity, amazing ministry can follow.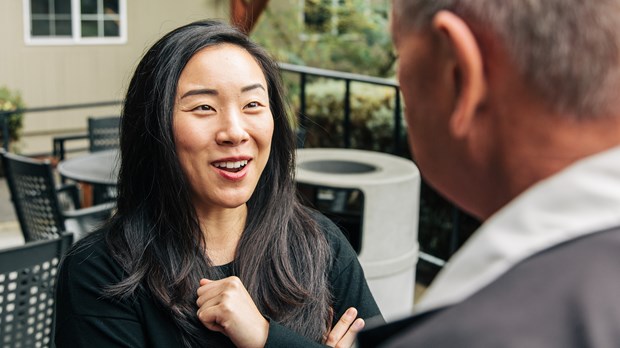 Do you ever find yourself wondering how you ended up in full-time ministry—but can't imagine yourself doing anything else? Have you ever looked back at the threads of your life and marveled at the seamlessness of God's handiwork and precision, time and time again?
These questions are at the heart of Insil Kang's story. A 30-something Korean-American woman who serves as the Director of Community Connections and Communications at Village Baptist Church in Beaverton, Oregon, Kang never expected to find herself called to church ministry—the word "calling" in and of itself a strange and uncomfortable sound to her ears.
Three years ago, Renjy Abraham, associate lead pastor of Village Baptist Church invited her out for coffee. What Kang assumed would be a catch-up conversation with a friend turned into a request to consider working for the multicultural church community.
At that moment, Kang realized that saying "Here I am, Lord," has nothing to do with fully knowing or understanding your plans for the future. Rather, it has everything to do with getting out of the way of the One who does know your future. It dawned on her that all of the plans she had for her life didn't actually make sense.
"Maybe that was the Spirit nudging me—let's be real, it had to have been," Kang said in an email. "It was crazy considering what I had trusted in regarding my future and being 'set' in life."
So Kang left a career in higher education, quit pursuing a master's degree in intercultural relations, and turned down a corporate job offer. Serving within the walls of the church, God gave her a heart that sides with the marginalized and the oppressed.
Bring Your Story
In a way, Insil Kang returned to her roots. When Kang was 6 years old, her family moved from Akron, Ohio, to Salem, Oregon, so her parents could take over ownership of a local motel chain. The daughter of immigrants, she remembers anxiously witnessing her parents' lack access to the resources available to those Americans without language and cultural barriers. As one of only a handful of Korean families in Salem at that time, Kang recalls the tension of retaining her ethnic heritage while seeking to assimilate into mainstream culture.
She remembers her mother carefully planning out meals, so that the non-American smells of Korean soups and kimchee wouldn't conflict with guest check-ins or busy travel seasons. Kang also felt tension navigating cultural differences, like when she went to a friend's house after school for dinner. Although everyone sat at the table together, spaghetti noodles and sauce were plated separately in the kitchen. This stood in stark contrast to her dinner table, where all the food sat in the middle of the table and was served family style. Lacking the resources and tools to flourish in mainstream culture, Kang did her best to catch up on cultural "secret codes" as she tried to assimilate.