I Don't Fit the Senior Pastor Mold
But I'm leading in the way God has gifted me.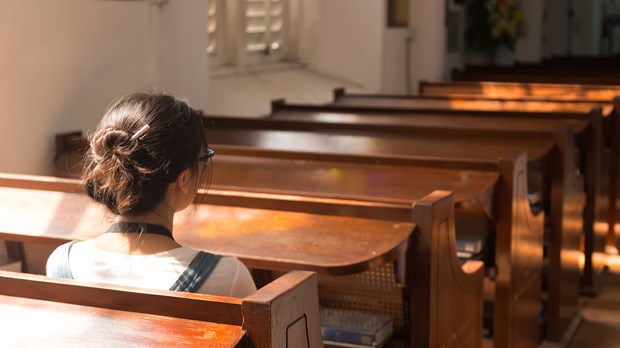 I felt a lump in my throat as I looked out across the sanctuary of the 1,900 member congregation—the church where I had been senior pastor for nine weeks. It was the same sort of lump I had when my son, Caleb Daniel Leach, was placed into my arms for the very first time.
As I held Caleb, tears streamed down my face and onto his precious cheeks. I was madly in love. He was beautiful. I studied his fingers, his tiny toes, his gigantic eyelashes, and his chubby cheeks. The more I studied him, the more in love I fell, and the more in awe I became. As I held him, I began to pray with that lump in my throat, "Lord, I am in awe that you have made something so beautiful and have now entrusted me to walk with, love, nurture, and lead this child."
That Sunday morning as I looked across the congregation, similar emotions came over me. As I gave the benediction, I could hold it in no longer:
"May the Lord bless you and keep you.
May the Lord make his face smile upon you
And be gracious to you.
May the Lord turn his face toward you
And give you peace.
First Church of the Nazarene of Pasadena, I love you more than you know."
After I said it, I thought to myself, Did I really just say that out loud? But I did, and I didn't care. I was in love, and I needed to tell them. It's only been a few months since I started serving this wonderful congregation, but as each day passes, I discover something new and beautiful about her. As I study the hands and feet of the Bride, I am in awe that God has entrusted me to walk with her, love her, nurture her, and lead her.
You're the Senior Pastor?
I have always had a pastor's heart, but moving from a staff pastor role to a senior pastor role is in so many ways a new journey. Whenever I meet someone new, I hear something along the lines of: "Wow, you're the senior pastor?!" I can't blame them for being shocked. I don't fit the historical picture for the part. I look more like the young suburban mom who enjoys wearing red stilettos, not a senior pastor of a historic 110-year-old church.
In the North American evangelical church, the office of the senior pastor is primarily held by men. Consequently, I have never had the opportunity to watch a female senior pastor lead, and I have only known one. I've had the best mentors, influencers, teachers, and professors who have helped get me where I am today, but I've never seen a female senior pastor lead. So finding my footing in a world that I've never seen a woman lead feels like navigating uncharted territory.
To make things more challenging, we don't often associate the traits of a nurturing mother—traits that describe the way I lead—with our ideas about leadership. Several years ago, a fellow pastor actually advised me not to be motherly and nurturing as I lead—as if those two traits should be exempt from leadership. But Scripture is full of rich imagery that describes God with maternal and nurturing traits, like these three examples:
"It was I who taught Ephraim to walk, taking them by the arms; but they did not realize it was I who healed them. I led them with cords of human kindness, with ties of love. To them I was like one who lifts a little child to the cheek, and I bent down to feed them" (Hosea 11:3–4).
"Like an eagle that stirs up its nest and hovers over its young, that spreads its wings to catch them and carries them aloft" (Deuteronomy 32:11).
"As a mother comforts her child, so I will comfort you; and you will be comforted over Jerusalem" (Isaiah 66:13).
While culture might at times paint maternal traits as something that should be removed from leadership, Scripture flips this upside down and shows these traits as strengths. Maternal and nurturing leaders, like mothers, seek not only to care for their family, but also to push for the success of their family. The maternal leader nurtures in times that call for empathy, presence, and care, but she also pushes, inspires, and motivates when the time is right.
Lead as the Unique Person You Are
So on that day as I blurted out my feelings like a young teenager in love, I only second guessed it for a moment. As I walked down the aisle to greet the congregation as they left the sanctuary, the Spirit reminded me that God has given me a voice, a personality, a posture, a mind, a heart, and emotions—and these unique traits make me who I am. I can only lead, pastor, teach, and shepherd in the ways that God has created me, and that means being nurturing and maternal. And just because I've never seen that from a pastor doesn't mean it's wrong.
When women see the people who usually serve as senior pastors, many of us quickly realize we lead differently. It can be tempting to change to be like the leaders we so often see, putting aside who God has called us to be. It has taken me years to figure out that I don't have to be someone else—I simply have to be who God created and gifted me to be. I may preach in a different way, sharing emotions more freely and using non-sport illustrations, but that's who God made me to be. I may lead through influence and relationships rather than authority, but that's who God made me to be. I am who I am, and I'm not sorry for it.
Sisters in Christ, it is my hope that you lead, teach, preach, shepherd, evangelize, and equip in the way that only you—in the Spirit—can do. Do it with confidence, do it with gusto, and don't apologize for it.
Tara Beth Leach is the Senior Pastor of First Church of the Nazarene of Pasadena in California. You can follow her on Twitter @TaraBeth82.