Take Ownership of Your Development
Women are often overlooked for leadership development. Take matters into your own hands.
The tough truths of self-leadership aren't meant to frustrate or demotivate you. They're meant to challenge you, because if you understand the hard work of self-leadership and pour yourself into it without expectations of others or an entitled attitude, you will develop the character and core of an extraordinary leader. You will begin to lead yourself well, and from that place you'll be equipped to lead others better.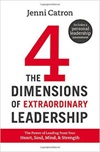 Jenni Catron is a writer, speaker, and leadership coach. She has also served as an executive leader at both Menlo Church in Menlo Park, California, and Cross Point Church in Nashville, Tennessee. Taken from The 4 Dimensions of Extraordinary Leadershipby Jenni Catron. Copyright © 2015 by Jennifer Catron a/k/a Jenni Catron. Used by permission of Thomas Nelson.