Lead from Where You Are
Give to others from your own walk with God.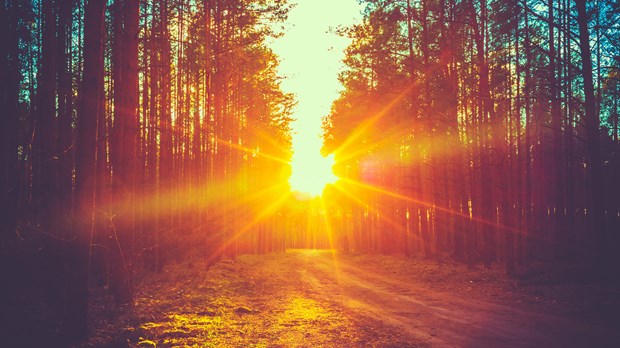 "You walk with God and teach others out of that." My professor's words etched themselves onto my soul as he spoke.
Over a decade later, I have yet to forget them. In fact, they have become a simple reminder―a scripted placard hanging on the doorpost of my mind―that have guided me through many seasons of ministry.
As women, we often put so much pressure on ourselves to perform. Our leadership must be savvy. Our teaching must be rich. Our hospitality must be endlessly cheerful. Yet amidst our striving to meet the needs of those we serve, we sometimes miss the lessons for ourselves and the opportunities to be real with others.
However, when we lead from the overflow of our own walk with God, we are freed to be ourselves and to give out of what we possess—to share our own story, to teach our own lessons, and to invite others to be honest, too.
Here are three ways we can walk with God and then teach others to do the same:
Look for your own lessons.
What was the first thing you did when you sat down in your office chair this morning? It's almost second nature for us to open up our laptops and start checking email. Next, we fill up a Post-It note with our daily to-dos:
Finish the leadership team agenda. Start Bible study outline. Counseling appointment at 11 a.m. Strategic planning meeting at 2 p.m. Finalize next semester's small-group curriculum.
We feel pressured to run from one thing to the next, seldom processing the difficult conversation, the spiritual dry spell, or the lesson that fell flat. Our to-do list drives our day, as do the mounting needs and crises around us.
But what if we paused for just a moment? What if we started our day not with our to-do list, but with listening to our soul's longings and to God's leading?
I distinctly remember sitting at my desk around 11 a.m. one morning, staring at my computer screen. The black cursor flashed on my empty page as if in sync with the tick-tock of the clock. I was supposed to teach Bible study the next day, but instead of typing, I sat there tired, depleted, with nothing to share.
After a brief pep talk, I pulled myself together and opened my Bible. Instead of searching for something meaningful to share—something I thought might speak to the women in my class—I asked a different question: "What do you want me to learn?"
I struggled at first. As I read the text, the words stung as they sunk into places I had carefully ignored. Like peroxide poured into a tender wound, they washed out the dirt and debris so that I could see what lay beneath. They forced me to confront the tiredness and fatigue and how I had allowed myself to come to that place.
As time went on, the stinging stopped. The tension in my shoulders relaxed. The words that once felt like peroxide now seemed more like a soothing salve, relieving my anxiety and guiding me into a better, more soulful, way to live.
After a few more hours of study, I had my outline typed out and my lesson pulled together. It wasn't cold or sterile now, because I realized the healing truth of the studied passage when properly applied. As a result, I stood up in Bible study the next day with something fresh and authentic to share.
It's a lesson we must learn and relearn. Putting away our driving to-do list is never easy. There will always be people, pressures, and pain vying for our attention. Yet in order to meet their needs, we must also listen to our own longings and look for our own lessons. It is in our neediness that God fills us up, giving us not only what we need, but ultimately what he wants us to share with others.
So as you open your Bible, dream about strategic plans, or lead through opposition, take the time to ask God not only what he wants you to teach, where he wants your ministry to go, or how you should direct that difficult conversation―but also what he wants you to learn. Then lead from what he gives you.
Let yourself breathe.
Do you ever find yourself holding your breath, running from one thing to the next? Often, the more pressure we feel, the less we pause, and the more we push ourselves. It's like trying to run the race of ministry without air.
For most of us, the pressure to perform confronts us daily. Often we are one of only a few women on our church's staff. There's a lot for us to do, and we want to prove we can keep up. Yet, when we push ourselves to do and be more than we are, we miss the opportunities to trust God's strength.
As a perfectionist and performer, I often feel the stress move up my shoulders and into my throat as I speed walk from one meeting to the next. My breath gets shallow and short as the inner dialogue begins. Must be on time. Must articulate my vision clearly. Must return phone calls and finish tomorrow's meeting agenda when I get back to my desk. The stress within us mounts to match―or exceed―the pressure we feel from our situation.
The next time you find yourself having one of those days, stop and take a breath. Remind yourself as you walk with God, he will give you what you need—wisdom for the situation, words for those who struggle, rest when you are weak. With him, there is no pressure to perform or please. Work hard, but then trust him to do the rest, and breathe.
Lead with authenticity.
When you think about the leaders who have shaped you the most, what stands out about them? Is it their drive? Their ability to fill a room? The way they speak truth?
As I look back over the women who have influenced me the most, the trait linking them all is their authenticity. I remember their stories―especially the painful parts. They could have tucked their challenges away in a journal, or hidden them in their pasts. Instead they chose to share them, confident that their pain had a purpose and that it was, in part, meant to bring healing to someone else.
Ministry is hard. Life does not always go as we plan. Our next step is never easy―sometimes we fail. We need people who will not shy away from telling us hard truths, but who will also build us up, teach us how to work through pain, and encourage our growth.
As women serving in the church, many of us now occupy positions of leadership as the women we once esteemed. Will we be authentic with those we mentor, disciple, and lead? Will we listen well? Will we speak the truth in ways that offer hope and healing?
It's easy to stuff our hurts. It's tempting to portray our life and ministry as better than they really are. If we do, however, we miss the essence of true community, along with the character and courage it builds.
People learn best when they connect with someone else's pain—their loss, failure, or stress—so be appropriately honest with those you serve. You cannot trust everyone with your deepest struggles―in fact, you may only be able to entrust those warfare moments to a precious few―but you can share your story in a way that demonstrates you are a work-in-progress, highlighting how God has brought you through.
Church ministry is stressful, sacred, and significant work. The daily pressures we face as we lead meetings, provide vision, offer counsel, and teach God's truth weigh heavy on our souls. How can we possibly meet so many needs and live up to so many demands?
The answer is not easy, but it can be summed up in one simple script: "You walk with God and then teach others out of that." Let's live―and lead―from the overflow today.

Amanda DeWitt is a writer for a global non-profit organization, freelancer, and blogger. She is married to a high school football coach and has a one-year-old little boy.