Making the Leap from Marketplace to Ministry
Five truths to keep in mind when God calls you to a big career change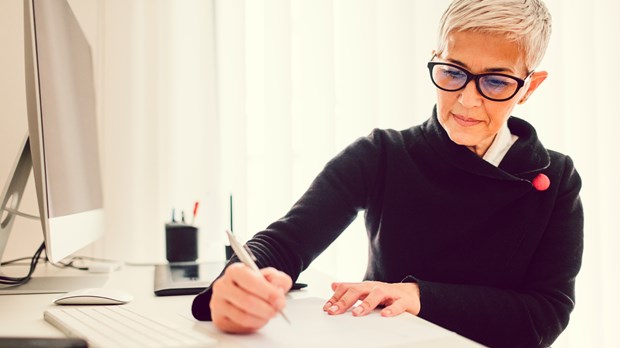 My move from business to full-time ministry happened so fast, I probably should have seen a chiropractor for whiplash. I had held a litany of diverse jobs over the years―everything from fast food cashier to customer service representative, wardrobe coordinator on a Christian nativity musical tour to a very brief stint in the technical department of a major city's opera house.
Despite my patchy resume, I finally settled into a project manager position with a legal publisher, which lasted over 11 years. I was good at my job and really loved my team, but I always had a sense I should be doing something else. The specifics of what that something else was escaped me. I had the vague notion I should find a more creative career, but I lived in Los Angeles, a city of a thousand different assortments of creative jobs, and didn't know where to begin. Paralyzed by options, I stayed put―until the day I felt a firm, but gentle, nudge to explore seminary. Something inside of me clicked into place as I read the program description.
After a brief time wrestling with the decision, I applied, thinking, Well, I guess when I finish in a few years, I will…go work for a church? Doing…some kind of thing? Thankfully, God had more coherent plans. Four months into taking classes, I was encouraged to apply for a small groups position at my church. Suddenly, at the age of 36, without a lot of planning or fanfare, I found myself in full-time ministry for the first time and completely unaware of the differences between business and ministry. Here are some truths I―and other women who have made similar moves―have learned from making the transition.
1. Your work history is an asset for ministry.
So many people I have encountered―from the new college graduates in my seminary classes to the most seasoned pastors on staff―received their call to ministry early in life. While that seems to be the case for the majority of people in full-time ministry today, there are plenty of biblical and modern examples of God calling people later in life, too.
The Rev. Kim Dorr-Tilley was solidly ensconced in the entertainment industry in production and casting before ending up as a talent agent, an occupation her skills, gifts, and experiences helped her thrive in for over 20 years. After finding Christ, she began sharing her new faith with so many others that even her friends observed she might have a new calling, which led her to seminary and then ordination. For several years, she kept a foot in both worlds―serving part-time as a pastor at a church in Los Angeles while continuing to run her talent agency. Now a full-time pastor, Dorr-Tilley sees God's hand in the entirety of her path: "I am so glad God called me to be a talent agent before he called me to be a minister. It was as a talent agent that my heart for advocacy was born―it created my heart for ministry."
If God has shocked you with a call into ministry, you might be surprised to find how much he has been preparing you for it your entire adult life, even without your knowledge. Pastor Tawni Garcia had been the chief financial officer of a privately held company in the San Francisco Bay area for years when she felt called to start taking seminary classes. God used her love for her coursework to show her a new call on her life. For a full year, though, she wrestled with the idea of walking away from her professional identity―and a lucrative position―to commit to full-time ministry. Surrendering to God's will, she has now been serving for four years as the community life pastor at her church. For her, one of the biggest surprises was that her new position didn't feel like a surprise at all: "I realized I was a pastor a long time before God brought me into full-time ministry. I was a pastor at my work. So many of the things I had experienced all prepared me for my calling."
There are skills that God will have prepared in us for such a time as this, and some that will need to be grown and developed. Garcia, for instance, discovered that even with her strong background, she needed to adapt her leadership style:
Even with the leadership skillset I had, I had to be a better leader in the church. When you work in industry, the motivations are completely different. When you're a leader in the church working with volunteers, the motivation is vision and relationship equity. You have to be a much better leader. It has really stretched me.
2. The honeymoon won't last forever.
The first months I worked at a church could best be described as a honeymoon phase. Having performed a very function- and results-oriented job for so long, the sense of shared purpose was brand-new to me, and constantly amazing. The goal of helping people encounter God more deeply in community felt like a revelation. My new coworkers were brilliant, gifted, funny, and best of all, we were able to pray together and talk about God all the time. Meanwhile, my seminary classes were challenging, enriching my understanding of the Bible and theology.
It was a heady time full of new experiences―until my shiny new career started losing a bit of its luster. Slowly, I began to see many of the same things that had frustrated me in previous jobs. Things like miscommunication between upper management and lower levels, rushed projects without clear guidelines, and people leaving the break room microwave a mess, were also present in ministry. It was not quite the glorious utopia I imagined it to be, but a place where imperfect people―with all of their idiosyncrasies and insecurities―were trying to do God's work.
I admit, I was pretty naïve marching in. There is nothing wrong with having ideals, but I realized the hard way I had placed a human-run organization on a pedestal where that ideal could not survive. Still, I possessed plenty of optimism, and hoped there would be a difference from the marketplace. Thankfully, there was―less gossip, less competitiveness, more prioritizing people over profit, more prayer, and more orientation toward people rather than money.
3. Be aware of how gender may affect your work.
There is a significant issue I would be remiss not to mention in an article intended for women. As a woman in leadership, you may find things look different for you in a church office than they did in your previous workplace. Depending on your church's theology or pastoral beliefs, you may find you can no longer have a one-on-one lunch meeting with your male boss. You may discover no men in leadership are willing to mentor you, or that the church culture naturally results in more opportunities for your male coworkers. The best advice I can offer is to be aware of these kinds of differences so it does not come as a negative surprise―and then prayerfully determine the extent to which you are willing to be a change agent in your context. After noticing that some of the men on staff were getting additional "face time" outside of work with our male senior pastor, two of my female peers and I requested a biweekly lunch together with him in order for him to get to know more about our interests, gift, and passions.
4. Adjust your self-care.
Another area where my naiveté played a part was in realizing working for a church is much different even from being a heavily involved lay leader. The place that previously provided respite and refreshment became the place where I spent most of my daylight hours―which meant my self-care needs began to change. While the work of ministry is joyful, anyone who has been doing it for any length of time can speak to the potential for spiritual and emotional burnout―different from the kind of burnout that happens in other jobs. Garcia realized early on that she was becoming spiritually "dry"―she was always praying for and with people, but was seldom prayed over. With this realization, she began to seek out a Saturday night service to attend for the specific purpose of being prayed for.
Similarly, I discovered I needed to head to another church's worship service sometimes to be able to detach from the "To-Do" or "Should We?" lists that seemed to always linger over my head in my own sanctuary. Again, much of this depends on your context and personality, but the important thing is to be attuned to the possibility for burnout, and do what you can to prevent it.
5. Nothing is wasted.
Personally, I have found so much fulfillment in my ministry work that I sometimes grieve the time I would have spent in my previous career. I was encouraged by the words Dorr-Tilley offered up to other women transitioning into ministry or considering doing so:
Use everything you learned in business. Nothing is wasted. Bring all that experience into the church. Recognize how all the essential things are still essential things―listening, respecting, honoring commitments, executing decisions, and communicating.
Whatever has happened previously―even that job that seems totally unrelated to working in a church―can be used by God for the good of the body of Christ. As Frederick Buechner so beautifully stated, "The place God calls you to be is the place where your deep gladness and the world's deep hunger meet." Whether that place is the boardroom, a cubicle, or inside your home, the intersection of our deep gladness and the world's deep hunger is the sweet spot to seek out.

Amanda Fowler has a Master of Arts in Theology from Fuller Theological Seminary, and after 13 years in Los Angeles has just relocated to her home state of Michigan. She is in the process of discerning what life and ministry look like in a place with winters.