Bearing the Word
Preachers carry on a tradition Mary exemplified.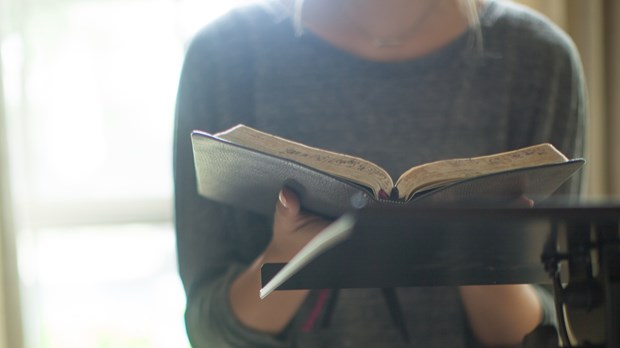 I was tired—the kind of tired that only a six-month pregnant mama can be, with a 3-year-old at home and a church to shepherd through the season of Advent to boot. I was grateful, of course, for the baby I was carrying, for the promise of new life after a long difficult season in our family. But I was tired, worn out by the juggling act of the preacher-mama: studying, preaching, leading worship, attending to my flock, and teaching while being a wife, raising a toddler, doing laundry, making supper, and keeping the house from total disarray. All that, plus the ever-increasingly difficult task of tying my shoes.
But I didn't just feel tired; I felt defeated. That week, I had excitedly responded to a mass email from a leader in our denomination, inviting young clergy to be part of a mentoring group with a seasoned pastor. My excitement deflated when I received a brusque "dis-invitation" with the stark statement: This gathering is intended for male clergy only. When I inquired further as to why I was being excluded based on my gender, I was told that male clergy needed more guidance in navigating the delicate balance between home and church life, and thus women clergy would not be welcome.
What?!
As I read the doubled-down rejection, I felt my belly jump as my unborn son squirmed. I thought of my daughter who I had to pick up in a few minutes from preschool. I thought of the dinner I had hastily thrown in the crockpot that morning and hoped I had remembered to turn it on. I thought of multiple sermons I had to write for the remaining services in the Advent season, the parties to host for my board and staff, plus all the upcoming midwife appointments and routine tests squeezed in between.
Please tell me how male clergy need more guidance in navigating the delicate balance between home and church life.
My initial incredulous laughter gave way to annoyance. Okay, anger. Okay fine, blind rage. I could not imagine a more appropriate, timely topic for my pregnant, preaching self. And to have the door slammed in my face when I felt most vulnerable, most stretched to the max, metaphorically and literally was beyond the pale.
The Truer Feelings
As my rage subsided, the truer, more deeply rooted, emotions bubbled to the surface like they always do. I no longer felt angry; I felt excluded and forgotten. I felt small and unseen, like I was on my own. I felt an inexplicable shame, like I had done something wrong that merited my marginalization. Above all, I felt like I had been measured and found wanting, undeserving of the investment of a pastoral mentor. I simply wasn't worth the time.
With an aching heart, I set aside the email and got to work on my upcoming sermon. Exclusion or not, Sunday was still coming and the people of God awaited a word from the Lord to nourish and sustain their souls through the fast-food diet of the secularized "holiday season." As I flipped open my notebook to confirm the text for the week, my breath caught in my throat. It was the Magnificat.
You know the story. A young mom-to-be who makes a long journey to visit her relative, trying to make sense of what is happening to her. She is alone, her betrothed not yet certain he can believe her seemingly unbelievable story. She is unseen, small, in a vulnerable position both physically and socially, and looked upon with disdain by many as her belly begins to burgeon.
And yet—thanks be to God that there is always an "and yet"—there is a word from Elizabeth, and prophetic speech that pours forth: "Blessed are you among women, and blessed is the child you will bear! But why am I so favored, that the mother of my Lord should come to me?" (Luke 1:42–43).
And Mary, as she bears the embodied Word of God in her womb, brings forth the Word from her lips, declaring the gospel, the saving action of God.
"My soul glorifies the Lord,

and my spirit rejoices in God my Savior,

for he has been mindful

of the humble state of his servant.

From now on all generations will call me blessed,

for the Mighty One has done great things for me—

holy is his name.

His mercy extends to those who fear him,

from generation to generation.

He has performed mighty deeds with his arm;

he has scattered the proud in their inmost thoughts.

He has brought down rulers from their thrones,

but has lifted up the humble.

He has filled the hungry with good things

but has sent the rich away empty.

He has helped his servant Israel,

remembering to be merciful

to Abraham and to his descendants forever,

just as he promised our ancestors" (Luke 1:46–55).
What a precious moment, as heaven and earth kissed. The realm of heaven intersected with the realm of earth, and our eyes are blinded for a moment by the bright light of the kingdom shining forth through Mary's pronouncement.
The Right-Side-Up Kingdom
As the light fades and we once again see a small young girl standing before her relative, we recognize that Mary's circumstances have not changed. And yet, everything has changed. Mary is given eyes to see past the veil of this shadow reality to the reality of Heaven come down, through to the realm in which God reigns, the kingdom of God.
Some call this the upside-down kingdom, but I think it is more accurately called the right side-up kingdom, in which all things are put in their proper place.
In the kingdom of God, the forgotten are remembered.
In the kingdom of God, the small are seen.
In the kingdom of God, the lowly are raised up.
In the kingdom of God, the weak are strengthened.
In the kingdom of God, the proud are scattered and the humble are lifted up.
In the kingdom of God, the hungry are filled.
Mary, with that vision of the right-side-up kingdom of God burned into her heart and mind with the bright flame of the Spirit's revelation, embraces her call all the more fully as the Bearer of God.
In the presence of this holy revelation, the wall of anger that I had constructed around my heart melted away like snow, exposing my hurt, not for exhibition, but rather for the ministry of the Holy Spirit. And the Spirit whispered, ever gently, ever kindly,
Preacher, bear the Word. Lift up your head. You are called. You are seen. You are valued and treasured. You are of infinite worth. You are included. Not because you are mighty, or wise, or strong, but because I AM. I look upon you with favor. I will lift you up. I will strengthen you. I will fill you to overflowing that my saving action might be made known, even through you.
Exclusion had met its match in the radical inclusion of God.
Those wounds of exclusion run deep for many women in ministry. But what a sacred gift given to us in the words of our sister and mother, Mary! Even though her declaration of God's inclusion of the most unlikely candidates in God's great story of redemption was made so long ago, Mary's announcement soars through the ages and finds a home in us today. We too, seemingly unlikely candidates in the eyes of many, are chosen to bear the Word to the people of God by the power of the Holy Spirit.
So, with that in mind, receive this blessing, Preacher: "Blessed is she who has believed that the Lord would fulfill his promises to her!" (Luke 1:45). Now go, and bear the Word.

Stephanie Dyrness Lobdell is a Nazarene pastor, wife, mommy of JoJo and Jack, teacher, lover of learning, and friend. She and her husband, Tommy, have served as co-pastors of several churches. Currently, Stephanie serves as co-lead pastor with Tommy, as well as the worship pastor at Mountain Home Church of the Nazarene, an extraordinary community of believers in Mountain Home, Idaho, and blogs at www.stephanielobdell.com.