How to Be the Elephant in the Room
Is it possible to be yourself, or should you become "one of the guys"?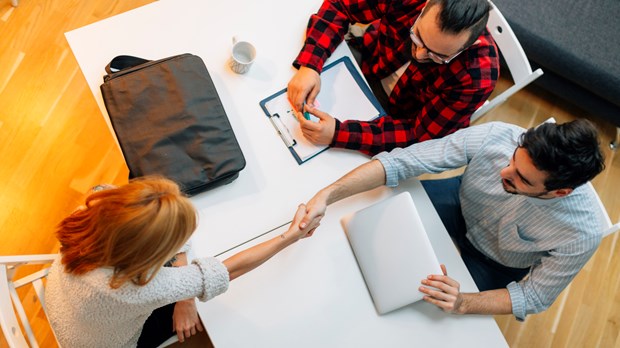 Esther is my hero. Thankfully, I'm rarely called to put my life on the line by entering a king's presence uninvited. I do, however, often look to Esther for courage when I am called to step into rooms where I don't feel comfortable.
Last week I received an invitation to a breakfast meeting for local lead pastors. I glanced over the recipients of the email to see if I knew anyone who was attending and realized I was the only woman on the list. My heart sank.
I'm with groups of pastors all the time. When I'm with leaders from mainline denominations, urban churches, or post-Christian contexts, there's wonderful diversity—including many women. But when I'm invited to evangelical events, where I feel I most belong theologically, I'm often the only woman in the room. This leads to some awkward moments. For instance, one time someone assumed that I was there only to take minutes for the event. Another time one of the other pastors joked that the room got prettier when I entered. And, in addition to the usual discomfort of being the elephant in the room, there are some who believe "elephants" shouldn't even be in the room. There are valid reasons I'm uncomfortable being the only woman in the room.
As I lay in bed the morning of the breakfast meeting, I realized I was rehearsing short, catchy ways to sum up my ministry and church. I've been to enough of these events to know the questions I'll be asked: What's your church brand? What's your church strategy? These questions assume a certain management style of pastoring that doesn't fit me. While women certainly can succeed in this style of management, the way I lead my church doesn't look like management. My style is more creative, collaborative, and relational. I am guided by intuition, and we gather together as a church to investigate our next steps together. There is permission to experiment and fail, (When we learn something, though, how is that a failure?) There is certainly a structure and a creative strategy behind that process, but it's not as clear cut as the answer I'm expected to give at these meetings.
Can't I Just Be Myself?
Why do I feel the need to justify my leadership style and the way my congregation follows God's leading? It should be enough to say, "I'm trying to lead by following the way Esther led." But I get the feeling that in a room full of people studying the latest ministry strategies, that comment would elicit eye rolls.
So I ask myself, "Should I learn to speak their language, and miss the opportunity to stretch their idea of what is normal? Or should I speak my native language and risk being excluded or misunderstood?"
As I lay in bed, mentally preparing myself for this gathering, I groaned, "You're totally overthinking this! Don't be ridiculous! Just get up and get dressed." When I walked to my closet, however, the over-thinking took on a new form: What in the world should I wear? If I turned up in a flowery, flouncy blouse, and lots of makeup, would I be dismissed for being too soft and girly? If I arrived in a black, square-shouldered jacket, and no makeup, would I be dismissed for being too harsh or cold?
Believing False Stories about Ourselves
Where stereotypes abound, there is little freedom. Social psychologist Claude Steele refers to this phenomenon as "Stereotype Threat" in his book, Whistling Vivaldi: How Stereotypes Affect Us and What We Can Do. He describes a study where men and women math majors were given a math test which they are told shows gender differences. In this test, the women underperformed, in response to the stereotype that women generally aren't good at math. On the other hand, when given the same test without this set up, women did not feel the threat of stigma confirmation. Steele writes, "Where the women were free of confirming anything about being a woman, women performed at the same high level as equally skilled men. Their underperformance was gone."
We are creatures of narrative. If told a story enough times, the human mind starts to believe whether or not it's true. What story have we been told? Have we been told our call is rebellious? Our gifts aren't welcome? We don't fit the norm? We're too quiet or too loud? Too brash or too weak? Too old or too young? Too strong or too girly? What stereotype threats shape our lives and ministries? And, more importantly, how can we embrace truer stories?
Esther says, "I have no power, no right to enter the king's presence or speak. I am afraid for my life and so will not step up to protect my people." In a book that's famously void of any reference to God, Mordecai alludes to an external will working in Esther's life: "And who knows but that you have come to your royal position for such a time as this?" And with those words, Mordecai expands Esther's imagination to tell her story in a new way, even though the danger and the power dynamic are still very real. He ponders aloud: "Maybe there are factors at work which you haven't seen. Maybe there is more to your reality than how power structures have defined you."
As much as we might resent the power dynamic in which we find ourselves, it can be a strange gift. Every ministry leader I know who finds themselves outside of the norm—whether because of age, race, gender, health restraints, or otherwise—has had to reimagine her story and call. It's an opportunity to ask ourselves some questions:
How can I trust God's voice calling when I do not feel affirmed or accepted, when I feel like an outsider?
What does it look like to find my ultimate identity in him and set aside my need for approval?
How does what God says about me—that I'm beloved and called—override all the stereotypes?
Submitting Like Jesus
These can be painful questions, but the best ministry grows from them. This is because they call us to submission—the truest source of all ministry motivations. At times, submitting like Jesus means I have to set aside my desire to buck the system. It motivates me to learn the dominant language and work within the system for the sake of the greater good. At other times, it means I have to set aside my desire to be liked and accepted, speaking up with the voice of an outsider, for the sake of the greater good. When submitting to the way things are serves God and the church, I want to choose that. When obeying God by challenging the way things are serves God and the church, I want to choose that. And, in the places where it's just not safe, I will also follow Jesus' example and remember that he gives permission to walk away when I don't find people of peace.
I'm still learning the right ways to express Jesus' kind of submission. For this particular breakfast meeting, I did set aside the flouncy blouse, choosing the tailored, black jacket to communicate, "I can play your game." But I also chose to wear my hair loose and naturally wavy to communicate, "I'm not ashamed that I'm a woman." I wanted to mess with the false dichotomy of being female or influential. I believe it's good for pastors to have a broader sense of what is normal and who is welcome in leadership. So I dressed in a way that I hope stretched some of their imaginations. I did this partly for my own sake (to stretch my own imagination about what it looks like to lead) and partly for the sake of these lead pastors, the women in their families, and the women in their congregations. If I really believe that the church needs the unique gifts women bring, I have the responsibility to make that truth more of a reality, even in subtle ways like wearing my hair down.
Though it bothered me every time someone referred to the room of pastors as "guys," I chose not to bring attention to it. We weren't there to get into a discussion about gendered language, and I didn't have enough time to have any meaningful conversations about it. But that doesn't mean I stayed silent, either. After my voice shook during introductions, I spent much of the meeting feeling very self-conscious about whether I spoke. There were many things I could have said, but I didn't want to speak just for the sake of speaking. Finally, however, I knew in my heart I had something valuable to say. Although I would have liked to make some brilliant comment, I simply felt moved to ask, "Could we stop and pray for everything we've just been considering?" I easily could have let someone else pray, but I chose to be the one who prayed for the group. And rather than choose a "safe" prayer, I let myself pray as I normally do—standing, holding out my hands, and opening my heart to a kind of emotional, prophetic prayer that cried out to the Father. It was a test of what I believe: that I and the way God has gifted me belong.
To my surprise, several men approached me afterward to thank me for my prayer. One thanked me for the way I spoke with passion and imagery, saying he needs that kind of language and feels stuck in a rational ministry world. Another man started going out of his way to invite my input, acknowledging I might see things differently. His invitation alone eased my anxiety about sharing. A pastor of a local megachurch broke through my assumptions of him when he shared with me that he's new to town, hasn't felt welcomed, and needs friends.
These interactions made me realize that we're all wrapped up in stereotypes. Just as there are women longing to be freed from the constraints of two-dimensional caricatures, there are men who long to have permission to be spiritual, emotional, or vulnerable. If we have courage to challenge false stories, to let ourselves be known for who God has made us to be, perhaps others will find freedom to be who they are as well.

Mandy Smith is lead pastor of University Christian Church in Cincinnati, Ohio, and author of The Vulnerable Pastor.