Introducing WomenLeaders.com!
We're cheering you on as you live your calling.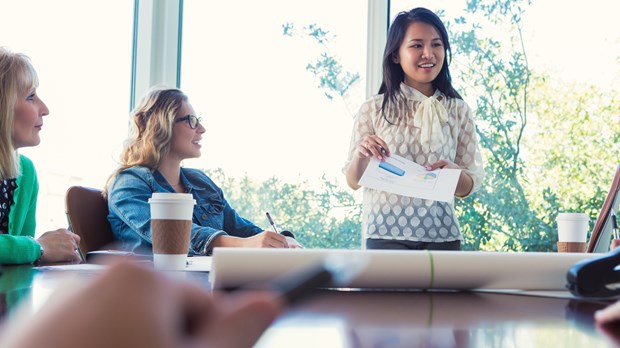 You know what excites me? Women leaders. Since joining this publication a year and a half ago, I've been emboldened in my calling, encouraged on the hard days, and empowered with sound advice as I've heard from readers like you, women in ministry.
This week in church, my pastor read from Exodus 17 and asked a volunteer to come on stage to portray Moses in the passage. He was given a wooden staff to hold above his head to help us visualize Moses doing the same as the Israelites fought the Amalekites. Holding that staff was important work, critical to the Israelites' success. The problem is that this seemingly simple task is actually hard work. So strenuous, in fact, that Moses' arms began to fall. And as his arms fell, the Amalekites gained important ground on God's people. The volunteer on stage this Sunday didn't last more than a few minutes before his arms started to droop. I can only imagine how Moses felt.
What's a leader to do? After all, we all have limited strength, wisdom, time, and energy. Sometimes the weight of ministry comes from our own unhealthy ways of leading. Other times it comes from the world's expectations, or our congregants' expectations. Sometimes we're discouraged by a recent failure as we try to make a new game plan. Leadership can be tough because we're told we can't. Or we shouldn't. Or we better not. Sometimes leadership is tough because we haven't been adequately equipped. Other times it's just incredibly lonely, and the lack of support makes us doubt our calling, gifts, and abilities.
What I love about this story is that God recognizes that the weight is too much for one leader, no matter how great he or she might be. In response, God sets up a support system. Aaron and Hur gather with Moses, getting him a stone to sit on, literally holding up his arms as his strength gives out. Together, they support the people, leading them to victory against the enemy.
As women leaders, we know that support—in the form of encouragement, challenge, friendships, and skills—is crucial to success. But we're often not sure where to find it. We know we need help lifting our arms, but we're not sure who to ask to stand next to us and hold them up. We in ministry understand that we're called to important, God-honoring work. But sometimes, we're not given the right tools to be effective. And sometimes we end up distracted from the work at hand by the unique obstacles we face, just because we're women leaders.
Well today I'd like to introduce you to WomenLeaders.com. We exist to support, equip, encourage, and challenge women leaders like you to live your calling. We want to join with your in-person support network to hold up your arms as you minister in God's name. Since we launched Gifted for Leadership in 2007, we've always had this mission. But as we celebrate our 10-year anniversary, we heard from you, our readers, that we needed a refreshed name that better reflected what we're all about. And you know what we're all about? Women leaders.
We remain committed to helping women in ministry be all they can be, and you'll continue to see the great content you've grown to love—namely, articles written by women leaders to women leaders. We're also creating some new resources to help you like our devotional, Live Your Calling. Stay up-to-date with our latest by subscribing to our free weekly newsletter.
Being a woman in ministry is hard work, but when God says, "yes," who are we to say "no"? So we're excited to unveil the new WomenLeaders.com to help you boldly live your calling every day.

Amy Jackson is managing editor of WomenLeaders.com and a former small-group minister.