A Dream Becomes Reality
Cathy Loerzel founded The Allender Center to help people find healing from abuse and trauma.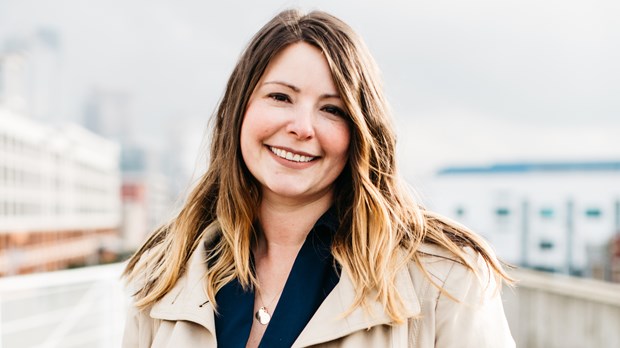 In the battle for restoration and redemption, you want Cathy Loerzel on your side. She is a woman of fierce compassion, an incredibly sharp creative mind, and the will and strength to get things done. She has the sparkle of conviction and ambition in her eyes. She is a force.
Loerzel is the Vice President of Advancement at The Seattle School of Theology and Psychology and the Co-Founder and Executive Director of The Allender Center, a non-profit organization that offers training and resources around the issues of trauma and abuse. Inhabiting the worlds of ministry, academics, and business—where there are very few Christian women in high level leadership positions—Loerzel "knows how to handle being in a man's world without needing to be less of a woman." In her roles, she is an entrepreneur, creating new programs, systems and opportunities. She asks questions, pushes boundaries, and dreams big. She believes "there is nothing more powerful than women who understand the cost of being a woman who are not bitter or cynical, but are moving forward and creating what they think is needed."
Loerzel grew up in northern Virginia outside of Washington, D.C., where she discovered her love of governance. She hated the partisanship, but found great potential in effective process, innovative systems, and good leadership. After graduating college with degrees in political science and history, Loerzel went to work for IBM as a consultant in the federal government sector. There was no cap on her level of talent or success because of gender in the field. But her ministry work with teenagers called and captivated her in unique ways. She recounts how kids would confide in her. "There were more things going on in their homes and hearts than we were allowing to name and be true in our church and ministry. I could do open heart surgery and diagnose what I saw, but I didn't know how to fix or heal their hearts. So they were just bleeding out. I needed more experience and training."
At The Seattle School of Theology and Psychology, she was encouraged to pursue who God had made her to be. Used to being regarded with envy or suspicion when she pushed boundaries, Loerzel actually felt blessed to explore and expand her capacity and gifting. "I was encouraged and supported to be big after feeling like so many people were asking me to be small," she said. This allowed her to wrestle with her own story, but also the story of God in challenging theological and psychological ways. It was disruptive and difficult work, but Loerzel said it allowed her to "see Jesus more embodied and more clearly," as "the messiness of God was engaged with such honor."