Six Tips for Taking Center Stage
Make a smooth transition from associate to lead pastor.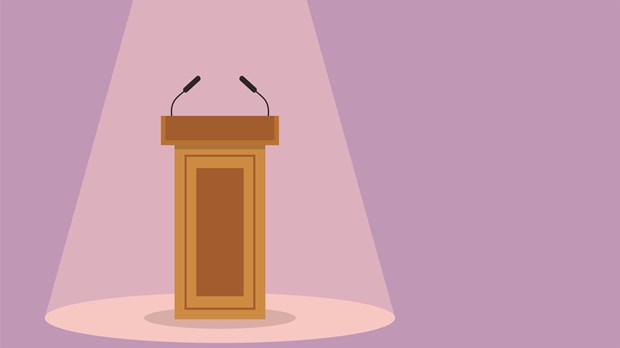 With the last child in college, I dreamed of spontaneous weekend getaways with my husband. I planned out more hours for writing. I suddenly had a clean house all the time. It was my time. I could have nice things.
Then our lead pastor left for another position, and I (the associate) knew God was calling me to step into that role. I tried to explain to him that this transition would suck up every minute of my life, and I reminded him of all those hovering dreams. He wasn't having it.
Women in ministry, more than their male counterparts, begin and often stay in support staff positions. Yet when God calls us to a new adventure, the transition can be intense. You didn't get the training in seminary for the things that seem to matter—like how to drive carpool and lead a board meeting at the same time, or how to handle the exponentially increased sense of responsibility and emotional reactivity.
When I made that transition from support role to lead, the massive weight of responsibility I hadn't ever felt as an associate fell quickly and heavily on my heart. Things my senior pastor had said and done suddenly made more sense. Things other people said and did suddenly became more hurtful.
I have wrestled with balancing self-care with giving my best to a deserving congregation. I have learned, paradoxically, that often the two rely on one another, and the things that save my sanity in this adventure look a lot like my old dreams for this time in my life—just modified.
Maybe you, like me, had an entirely different agenda planned when God stepped in and knocked. So I share some of the decisions I've made that helped me in this transition.
1. Hold Tight to Priorities
Work, and peoples' demands, will expand to fill all your time. Women, more than men, tend to let that happen, feeling more guilt for not doing what we perceive is needed. Yet studies show this is detrimental—not only to you, but also for the organization. Kathy Caprino writes in Forbes,
I see this behavior over and over in those who feel thwarted and unsuccessful. They are comfortable only when putting other people's needs ahead of their own. They feel guilt, shame and anxiety over claiming "I'm worth this." Successful people know what matters most to them—their priorities, values, concerns, and their mission and purpose. They are masters of their own ship and know where they want to head, and make bold moves in the direction of their dreams. To do this, they are very clear about their top priorities in life and work, and won't be waylaid by the priorities and values of others.
The transition from associate to solo pastor caused me to feel far more responsibility for this vulnerable church than I had known possible. I couldn't sleep through the first month of "it's all on me now." Everything seemed major. Slowly, I forced myself to pray through and choose what I believed were God's best priorities and practices for me in this time and place and let the others go.
2. Establish "No" Zones
Because women also tend to be more focused on the big picture, we see all the things that need to be done—all the things. We think, If no one is doing that, I must jump in and make sure it gets done. But what happens if you don't?
I assume you love your people and would truly move heaven and earth for them. But sometimes churches and pastors can be codependent. (Can I get an amen?) Sometimes, the most loving thing you can do is tell them, "I can cut another priority to do that, or you can use your gifts and talents to do it yourself." I do want to hear people's complaints. But church members know my rule: Don't bring me a complaint unless you also bring me a solution in which you plan to take part. These are opportunities for them to take leadership and succeed.
3. Guard Free Time
If you're exhausted by Sunday afternoon, it could be time to reevaluate your schedule. In Building a Discipling Culture, Mike Breen insists that we should be resting in order to start work afresh, not resting because our work has drained us.
The time-honored day off for pastors is Monday. For me, however, that didn't make sense. Monday is my most productive day. I love hitting the ground running on Mondays. Why would I want to take away one of my best work days? So, I take off Fridays and Saturdays. On Sunday, I am refreshed and ready to head into Monday with energy. I'm not alone in this switch. Recently, pastoral coach Brian Jones offered the same suggestion. Find a schedule that works to give you refreshment, regardless of tradition. Let people know you will not be answering phones, responding to emails, or putting out fires on your days off. Then, don't.
4. Get Away
Being a super introvert, I need more recharging time than most people. Both my husband and I have jobs that are demanding, so physically leaving the area is sometimes the only way we can rest. I am not full-time, but my compromise is that I often work full-time for several weeks and then take more vacations.
Barter anything you need to in order to have this time away. Learn the art of Friday to Saturday getaways. Take a working retreat. Explain to your church board that your work will be more effective if you're regularly disconnected from the world and congregation. And it's true—you have science in your corner. According to a 2010 study, "Staying Well and Engaged When Demands Are High," detachment from high-demand work predicts less exhaustion, greater well-being, andbetter work engagement. This is so true that at least one company pays its employees to take their families on vacation.
5. Plan Ahead
If you want Friday and Saturday off, you can't be writing your sermon Saturday night. To combat this, I try to stay a week ahead in research and outlining. Then, on Monday and Tuesday, finishing touches go in, and I begin research for the next week.
It's surprising how easily this became routine for me, a practiced procrastinator. Surprising, too, is the decreased level of stress that comes from knowing all is in place by Wednesday afternoon. This coming from a woman who forgets her own birthday sometimes. If I can do it, you can do it.
6. Get Creative
While Sunday morning is certainly a priority (and I love preaching), I have to balance it with other valuable and viable work. Some Sunday mornings we have discussion groups on previous sermons rather than a message. On others, we simply invite the community in for breakfast. Some weeks we have other gifted members of the congregation deliver messages or testimonies. When I'm not always up front, I have the chance to develop other mission-focused ministries that strengthen the church.
There are no rules for a church service, only traditions. When we step into church leadership, unexpectedly or not, we step into the opportunity to express new priorities and empower new leaders. Some of us have more leeway to make changes than others, but we can all get creative in our roles.
In the year since becoming a solo pastor, I have never again had time for a clean house, let alone a surprise weekend trip. "My time" looks different than I had planned. But leading this church is definitely where I am meant to be right now, and it looks like my time here has just started.

Jill Richardson is a writer, speaker, pastor, and mom of three. She likes to travel, grow flowers, break into random musical numbers, and read everything. She believes in Jesus, grace, restoration, Earl Grey, the Cubs, and dark chocolate. She blogs at jillmrichardson.com.