Working with a Team Means Better Care
Pooling expertise, wisdom, resources, and networks leads to better ministry.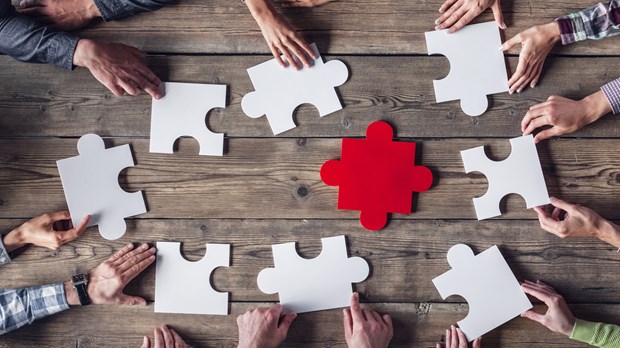 "It's weird." These were not the words I wanted to hear from my son's pediatrician.
For weeks the good doctor had been trying to diagnose what was going on with my son. Lab tests, examinations, ultrasounds; my five-year-old had been given the full work-up. Now, as I sat on the phone in the corner of the gym I took notes on scrap paper, the doctor relayed his surprise—what we thought was improving had suddenly gotten worse.
I was not comforted by his confusion, but took solace when he stated without shame, "I am sending this over to the kidney specialist." After meeting him years before in the hospital, four kids, and countless visits, I have learned to trust his skill and capability in caring for my children. So my confidence in him was bolstered, not diminished when he confessed his need for help beyond his expertise.
My doctor did not hide behind a façade when he didn't have the answer. My child's welfare was his priority, not his ego. When he could no longer help, he did what was needed to find someone who could; he knew the limits of his knowledge, and invited greater knowledge to weigh in.
As we minister to the hurting and deal with the heavy issues weighing on the hearts of those God loves, we must develop the humility to know when we are in over our heads. Their welfare must be a priority over our own pride. A leader who thinks she can answer every question, meet every need, and care for everyone that requires counsel or intervention is no long a leader.
You Are Not a Failure
As women, we often believe that when we can't help someone by ourselves, we've failed. But a call for help doesn't mean you failed in helping the hurting; it means you were willing to engage. When we begin to work in the deep places of people's hearts and clean out the basements of souls, we can assume we will find some things in the dark that we were not expecting—things we're not always equipped to handle.
I don't have the thousands of hours it requires to become an expert in every issue that may walk through my door. I am a Christian, wife, mother, leader, and biblical counselor (not to mention the five-dozen other daily ad-hoc roles I fill). And every once in a while I like to read or catch up with my favorite show. I simply don't have the time or energy to become everything to everyone. But I don't have to.
Wise leaders know they have limits, so they join forces with experts who can help beyond their limits. As Proverbs 15:22 says, "Plans go wrong for lack of advice; many advisers bring success." Advisers are dispensaries of hard-won wisdom, not just anyone offering their opinion. They share their life experiences, expertise, knowledge, and networks. Referring out is not a passive or lazy choice. It does not indicate that we don't want to put in the work to care for people. We do it because after giving all we can, more is needed. So we collaborate and build a team to help the person in need. While we do our best in ministry to be prepared, we must keep open the doors to partner with Christian psychiatrists, doctors, social services, and law enforcement to meet the needs of the hurting.
Build the Church's Presence in the Community
Creating partnerships with local community services not only better serves people, but also opens doors for the church to better serve the community. This can help people see the church, and Jesus, in a new light. According to a recent poll from the Pew Research Center, Americans' warm feelings about religious groups are increasing, though feelings about evangelicals have been stagnant since 2014. This is worthy of our attention. If we want to reach the world with the good news and compassion of Christ, this means doing the work in our communities prepared for us by God. We are to be his ambassadors and agents of redemption, but we can only do that if we're present in the community.
Ed Stetzer wisely noted, "[I]t's easy to fall into the temptation of wanting to make our churches comfortable refuges. But Jesus calls his church to mission, which means that the way we do church should focus less on our comfort and more on faithfully reaching the lost." This means going out and making disciples, not just creating a safe space where we talk about the things of God. Engaging in the world's mess means stepping beyond the walls of the sanctuary.
As a ministry to our community, my church offers free counseling by trained counselors. We also partner with a local crisis pregnancy center, a domestic violence safety center, and the local homeless shelter. I have worked with the homeless, the abused, the anxious, and the depressed. I meet with the suicidal, the trafficked, the confused, and the grieving. We visit hospitals, gravesides, and new families. We distribute tissues, offer prayerful congratulations, and point to the God who binds up broken hearts. We plead with the hurting to turn to the only One who can set captives free. I personally volunteer with the women's homeless shelter and not only am I referring people to them, but they are referring others to come to the church—all because we've built a relationship.
We also have a list of trusted Christian psychiatrists and psychologists for situations that are beyond our capability. Get to know the resources in your community and make it your mission that they know and trust you. By becoming familiar with our neighborhoods, we can help connect people—both inside and outside our church—with health care, food, shelter, and other needs. Partnering with other community organizations means there are a lot more resources to go around. And, of course, as we look first to Christ for strength and wisdom, we can offer spiritual resources as well, leading to whole-life redemption.
Model Humility as You Disciple
My personal favorite leadership guru, Jenni Catron, reminds those of us caring for people that, "We have the unique privilege and responsibility to steward the gifts, talents, and calling of each of the people entrusted to our leadership." I rob those I am seeking to disciple if I pretend that I know more than I do, that I'm able to do more than I can. So don't worry about looking polished all the time. Let those you lead see that you don't know all the answers, that you don't have everything mastered, and then remind them that you don't expect that from them either.
James reminds us that we need not be ministry virtuosos, but instead we should seek God's will, "If you need wisdom, ask our generous God, and he will give it to you. He will not rebuke you for asking" (James 1:5). It is undeniable that sometimes God answers this prayer by offering others who are willing to lend their expertise. We can take comfort in knowing that we need not act alone in dealing with the brokenness of the world, and embrace the value and beauty of wise community collaboration.
May we serve to the best of our capability, display humility, and recognize where we need growth, so that ultimately we can get people to Jesus. To offer those sitting across from us everything we can always means looking outside of ourselves. Together as women seeking to bring God glory, may we keep our eyes on Christ and remember he has made us ministers to his people, builders of bridges, and guides to his doorways of restoration.

Chara Donahue is a certified biblical counselor, writer, and speaker, and has been involved in ministry for the last 15 years. She is the founder of Anchored Voices.