Changing the Conversation about Holiness
Jess Connolly on calling, co-leading a church, and challenging people to be more in awe of God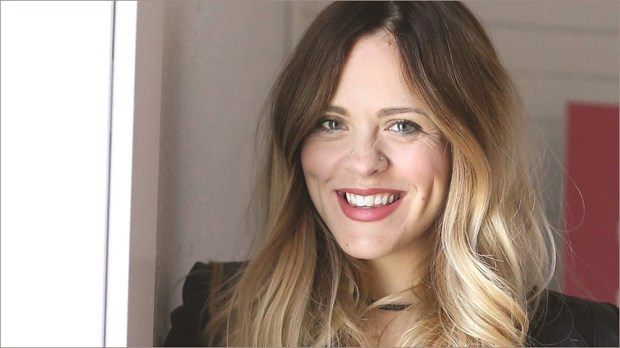 If you're not familiar with Jess Connolly's name, you may be familiar with her work. She started Naptime Diaries (now All Good Things Collective) in 2011, cofounded SheReadsTruth in 2012, and cofounded The Influence Network in 2013. She also co-wrote Wild and Free (2016) and her second book, Dance, Stand, Run, releases today. She and her husband, Nick, co-lead Gospel Community, a four-year-old church plant of 150 in Charleston, South Carolina.
As many things as she's involved in, it's all done with great purpose and intentionality. Connolly has a clear calling that guides everything she does. I spoke with Connolly on the phone to hear about her calling, what it looks like to co-lead a church plant with her husband, and why she wrote her new book.
Amy Jackson: What is your calling, and how has that molded your work and what you say "yes" to?
Jess Connolly: I love thinking about individual callings. I love personality tests. I love gifting tests. But I think it's a lot simpler than we make it. I think Matthew 28 is where we all find our calling; it's just to make disciples. We're just all supposed to be helping walk other people toward abundant life.
I feel like the specific calling God has given me is to leave my generation more in awe of him than I found it. That's something my team starts off every meeting with, "Are we helping women find more awe in God?" It dictates a lot of what we do. It absolutely has been a good guidebook for us. We really don't want people to be more in awe of our team. I don't want women to be more in awe of my words or my stories. My calling is to help leave my generation more in awe of God.
How does your passion for helping women be more in awe of God translate into your church and what you're doing there?
It's everything. I love writing books, I love travelling to speak, but if I don't have a very vibrant personal, local, private ministry, I feel like it's all for naught. I find that one of the most brilliant ways we can impact other women is to receive the gospel around them. To let them watch us need Jesus, which means letting them watch us sin, letting them watch us have bad days, have weak days, and find hope in him, find favor in him. So that is what a lot of my ministry looks like. The way God has written my life is hilarious—I'm an extreme introvert, and I'm with women from 5 am to 9 pm somedays. But I'm so grateful.
Mostly it's just living life. It's just being honest, being real. I have a personal passion for encouraging them in their own gifts, encouraging them in what God's called them to. So I would say it's 80 percent just living in front of them and letting them see me need Jesus. The other 20 percent is just telling them how mighty he is in them, and reminding them how much he loves them, and telling them that they're the girl for the job.
How do you help women feel like they're the girl for the job when it comes to ministry? How do you help them prepare to speak or lead at your church?
I love that passage, the woman at the well. It just says, "Let me tell you about a man who knows everything I ever did." I think it's just helping women do that. Just giving them permission—they don't need permission from us—but giving them the permission still because so many women don't feel it. Then giving them the tools.
We are building what women in leadership looks like at our church. We have women teach and share in various ways on Sundays or at other events. I met with a few of them the other day and just talked. Like, "Here's what I do before I go talk about God. Here's how I stretch my body out and let my voice get louder so that I can feel the freedom to take up space and say real things about him. Here's how I try to smile when I talk because it just helps people to see what you're saying a little bit better, and feel free to talk with your hands and don't put your hands in your pocket. You're not here to hide." So let me give you the tools to help you tell everybody about the man who knows everything you ever did and loved you anyway.
What prompted you to write your new book, Dance, Stand, Run?
It really was a very personal start. There is an embarrassing story in the very beginning of the book, and I can't talk about the book without talking about it. Our church is about four years old, so we're in that volatile point where we can have an amazing Sunday or we can have an off Sunday. We had been praying for Easter 2016 for months, really expectant and hopeful that God wanted to do some fun stuff in our church. That day came and went, and it was a pretty rough Sunday. Nobody seemed to be very engaged. Dance, Stand, Run came from me getting with the Lord and asking him, "What part do I play in this? How have I contributed to this?" I really felt like he said, "You've forgotten about holiness." I didn't expect it to be my fault. I didn't think that was coming. And not that it was all my fault, but I didn't expect to be complicit in it, and I absolutely was.
So I began to pull that string in my life and ask, Where do holiness and I even intersect? What does he say about my holiness? What is the actual theology about this? What do I believe about this? And is my life agreeing with what I believe about this? As I pulled that string for myself, I realized this might be a thing for a lot of women in my generation. I would love to just change the conversation about holiness, away from this fear and scarcity mentality. And I would just love if our generation of women could start talking about the beautiful parts of holiness: the priorities and the roles and the responsibilities that have been purchased for us by Jesus that we get to do.
Whenever we talk about holiness, it seems we automatically want to talk about grace. How do they fit together? And why do you think we tend to focus more on grace than on holiness?
Our intentions really are good. When we lead, we want to lead in grace. We really want to let people off the hook, we want them to feel that. If we get too far into the grace spectrum and we forget about holiness, it's usually just because we want to be like Jesus—he was full of grace. He took grace too far. He really tipped the scales. He never lived in a balance of grace.
But it's not about balancing one or the other, and it's not about juggling one or the other. It's not even about swinging between one and the other. It's about going full-force grace and going full-force truth—at the exact same moment. So with good intentions, we end up taking one or the other too far, and, really, we should be taking them both too far.
Let's take it to the most cellular level: relationships. How do you handle this with a friend? Let's say you have a friend and she hurts your feelings. The question I get is, "How do I show her grace and also tell her she hurt my feelings?" I would say, You do both. You hold fast to the truth—this isn't who God made you to be, and it's not the way I want you to treat me—and you show grace—I agree with the grace that God's written over both of us, and we're human and we're going to keep sinning. It's not one or the other. It's not either/or. It's not even one then the other. It's both at the same time.
Don't you feel like that's such a common question among women? Like, if I'm going to be a woman of grace, what do I do if someone hurts me? Well, you keep being a woman of grace, and you also believe in truth. It's that simple.
It's so true. It seems we set up a false dichotomy between grace and holiness/truth that God doesn't have.
Absolutely. I mean, he basically spends the entire Old Testament and New Testament saying, I'm going to tell you how much I love you, and I'm going to tell you what I've done for you, and I'm going to tell you about this identity I've given you. And also, I'm going to tell you you're not that great sometimes, sometimes you really mess it up. That's how he talks to us. Calling us holy in one verse and the next he's like, "Can you pull it together? You're abandoning the faith. But also, you're a royal priesthood. So just in case you're wondering. You're not acting like it, but you are."
Tell me about the church plant you lead with your husband. What does it look like to lead with him?
My whole language has changed since getting into church planting. I used to introduce myself as a church planter's wife, and now I'm like, Nope, I'm right there with him. We are doing this thing together. He is officially the pastor. I'm not on staff only because I have about three other jobs right now, so we've just decided it's a lot better if I'm not in a staff position. For us it's really simple. We just started asking, Do we think God put us together for a reason? Do we think that the kingdom is better off with us together? If so, why did he bring us together, and what specific gifts did he give us to help us lead this church together?
So right now it looks like both of us bringing our full selves to the table all the time and just believing that God wrote our story for us to come together—not just for our benefit but for the kingdom. Nick and I go to meetings together. We do all the planning for the church together. Nick is just fantastic at leading with vision. He's like 100 percent an apostle. He does best when he's saying the very dreamy, "Here's what I want to do in two decades." I function more as a prophet that sees the problem at all times. I can come into the room, into the meeting, into Sunday and say, "This is what's not working." I try to be the solution we need right then and there, and then try to equip other people to help be the solution as well. It's interesting, neither of us have a whole lot of shepherd/pastor in us. So we try to pull those people around us. And our people tell us. They holler at us every few months and say, "We know that you guys want us to run on mission, we know that you really care that we feel equipped. It's just we're kind of hurting over here." We're like, "Okay, good to know, let's work on that."
Sundays are a mix of us using our gifts. Most times, Nick is preaching and I do our response time (we also are co-teaching, when needed, when appropriate). At the end, I kind of perceive, What are people not hearing? What do they need to be reiterated? What do they need to be reminded of? Do we need to sing that third song again just to really take it seriously? Do we need to call people to prayer?
I totally do it on the spot. It's one of those things about church that I don't feel like we lean into much because it's hard to not plan that part, to not schedule it. It's hard to leave a little of faith. I understand churches are under time constraints, but it's one of those things that I think if we step back we'd say, "Oh, it does feel like the church should function like this." We should be able to pause and ask, "What's happening here? How are people hearing this? Are they hearing it?" Sometimes it really helps to have someone who isn't preaching or teaching say: "Sitting here in the audience, I can feel how this feels. I can hear the thing that didn't get said." So I love that we are able to do that.
I noticed several times on your church website that you use the language of "owners." Can you tell me a little bit about that?
I guess we're just such millennials. The strength of millennials is that they think they can do it a new way. That's a thing for us. So we said, "Membership, what is that? Where do we see that in the Bible? What does that look like? What did it look like in the early church? Does it solidify our commitment to the church?" I think what a lot of church plants will tell you is that in these first few years there is so much emphasis on wanting to know if people are for you or not, so we had to really watch that in our hearts.
So out of that we said, "You know what? What we want more than members is owners." We want people who own the mission of Gospel Community who say, "What I'm really about is the kingdom of God and seeing it advance, but in this particular phase of my life I'm about seeing that happen through Gospel Community and I believe and come under the leadership that says this is how we're going to do that. What we want more than to call people ours is them to call our church theirs. We want them to feel like, This is mine, and I'm a part of it, and I shift it every time I show up. If you're an owner of something you really want to see it do well, you have a vested interest in it. That's all we really want. So we call our members owners. There's no paperwork, there's no signing anything. You decide if you're an owner, and then you can call yourself an owner.
I love that you're rethinking how to do church. The truth is, church leadership can be a difficult calling. What has been helpful to you as you co-lead your church?
Honestly, just friends. Having actual friends has been the most helpful. People ask my husband all the time, "What do you guys need from us?" Our answer is almost always the same: We just need friends. We don't need people to tell us we're doing it right all the time. We don't even need high capacity leaders. We just need people to be our friends in a way that they expect us to be human and expect us to not have it together. We need people to tell us when we're acting out and need to get with the Lord. There are so many things that, sure, would be great. I guess more money, more people, a location, all those things would be great. But if you have friends, you can do anything. And I think that's why Jesus did such relational ministry. It's why he wanted disciples with him in the eleventh hour. He's like, "Please hang out with me, just stay with me right here. I might be sweating blood, but if you'll just be beside me, that's all I need." So just friends. That's been the most helpful thing in the world to me.

Amy Jackson is associate publisher of WomenLeaders.com.