Pastoring the Victims of #MeToo
Four steps your church can take to minister well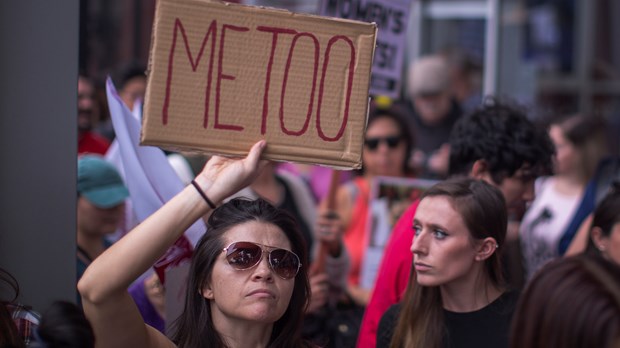 In the 24 hours after #MeToo first appeared on Twitter, more than 4.7 million women (and some men) engaged with the thread. Many were admitting for the first time that they had been victims of rape, sexual abuse, or sexual harassment. Any of these individuals who desire healing and closure will need infinitely more than what the camaraderie of a trending hashtag can provide. They will need time, empathy, support, and strategic care. As leaders in the church, we should be asking, Is my church ready to provide what these victims need?
Hard and Troubling Facts
Though the most recent round of #MeToo was initiated by actresses in response to allegations against Hollywood producer Harvey Weinstein, activist Tarana Burke started the Me Too movement back in 2006. Sexual abuse and the mistreatment of women and minors might be epidemic in the entertainment industry, but misogynistic practices exist in every profession and every segment of our society—including the church.
A study done by the Harvard Graduate School of Education reports that 87 percent of women between the ages of 18 and 25 have experienced some form of sexual harassment or assault. And more than 2 million American women were victims of domestic violence across 18 states between 1998 and 2002. Experts estimate one in five women are the victims of rape or attempted rape. That means for every 100 women in your church, 20 of them have been violated. We may never have accurate figures for how often this takes place in a church setting.
Few institutions, religious or otherwise, have a clear procedure for handling or reporting sexual abuse. The church may be one of the worst offenders as we are prone to err on the side of overlooking, assuming the best, or suggesting that victims simply forgive and move on. None of these responses are adequate or helpful.
Silent No More
The overwhelming response to #MeToo indicates a cultural shift. Because of the inequitable power dynamic connected to abuse, and because any form of sexual abuse or harassment leaves a residue of shame, it's common for women to second-guess themselves and wonder if the incident was their fault. Self-blame coupled with the fear of reprisal often compels women to remain silent in the face of abuse. (It's worth noting that for almost 100 years, many black American women have courageously fought for bodily integrity against white perpetrators. Read At the Dark End of the Street for more.) As women rally to support each other and seek justice, we will, hopefully, end the code of silence that has served to protect perpetrators.
Along those lines, authors and activists Belinda Bauman and Lisa Sharon Harper initiated #SilenceIsNotSpiritual and succeeded in gathering more than 4,000 signatures from a wide variety of women. The statement reads in part,
This moment in history is ours to steward. We are calling churches … to end the silence and stop all participation in violence against women. We call our pastors, our elders, and our parishioners who have been silent to speak up and stand up for all who experience abuse. There is no institution with greater capacity to create protected spaces for healing and restoration for survivors, as well as confession, repentance and rehabilitation for perpetrators.
#MeToo, #ChurchToo, and #SilenceIsNotSpiritual all reinforce the message to those in power that regarding the mistreatment of women and children, they can no longer count on us to be quiet. We will raise our collective voices and bring change.
How Can We Broker This Change?
As women leading in the church, we have at least some power to bring about this change. While pastors and other governing leaders can address the systemic issues that permit and perpetuate rape and other misogynistic practices, even those of us who are on the ground floor with survivors have a job to do. The initial momentum and companionship that galvanized women and provided sufficient courage to help them find their voice will not be enough to sustain them as fear, doubt, and disturbing memories flare up. Any woman who longs for healing will likely have years of hard work ahead of them. Every church should be poised and waiting to become a meaningful part of their journey.
1. Foster a safe environment.
Within some churches, people in power (often men) either dismiss the allegations or blame the victims by questioning their clothing choices, their lack of wisdom, or their reputations. This exacerbates the horror of the crime and unhelpfully shifts blame from the perpetrator to the victim. It is an unacceptable response. If a church wants to walk alongside these women, the leadership must foster an environment where victims feel safe bringing their stories. Safe spaces are characterized by a willingness to listen, believe, and extend empathy to the victims. The first step should be for the preaching pastors to acknowledge that sexual abuse victims are sitting in the pews and that their stories are important. Leaders should communicate from the front, to the church at large, that any comments or attitudes that reveal callousness, disregard, or lack of empathy for these victims will not be tolerated. You might even choose to identify and escort known perpetrators. It's also important for churches to review their policies around reporting and handling allegations within the church. (Don't forget about training people who work with children, too.)
2. Establish avenues of care.
Next, in order to care for these women, we will need to establish specific venues that provide opportunities to process and heal. This might take the form of a weekly group led by a female therapist or trained lay leader where women can honestly and vulnerably talk about what happened. According to Sheila Wise Rowe, Boston area therapist and author, "Because of the intense and damaging nature of abuse, generic groups and well-intentioned but unskilled leaders may end up doing more harm than good. At minimum, all churches should provide vetted counseling referrals and if possible, send a staff member or lay leader to training that is focused on helping sexual abuse victims." One great resource for this kind of training is the The Allender Center. You could also enlist the help of local counselors and therapists to train your staff and key leaders in this area. Healing from sexual trauma cannot be rushed and seldom happens quickly. We must resist hurrying victims or implying that they are taking too long.
3. Work toward forgiveness, but not necessarily reconciliation.
Ultimately, victims of sexual trauma will need to move toward forgiving their perpetrators. We know from Jesus that forgiveness sets us free, so we should gently guide people in this direction. We cannot prescribe when this should happen, and we need to make sure that they know forgiveness does not necessarily mean that they will have future contact with those who abused them. In particular circumstances, some women have felt led by God to extend forgiveness face to face, but this is not normative nor should it be expected.
4. Recognize your limits.
The support that we and the church can offer will sometimes be insufficient. Rape, ongoing harassment, and all forms of sexual or physical violence leave deep scars that can cause severe trauma. If the women you are serving experience panic attacks, slide into depression, or engage in any kind of harmful behavior, help them find professional help. Additionally, according to Wise Rowe, "If you are also a sexual abuse victim, you may find that some stories trigger your own memories. When that happens, do not hesitate to attend to your pain. We can and should always pray but we may need to refer the victim to someone else." This is not an indication of your failure, but a sign of wisdom.
Walking with victims of sexual abuse is a sacred journey. As their secrets are finally disclosed and their shame begins to diminish, we can help these women own the truth that they are not only accepted by Jesus, but deeply loved. When they believe and accept this, they will no longer be defined by their pain or the sins committed against them—they will be free indeed (2 Cor. 3:17).

Dorothy Littell Greco is an author and writer living outside Boston. She is a regular contributor to WomenLeaders.com and CT Women, and a member of Redbud Writers Guild. She is the author of Making Marriage Beautiful.