Rob Ford: The Good City's Bad Mayor
Toronto's tolerance gets tested by Ford's embarrassing antics.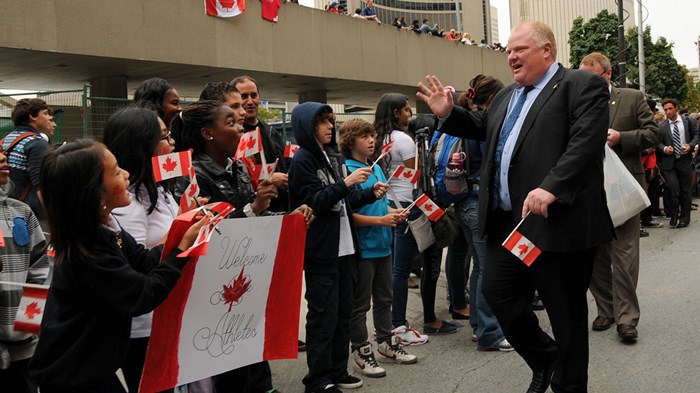 Image: shot7photos / Flickr
If you watch any late-night television, you know the name Rob Ford. Mayor of Toronto, Ford recently revised months of denials and admitted what the press and police already knew (and had on tape): Yes, he'd regularly drunk too heavily. Yes, he'd smoked crack cocaine while in office.
Americans don't typically follow Canadian politics, but a crack-smoking mayor is scandalous enough to draw attention. What is happening in Toronto? my American friends ask. What is up with your mayor?
I won't pretend to fully get it. As an American who moved to Toronto months after Ford took office in 2010, there is a sensibility in this city that isn't mine. I'm a stranger to Toronto's history, an outsider to its politics. Still, I'm an avid observer and find this a fascinating cultural moment.
Since 1898, Toronto has held the nickname "Toronto the Good," coined in a book by C.S. Clark. The city earned the label for its benevolence and broad-mindedness. It was a city to be esteemed for being "liberal in matters of opinion." Toronto still lays claim to its moniker. We are a good city: good because we are environmentally conscious, good because we are unapologetically tolerant, good because our cultivated gentility drives both a law-abiding and mind-your-own-business nobility.
And now, the good people of Toronto—embarrassed and fed-up with Ford's behavior—are actually powerless to remove their leader from office. But maybe ...
1