Why We Love 'Add a Word, Ruin a Christian Book'
Talking Jesus jokes and Internet culture with hashtag-maker Rachel Marie Stone.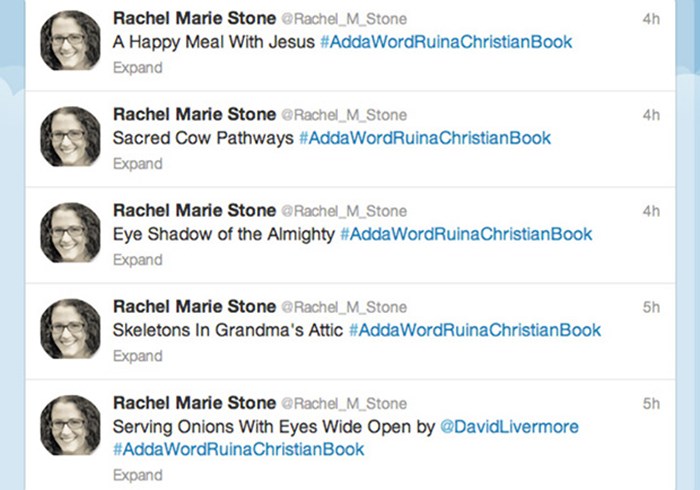 Her.meneutics writer Rachel Marie Stone began the hashtag #AddaWordRuinaChristianBook Monday morning. By that evening and late into the night, it became the No. 1 trending topic on Twitter in the U.S., with Christian leaders, authors, and bloggers joining in the online fun.
#AddaWordRuinaChristianBook is exactly how it sounds. Thousands of Twitter users inserted a new word into a popular Christian book title to change its meaning, then shared their new titles along with the #AddaWordRuinaChristianBook hashtag. (For example, in Rachel's honor, Annie Dillard's Teaching a Stone to Talk becomes Teaching a Rachel Stone to Talk.)
The results were ridiculous, clever, silly, and creative. In other words, they were just what the Christian Twittersphere needed, she said.
Trends like #AddaWordRuinaChristianBook may be short-lived and fun, but they also "require sense of religious literacy and tell us about popular opinions" among people of faith on social networks, according to Heidi Campbell, director of the Network for New Media, Religion and Digital Culture Studies at Texas A&M University. Religious memes, she says, are actually a clever 21st-century religious pursuit.
Stone—the author of Eat With Joy and a Presbyterian missionary living in Malawi—talks about her hashtag-gone-viral in a quick Q&A. Read all the way through for some of our favorite "ruined" Christian book titles, and suggest your own in the comments.
1