When Black Victims Become Trending Hashtags
African Americans are speaking out against modern-day racism. But who's listening?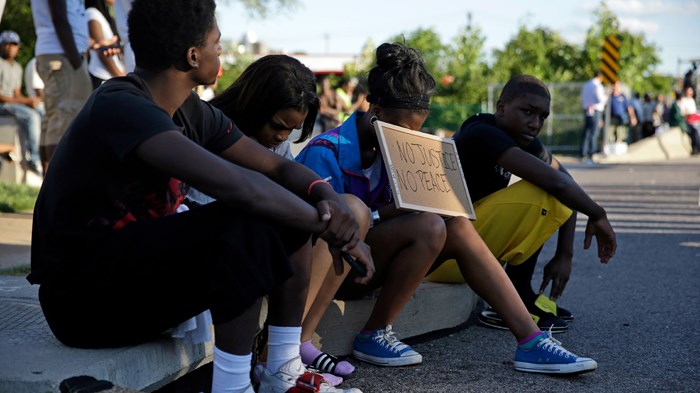 Image: (Jeff Roberson / AP)
By some measures, every 28 hours, a black man is killed in America.
This statistic rang true as I turned on my computer Saturday evening, scrolled through my Twitter feed, and saw #Ferguson, #MikeBrown, and other references to a police shooting where an unarmed teenager was killed in suburban St. Louis. I opened another browser window to search, and my worst fears were confirmed: another black teenager lost his life as a result of racial profiling. Another son, another brother, another friend lost due to police violence.

#MikeBrown is the latest victim of racial profiling in America. Days before him, there was #JohnCrawford, and before Crawford, there was #EricGarner, #RenishaMcBride, #JordanDavis, #TrayvonMartin, and #OscarGrant. In 2012 alone, at least 313 men died as a result of the extreme targeting. Lynching may be outlawed, but Jim Crow still exists.
Decades ago, or even years ago, names like #MikeBrown would have been buried in news briefs and death notices, if even mentioned ...
1