If a Brand-New Christian Women's Conference Goes Viral, Then What?
The story behind the success of the IF: Gathering.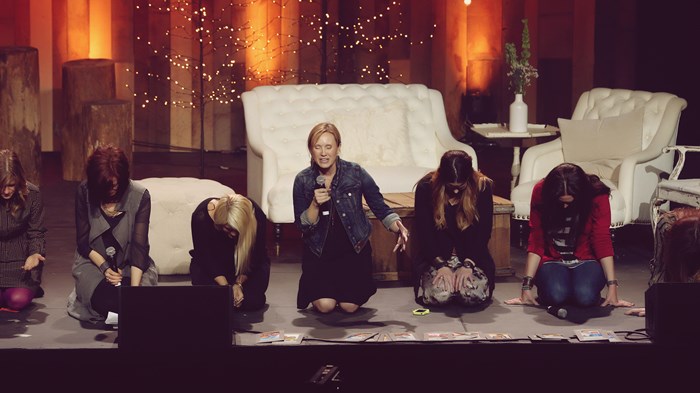 Image: Moxie Collective
Ask author and Bible teacher Jennie Allen how she came to create the most popular interdenominational Christian women's event in years, and she'll stumble to answer.
Ask how she gathered tens of thousands of Christian women—live in Austin, Texas, and online across the globe—around the idea of pursuing spiritual calling, and she won't have the words.
Like the people who witnessed miraculous outcomes in the Bible, all Allen can do to explain the success of last weekend's IF: Gathering is point to the work of the Holy Spirit. "The whole thing has been completely unexpected to me," she said. "It felt like fish and loaves."
The first-time event had a vague premise—If God is real, then what?—and no speaker lineup when announced this fall, but sold out in 42 minutes, forcing organizers to coordinate local watch parties across the U.S. and 22 other countries to accommodate interest.
During the simulcast over the weekend, 40,000-plus locations streamed the women's conference, while 1,200 people attended the event at the Austin Music Hall—pumped with worship songs and decorated with crafty, Pinterest-inspired details: farm tables, mason jars, and strings of twinkling antique lights. #IFGathering trended on Twitter throughout the weekend, ranking among the top hashtags used around the world.
The two-day event featured discussions of calling by women across workplace and ministry settings, plus biblical teachings ...
1