What Happened to Wedding Vows?
Marriage requires a stronger foundation than just cutesy promises.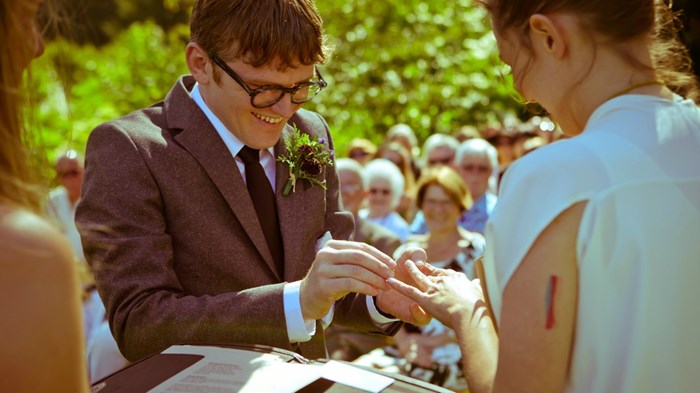 Image: kris krüg / Flickr
If you've attended many recent weddings, you've likely heard brides and grooms exchange promises that deviate from the traditional vows taken from the Book of Common Prayer.
More and more couples alter the traditional lines or write their own —going along with the Pinterest-fueled movement to personalize nearly every element of the wedding day. They'll stand before witnesses to pledge things like:
"I will always peel your clementines."

"I promise to support your coffee habit."

"I vow to be on time."
As I researched marriage trends for A Christ-Centered Wedding—the book I co-wrote with my mom, Linda—I noticed a strong desire among today's brides and grooms-to-be to express themselves uniquely, to include inside jokes and specific references throughout.
Some churches, though, resist their efforts, requiring traditional vows to preserve the sanctity of the ceremony. When couples are excited about the fun and fanfare of their wedding day, these kinds of rules can seem overly rigid. But when we consider the long-term significance of those solemn words, it makes sense.
Even those outside the church recognize the correlation between vows and our understanding of marriage. More than light-hearted statements on deferring to one another's preferences, vows are the cornerstone of a wedding ceremony—the promises that bind together the bride and groom.
At my college reunion, I met up with friends ...
1