The Pro-Life Call to Remember our 'Old Acquaintance'
Seeing the aged as a blessing rather than a burden.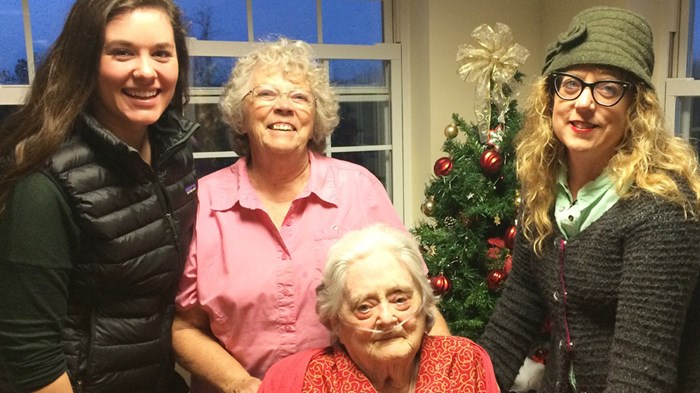 Image: Courtesy of Karen Swallow Prior
As we bid farewell to the year now past and usher in the new with the singing of "Auld Lang Syne," let us not forget those who've seen the passing of many years.
Such "old acquaintances" remain with us longer and in greater numbers. America's 40.3 million citizens aged 65 and older comprise 13 percent of the population—12 times as much as in 1900, when seniors made up only 4.1 percent. The proportion of seniors is expected to grow even more, reaching 20.9 percent by 2050, when an astonishing 19 million of the elderly in 2050 will be aged 85 or older.
But sheer statistics won't ensure vibrant places for seniors in society. Our oldest neighbors too often live on the sidelines, either in institutions or by themselves. Over 5 percent of the aged reside in nursing homes, assisted living facilities, or other commercial settings. More than a quarter of the rest—and nearly half of those over 75—live alone.
"In our culture today death and dying has become nearly invisible as it has moved out of the home and into institutions," said Charmaine Yoest, president and CEO of Americans United for Life, by email.
The elderly will have an economic impact on the rest of us, as an aging population produces a rise in the "older dependency ratio." Once the Baby Boomers all reach retirement age, experts predict there will be "fewer than three people of working age (20 to 64) to support every older person." ...
1