This MLK Day Feels Different
A reflection on recent tensions and a renewed sense of hope.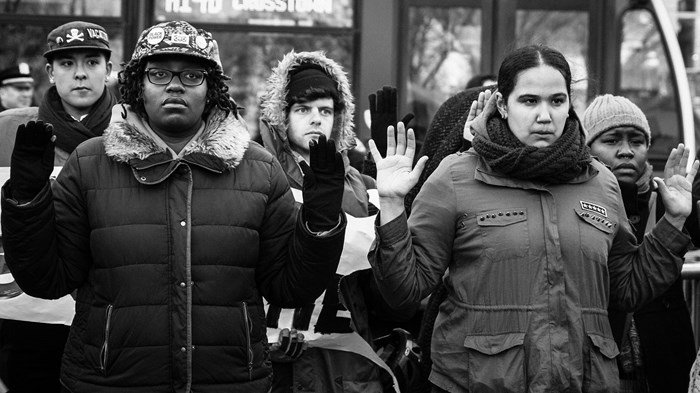 Image: Graeme Stoker / Flickr
Driving home in the early evening darkness, we were talking about how much hadn't changed with race relations in this country, following the exoneration of police officers accused of killing unarmed black men in Ferguson and Staten Island.
Suddenly, I had the sensation of falling through a wrinkle in time. I have lived in a small town in upstate New York for nearly 30 years and have loved the old-fashioned civility of the people and the quiet country pace. I have never felt unwelcome here, despite being one of only a handful of African Americans.
But my fiancé, who grew up in Brooklyn's Bedford-Stuyvesant neighborhood, is less sanguine. He waits to pick up mail after pickup trucks with gun racks pass. I felt like we're a black couple during the height of the civil rights movement, with little corners of fear curling in on a once-peaceful existence. America's racism has spent decades in the dark, but in the years since the election of our first black president, more of its systemic disparities have come to light (Luke 12:2-3). It feels like falling through time.
That's what I thought when I saw the movie Selma last week, watching David Oyelowo as Martin Luther King Jr. I was in second grade when the events depicted in the movie took place. I can remember writing a big 7 on the chalkboard for my birthday in September. Months later, and hundreds of miles away, civil rights leaders led thousands to march for voting rights.
For many ...
1