Is This What Love Looks Like?
Parsing mixed messages about the heart of marriage.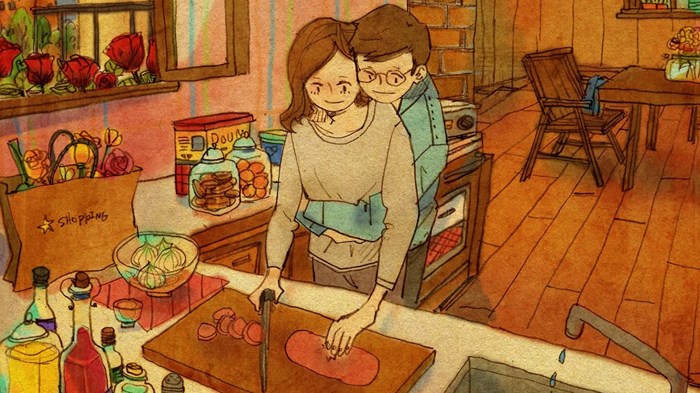 Image: Puuung1 / Facebook
In a series of illustrations entitled, "Love is…" Korean artist Puuung attempts to "find the meaning of love in our daily lives." Her vibrant sketches of amorous couples are homespun, pure, and familial. Lovers dance barefoot in their high-rise apartment. She trims his hair. He ties her shoes. Isolated from the bustling city pictured beyond the windowpanes, the couples indulge cloistered, innocent pleasures of shared books, afternoon naps, and steamy mugs of coffee. Only the cat bears witness.
Is this love?
I've heard the same question from my single friends, who are routinely given to premarital panic. Their fears betray our cultural anxieties about marriage. As one recently engaged friend related, she has been warned, "Enjoy the engagement—because this is the happiest you will ever be."
My husband and I have been married nearly 20 years, and because we live in a city (and attend a church) teeming with young, professional singles, we're ...
1