God, Are You There?
Even in our poverty, God always seemed to provide.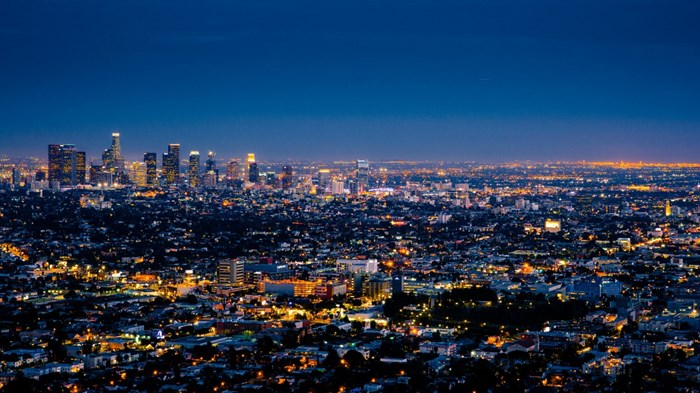 Image: HENNING WITZEL / UNSPLASH
I am the reflection of my people, those émigrés who believed in the intrinsic rights to life, liberty, and the pursuit of happiness. My mother's family moved to the United States from Puerto Rico. An immigrant herself, my mother fell in love with an immigrant from Mexico, and the two stretched into creating a life in the concrete jungle of East Los Angeles.
My father supported our family by working multiple jobs. Whether it was laying tile, cutting down trees, or working as a cook in the cafeteria of Azusa Pacific University, he did what he could to provide for our family. But feeding a family of six on one income—especially one as meager as my father's—was hard, and we needed a straight-up miracle to make ends meet. And because of our large family, we often needed a Jesus-feeding-the-masses-with-five-fish-and-two-loaves type of miracle.
The call to ministry runs deep in our family, and when my father planted a church in Montebello, the whole family chipped in. His dream became our dream and we committed to loving people in our community. Most people avoid the ghetto, but my parents desired to create an oasis of hope amidst the streets of East L.A. It was difficult and burdensome, but my parents served the church well. I watched them juggle the responsibility of leading people, providing for their family, teaching God's Word, and raising their children (and all the other crazy kids of church).
In those early years of church-planting, God provided in amazing ways. We were not millionaires, we didn't own a house, we didn't even have a car, but we were in the presence and fullness of God and knew that was far greater than three gourmet meals a day in a mansion with a Bentley in the garage.
My Greatest Fear
Amidst the tension of want and need, we knew God would provide. Life was beautiful, but difficult; difficultly beautiful, I suppose. Through taunts and jeers I was often mocked or marginalized for my lack of stylish clothes that some of my friends from church had. I remember being in Sunday school and all the cool kids were decked out in their LA Gear shoes and trendy clothes. I dreamed of being popular and cool enough to sit with LA Gear Crew and begged my mom for a pair of the stylish sneakers, but I was told, time and again, we could not afford them.
I kept hope alive for those shoes, and one magical day at Pic-n-Save, I spotted a pair of white, studded, triple-laced Michael Jackson LA Gears on an empty shelf. These shoes were the living dream of what I imagined cool people to wear and they were in my size. It was as if the celestials had opened; Michael the archangel moonwalked down from heaven and placed the coolest shoes on the clearance rack just for me.
I ran back to my mother and told her I would never ask for anything else as long as I lived if she bought the shoes for me. Holding my breath, I silently prayed my mother would say the shoes were within our budget. That day, I walked out of Pic-n-Save carrying a white plastic bag and feeling as rich as Michael Jackson himself.
On Sunday, I wore my brand-new shoes and walked over to where all the cool kids hung out. I thought they would accept me, that I'd have the opportunity to hang out with them because I finally had what they had. But the seats weren't open for me and the girls said I couldn't sit with them. I was devastated. I walked in my white, studded, triple-laced Michael Jackson LA Gear shoes to an empty table and sat alone revealing my greatest fear: I would never have what I needed; I'd never be what I wanted to be.
A Small Miracle
We knew poverty, the sting of not being socially accepted. But God always seemed to provide. One particular day, when the fridge was empty and the pantry bare, my mother pulled out a large piece of butcher paper and taped it to the kitchen door. On the top of the page, she wrote in thick, bold letters "PRAYER LIST." With earnest humility and brazen faith, she told us that we serve a God who hears our prayers and answers them in his perfect time.
She each gave us each a marker and told us to list what we needed.
Grandpa's salvation
A car
Food
A building for church
Outfits for Easter (This was mine. Obviously.)
As the list grew, we poured out prayers for each need. We bowed our heads, closed our eyes, and asked God to provide for us like he provided for the children of Israel. We knew God provided water, manna, quail, and daily provisions while the Israelites were in the desert. Why couldn't he do the same for us?
That very afternoon, one of our neighbors stumbled onto our front porch with a heavy box of bread, government-issued cheese, yogurt, and butter. My mother graciously received the box of food and thanked our neighbor profusely. As she shut the front door, the heavy box slipped from my mother's weary arms and she pulled us around the dining room table. She pointed to the prayer list and said, "The Lord has heard our prayers! See? He's already answered us." Her belief unwavering, she instilled in us the faith only gained through experience, won through battle, revealed through perseverance.
We watched as our mother lathered butter on bread slices and laid them on a sizzling, hot pan. She cut pieces of cheese from the five-pound block and laid them atop the grilled bread. The butter sizzled and filled the kitchen with an aroma so delicious, I'm almost positive Jesus himself would have salivated over her culinary masterpiece. She took the sandwiches from the pan and placed them on our plates. The cheese oozed from the corners of the bread's crispy edges as my mother cut our sandwiches into triangles. Then, holding hands, we sat around our dining room table across from our prayer list and thanked God for hearing us in our time of need.
Taste and See
The prayer list (which was eventually answered in full), the faith of my mother, the grilled cheese sandwiches, the kind neighbor, the marked moment of gratitude around our table, it all came together perfectly like the butter, bread, and cheese to form something delicious. Psalm 34:8 says, "Taste and see that the Lord is good." And let me tell you, his provision tasted better than buttery carbohydrates!
Whether it was donated food boxes that mysteriously showed up on our porch, or hand-me-down clothes from people at church, or anonymous cashier's checks mailed to our house, our needs were always met by a God who heard our cries. I watched as God provided in a supernatural ways. There was a message in those miracles: God provides what we need when we need it.
Taken from Play with Fire by Bianca Juarez Olthoff. Copyright © 2016 by Bianca Juarez Olthoff. Used by permission of Zondervan. www.zondervan.com. For more information, check out PlayWithFireBook.com.