Q+A: Inside Edition's Megan Alexander on 'Faith in the Spotlight'
The popular journalist shares about staying true to her faith in the TV news industry.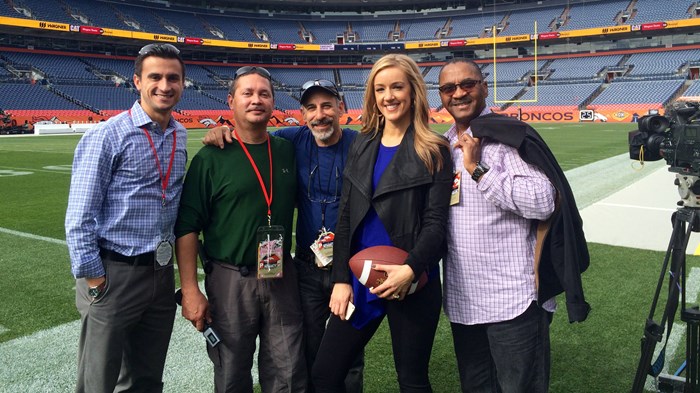 Image: Howard Books
When she received an offer to cover the NFL in 2014, journalist Megan Alexander had no way of knowing that she would be reporting one of the sports' world's biggest stories of the year on her very first day at work. Footage had been leaked of Baltimore Ravens' player Ray Rice knocking his then-fiancé (now wife) Janay Palmer to the ground in an elevator. But Alexander, who by then had several years of reporting for the CBS daily news magazine Inside Edition under her belt, didn't flinch.
"I thrive on adrenaline," says Alexander. "The adrenaline kicked in and we got going with the recording. There were a few moments that night when I closed my eyes and said, 'Lord I know I can do this. I know you've given me the skills to do this tonight. I need you to help me do that.'"
Part of Alexander's confidence that night came from years of committing herself to excellence and establishing a strong reputation among her media colleagues. In fact, Alexander sees this dedication to her career as a key to being taken seriously by her colleagues, and by extension, having her faith taken seriously.
"I want to be known for doing excellent work. That's my passion," she says. "Take a seat at the table. That's what our approach should be. Be reliable for your colleagues, teammates, and team."
Alexander, who recently released Faith in the Spotlight: Thriving in Your Career While Staying True to Your Beliefs (Howard Books), splits her weeks between New York City and Nashville, where she lives with her husband, Brian, and their two young boys. Alexander has picked up a number of acting credits over the years and routinely interviewed Donald Trump during his days on Celebrity Apprentice. She recently spoke with CT about sharing about her sex life on national television, why she sees getting dressed up and taking care of herself as part of her television "uniform," and why she relates better to the men at church.
I'm really interested in how your faith has played out in your work. You tell a story in your book about a decision, early in your career, to publicly disagree with your cohost on air about Hugh Hefner.
I used to be on a talk show in San Antonio and in this particular instance, everyone was praising Hugh Hefner. I didn't have the popular viewpoint. I certainly felt outnumbered, but I had to go for it. I didn't think about it too long. I said, "Oh my gosh, I'm really not a fan of this man and his business." For me, this was about, "What am I going to stand up for?" If my personal views are different than the mainstream, how am I going to react in that moment?
I respect other people's viewpoints, and I was pleasantly surprised that they respected mine. Sure, my opinion wasn't the norm, but I don't think there's a big media conspiracy that tries to keep faith off of the airwaves. It's just that people with my particular viewpoint or faith aren't in those positions of influence.
When have you felt most nervous about sharing your convictions on air?
When my husband and I went on Inside Edition and shared about our decision not to sleep together before we got married. I was apprehensive that it [wouldn't] be received well. The older generation—my parents and my husband's parents—they're from a generation of, "We don't talk about this on live television." But my generation and the millennials—we have to talk about it. We want to be transparent. I thought, "Look, if it encourages one person, it's worth it." Abstinence is an option that I want people to know is available to them. I don't think people even know it's an option anymore.
How did it come about?
I wrote a story for a Christian women's magazine that wanted to do a cover on somebody in entertainment and media who believed in abstinence, and they couldn't find anybody. (Laughs.) They called my pastor's wife in New York and asked her if she knew anyone, and she asked if I would be willing to do this. Once the magazine came out, I left it on my Inside Edition boss's desk with a Post-it note [saying], "Hey, head's up. I'm in this magazine." (If we're doing something big, we try to keep him abreast.) I expected him to say, "Okay," and toss the magazine aside. But he called me that night and said, "Hey, I read the article." He's not necessarily a believer. He said, "I'm a father of girls. I love that this is about girls valuing themselves and valuing their bodies. It's a compelling story that's unusual these days. How do you feel about sharing your story on Inside Edition?"
I included my decision about abstinence in the book because although the book is 90 percent about career, I wanted to encourage people that a personal decision you make, especially regarding your faith, can end up playing out in your professional life. It can also be an opportunity to encourage other people and be a part of their testimony.
To what extent do you feel that your faith opens you up to scrutiny by others in the industry?
I work in the fast-paced, crazy world of news media. There's not a lot of time to inspect each other—we're so busy chasing the story. (Laughs.) I get a few questions from colleagues about why I decided to share my abstinence story or why I decided to write the book. They're intrigued because it's not the norm these days to be going to church. That's something their mothers did.
I wouldn't say that I am scrutinized more, though. I feel like my colleagues know me as "Megan the reporter" first. I've worked for Inside Edition for eight years, and it was four years before I even started sharing this publicly about my faith and my personal decisions. That's why my approach is to do good work first. Be known for that. Then let your faith come out in small moments and conversations down the road.
You work in an industry that is focused on appearance. What's that like?
I knew what I was getting into when I got into this image-driven business. I knew that I needed to look nice on camera. I knew that I needed to take care of myself. I needed to go to the gym. That's part of the job. I know that getting dressed and doing my hair and makeup—that's part of the uniform. We all have uniforms for our jobs. Beyond that, I'm performing for an audience of one, which is the Lord, and my focus needs to stay on him while also balancing the needs of the job.
I don't have it all figured out. It's a great conversation for young girls. I want them to know that I have days, like anybody else, when I compare myself to others. But I also got [acting] jobs because I did not look like everybody else, so I want to encourage other girls—don't ever think you need to change. I have gone to auditions where people have said, "Don't go to the audition. You're never going to get this. You're not at all what they're looking for." I showed up and the casting director was like, "Oh, you're not we thought of for the part, but I like your look."
Many people ask me: Have I ever felt that there is too much focus on image on the job? Well, I had two babies [while working] on Inside Edition. I worked all through my pregnancies with my big, ol' belly. I was doing interviews when I was eight and a half months pregnant. Things are easier than they used to be for women in the industry.
How do you and your husband divvy up parental responsibilities?
We throw that word balance out the window. We are constantly juggling. I'm flying to New York every week for work and around the country for different stories. My husband tends to stay at home with our two boys. I encourage young people: Figure out what works for you. Be open. Be flexible. Be creative. Some days I'm all career. Some days I'm more mommy. We've come to a good place, and we're constantly checking in with each other about this.
In the church, we are lacking a conversation about creative roles for families where the woman has the big job and is traveling. There are not enough resources in the church for working women.
Did you have this arrangement with your husband when you got married, or is it something you've hashed out together every year?
My husband, Brian, knew that I was very ambitious, and when we got engaged, we talked about our careers. He said to me, "Your job is going to take the lead. You're going to take the lead in our family. That's a great thing."
Every couple needs to check in with each other. Don't worry about the master plan. That's putting too much stress on yourself. We knew that my job was going to require a lot of travel, and we were good with that. I wanted to push off having kids for a while—I didn't have my first kid until age 30. My husband may have wanted to get started sooner, but he knew I wanted to go after my career in my 20s, and he was okay with that.
Have either of you gotten any flack, since you're the primary professional and he's the primary caretaker of your sons?
Support has been limited. There are times in churches when I have felt more comfortable talking to the guys who are on the road all the time. Sometimes I have felt a little out of place—there is not as much support or resources for [nontraditional] couples—although the conversation is getting better.
At a lot of churches, the women's Bible studies are during the day, when the kids are in school and moms can get together, and the guys' Bible studies are super early in the morning before work or late at night. I can relate more to the guys, and because of my job, I sometimes have trouble figuring out how to get involved with women's ministry at church. For that exact reason, my friends and I who all work for media in New York City started our own Bible study. We thought, "Let's do it ourselves."

What is the biggest regret of your career?

I really don't have any big regrets. Have I made mistakes? Tons! Have I had disappointments? Of course! But I always try to learn from them and move forward. I am fiercely optimistic and passionately believe we must look at life this way or we will be derailed, especially in the cut-throat world of media. Paul encourages us in 2 Timothy 4:7, "I have fought the good fight, I have finished the race, and I have kept the faith."