Is It Okay for a Christian To…?
Replacing our frantic Googling with God's peace.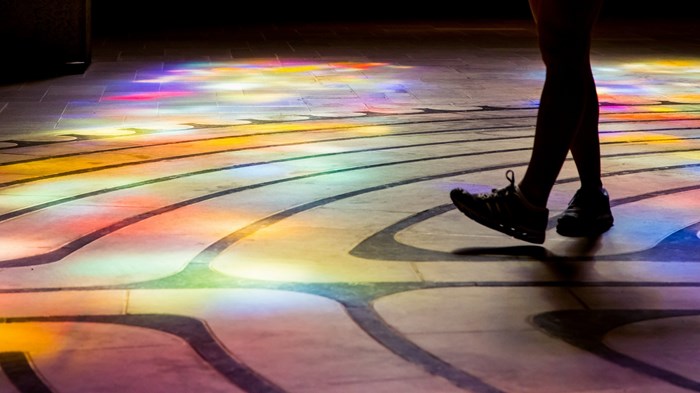 Image: GPS / Flickr
I'm walking a labyrinth—feeling slightly guilty about tiptoeing into mysticism—but mostly enjoying the sunshine.
I'm at a journal-writing certification course near Denver. It's not a Christian event, but the participants—women all—are open-hearted and friendly. A group of us have bonded, and we are taking a break to walk the on-site labyrinth.
We feel like we need it. The world is still angry. TV news can still sounds ridiculous. Many politicians, too. But the weather is great. Walking a labyrinth seems an ordinary way to turn from the digital noise.
Writing that, I know folks who disagree are already pounding their keyboards in the comments section. Apostasy.
Outside, however, it's a sunny day and God is calling me outdoors. Moreover, we're in Colorado, where I was raised and still live—and where such woo-woo elements such as walking a spiritual path, literally, aren't so unusual. Still, I'd never actually seen a labyrinth, let alone walked one. I'm surprised, therefore, to find it so simple and, well, pedestrian.
Set on the grass at the Loretto Spirituality Center, former site of a Catholic women's college, this labyrinth is an underwhelming flat circle of paved concentric flagstones. The whole thing is barely 20 feet across and we, as new friends, chat and laugh as we enter the labyrinth and walk the path.
Later, I find myself asking: Was walking that labyrinth orthodox? A Christian thing to do? ...
1