Get Yourself a Girl Squad
The powerful witness of befriending the competition.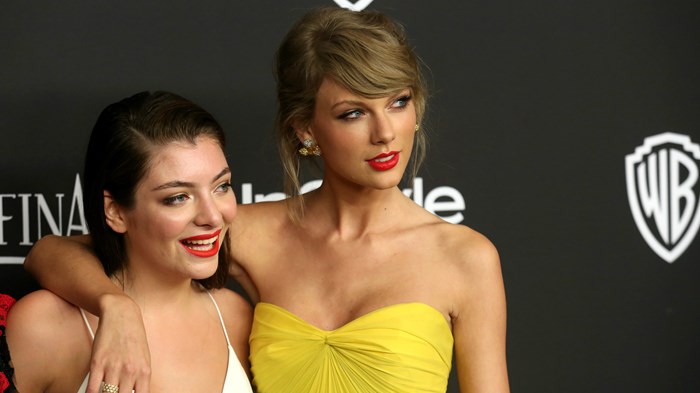 Image: Matt Sayles / Invision / AP
Last month, legendary singer-songwriter Carole King was recognized at the annual Kennedy Center Honors. In tribute, Aretha Franklin sang "(You Make Me Feel Like) A Natural Woman," a song King wrote for her nearly 50 years before.
During the performance, King—seated next to the Obamas on the balcony—bounced with joy, her mouth agape, cheering with excitement as Franklin belted out the well-known anthem. Her sincere enthusiasm for the fellow singer was inspiring, and the clip has since gone viral.
King and Franklin are the same age, both powerhouse singers from the '60s and '70s. Franklin epitomizes our notion of a diva—not only for her talent, but also for reportedly snubbing certain fellow female singers at various times throughout her career. And while the music industry will always have its girl feuds and rivalries, I think we've finally started to get over the idea that successful women must be in competition with one another.
Feminist podcasters and best friends Ann Friedman and Aminatou Sow coined the term shine theory to describe a win-win approach to female friendship: "I don't shine if you don't shine." Friedman posits that it's time to stop seeing "intimidatingly witty, stylish, beautiful, and professionally accomplished" women as competition and start teaming up with them. We want strong women in our corner, mutually benefitting from the "associative property of awesomeness."
In other words, don't let a successful colleague or acquaintance make you feel insecure. Deliberately seek her out and build a relationship with her. Celebrate her achievements. Learn from her.
Taylor Swift's "squad" serves as a prominent examples of this, as the pop star recruits inspiring women to hang with and perform with. Some of them are fellow 20-something actresses/singers/models, but others are women she sought out: Girls' Lena Dunham, Law and Order: SVU's Mariska Hargitay, and Barefoot Contessa Ina Garten. Swift isn't afraid to share the stage with fellow artists; she had dozens of stars join her during her recent 1989 tour, from contemporaries like Lorde and Miranda Lambert to legends like Mick Jagger and Mary J. Blige.
Rather than call out other women as competition, Swift said this to TIME magazine, basically summing up shine theory in her own words:
I refuse to buy into these comparisons, because you don't see it happening to men. All you seem to see is "Which New Mother Is Sexier?" "Who's the Hotter Mama?" "Who's Got The Better Booty?" If we continue to show young girls that they are being compared to other girls, we're doing ourselves a huge disservice as a society.

I surround myself with smart, beautiful, passionate, driven, ambitious women. Other women who are killing it should motivate you, thrill you, challenge you and inspire you rather than threaten you and make you feel like you're immediately being compared to them.
Some scoff at Taylor Swift's "girl squad" as an effort to seek status and recognition through celebrity affiliations. But that's not a just Hollywood thing, nor does it have to be a negative one. Many of us—especially in media—depend on our networks for our careers (and, let's be honest, our sanity). On social media, "you are who you know" has become "you are who retweets you." Yes, we become known for the people we are publicly affiliated with. Given that Internet-era reality, we should be intentional about finding the friends, colleagues, and collaborators who we're excited to promote and who bring out the best in us.
Besties Sow and Friedman, a New York magazine columnist, delivered a keynote address on shine theory for the Online News Association. Their advice: Invest in a core group of people the way you invest in yourself. Celebrate each other's successes. Elevate lesser-known voices. Enhance each other's brands by working together.
The "when I shine, you shine" philosophy can come across as another articulation of Lean In or "we ladies have to stick together," but I see something unique here. It's not enough to simply resist seeing other women as a threat and want to see them succeed. We also serve each other well when we seek relationship out of genuine admiration (not mere flattery or our own ambition). Friedman likens it to a crush. It requires intentionality and action.
Critics of shine theory worry that this approach further champions success, recognition, and reputation to the exclusion of women who may not have such attributes. Certainly many Christians would share similar concerns. But this kind of networking is not a popularity contest. I see shine theory as an encouragement to identify the potential in people around you; cheer them on; and make a point to acknowledge the importance of your partnership.
This philosophy appeals to me because it champions community and relationship. I've seen it work among the little network we have going here on Her.meneutics as well as among women I've met through school, conferences, and random Internet intersections. Lest we take these connections for granted, we should keep reminding ourselves and each other how crucial these friendships are—not just to our careers, but also to our wellbeing. These aren't merely people to blurb our books or endorse us on LinkedIn, but friends who will have our backs as we pursue our passions.
This attitude resembles the "rejoice with those who rejoice" instructive we read about in Scripture (Rom. 12:15). More than that, it underscores a healthy understanding of the kingdom of God as a place of abundance rather than competition. Seeing others succeed—get the guy, the job, the award, the house—doesn't mean there is less for me, but instead gives me reason to high-five my pal… praise God for his goodness.
An Eastern Orthodox priest put it this way:
If the earth is the Lord's and the fullness thereof (Ps. 24:1)—if every good thing comes from God who is without limit—then scarcity has been defeated and abundance reigns within the kingdom of God, now and always. In this abundance there is not just enough, but more than enough. I can share. I can give. I can love without fear that there will be too little to go around. The abundance enjoyed by another is not at my expense.
I hope to be the kind of person who freely shares advice, resources, retweets, job leads, and compliments—with the enthusiasm of Carole King on the Kennedy Center balcony—knowing that when people I support succeed, it only adds to my own joy.