Let's Be Honest: Labor Is Trauma
As a doula and a mother, I know from experience that labor requires intense suffering.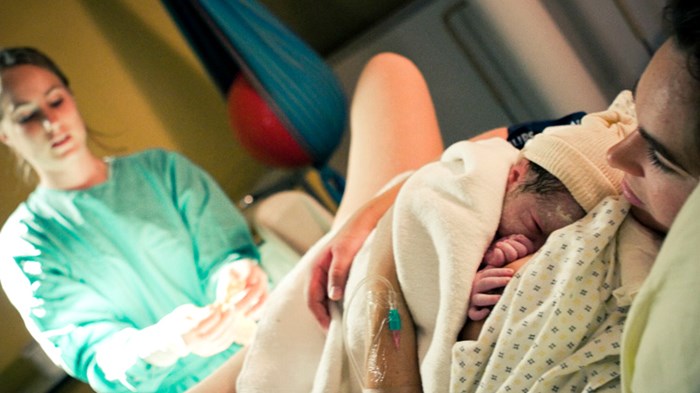 By now, many of you have seen the photo floating around Facebook. In the foreground, a beaming dad relaxes on a hospital bed, holding a capped, burrito-wrapped baby and giving the camera a thumbs-up as he snaps a selfie. Shirtless, her back to the camera, the newly delivered mother stands facing the window, clad only in the disposable underpants and large absorbent pads familiar on the maternity ward.
28-year-old Amanda Bacon posted this image of herself to Facebook last week, calling it "Motherhood Uncensored." In her original post, Bacon said she shared the photo because she wanted to show how "raw, stunning, messy, and freaking hilarious" motherhood is, and because "the realities of postpartum life" are too often taboo.
The post resonated with many and garnered well over a half million likes and tens of thousands of shares and comments, with numerous media outlets covering the phenomenon. "A lot of women were tagging their friends and saying, 'this is what you have to look forward to,'" Bacon told People magazine. "It was really neat, like a bonding experience."
As a doula, I'm all for unashamedly embracing the earthiest aspects of childbearing. There will be blood and other fluids. There will be leaking. Many aspects of childbirth and postpartum life are not particularly pretty. So the enthusiastic response to Amanda Bacon's photograph—with its honest, humorous, and even celebratory take ...
1