MLB Wife Julianna Zobrist: 'Baseball Is All My Kids Have Ever Known'
How the Christian singer and her Chicago Cubs husband keep faith and family first.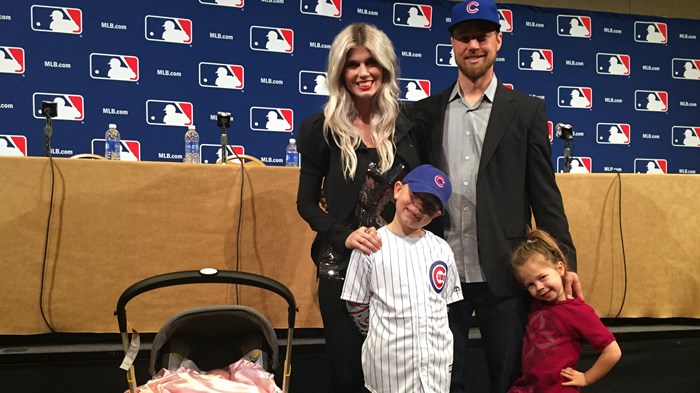 Image: Courtesy of Julianna Zobrist
When your husband and his team win the World Series, you'd think that'd be the most exciting moment of the year for your family. Or at least, the week. But not for Julianna Zobrist—wife of Ben Zobrist, second baseman during the Kansas City Royals' winning season last year.
Just a few days after the Royals took home the title, musician Julianna had her own big victory, releasing her single "Alive." And, after enduring the tension of the championship with a full-term pregnant belly, she gave birth to their third child.
The Zobrists' packed World Series week showcases the twin pressures of career and family for professional athletes—a topic that recently reemerged in the MLB. Last week, Adam LaRoche opted to leave the Chicago White Sox after the club requested he limit the time his son joined him at work. Baseball fans debated if LaRoche's family-first expectations were reasonable. Though fans have also questioned whether players should miss games for the birth of a child, the MLB became the first pro sports league to set an official paternity leave policy in 2011.
With a seven-year-old son, four-year-old daughter, and five-month-old baby girl, the Zobrists are once again heading into a new season—this time with the Chicago Cubs. Over a decade of friendship with Julianna, I've watched her family grow as she and Ben follow their careers in Christian music and baseball. During spring training, we caught up to discuss her ...
1