There's Never Enough Time
What I've learned as a working mother about the limits of time management.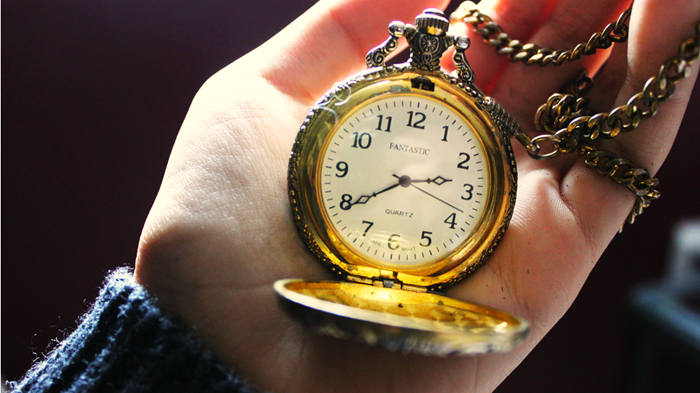 There's more than enough time. At least that's what Laura Vanderkam seemed to discover in her 12-month time-tracking experiment. A full-time working mom of four young children under the age of eight, Vanderkam had every reason to complain of having too little time. But after keeping meticulous record of 8,784 hours, she found "abundance" rather than scarcity.
In her recent New York Times article, Vanderkam explains, "I didn't discover a way to add an extra hour to every day, but I did learn that the stories I told myself about where my time went weren't always true. The hour-by-hour rhythm of my life was not quite as hectic as I'd thought." Vanderkam's log enabled her to see how she'd spent her discretionary time ("327 hours [of reading]") and delivered her from delusions of overwork. (She guessed at a 45–50 hour workweek but it neared closer to 40.) Unwittingly, her time log exposed a comfortable lie: There's not enough time.
Unlike Vanderkam, I have never tracked my time. But I have planned for its meticulous use. I am the mother of five children, who not only insist upon clean clothes and dinner but who are engaged in various extracurricular activities. My husband is a busy executive, so more often than not I run the domestic show alone. Additionally, after more than a decade of caring for my children at home full-time, I have re-entered the work force as a writer and speaker. How do you do it all? I am often asked.
It is easy enough to point to the time management advice upon which I have relied—books like David Allen's, Getting Things Done, which blames mind-clutter as the root of our time anxieties, and Matt Perman's, What's Best Next. I heed Allen's advice to "capture" and pin down my responsibilities, keeping an ever-growing project list. I map my time, following Perman's counsel to schedule priorities rather than fall prey to urgencies.
But to suggest that I "do it all" by waving my time management wand over life's unruliness is to ignore a glaring distinction between me and many other busy mothers: material privilege. When the children were young, I had a breadwinning husband whose ample paycheck allowed me to care for our children at home. Now that I am working again, I can afford regular help with the housekeeping, which offsets some of the stress of the weekly family calendar. And when I travel, I assuage the evening franticness by ordering dinners from a local business that delivers healthy, farm-to-table meals right to my doorstep. Money doesn't buy happiness, but it can buy time—even the self-serving delusion of "doing it all."
Sheryl Sandberg, COO of Facebook, also has resources at her disposal that help with time and task management. The author of the much-discussed Lean In, has recently qualified some of the original assertions in her book. Widowed prematurely by the unexpected death of her husband, Sandberg admits she didn't understands the obstacles faced by single mothers, 35 percent of whom face food insecurity and work more than one job. "I did not really get how hard it is to succeed at work when you are overwhelmed at home," she said recently. What she now recognizes is that leaning in (and time-tracking and time-mapping, not to mention nannies and housekeepers) are opportunities that privilege affords.
"Tell me, what is it you plan to do with your one wild and precious life?" writes poet Mary Oliver.
Oliver understands that all of us—rich or poor—have but one life to spend. The human heart is the clock that eventually winds down. And maybe that is our most essential problem when it comes to time: no matter how ably we manage it, time is running out. Despite our attempts to borrow and save time, manipulate and multiply the hours, they are not plentiful, but in short supply.
Time angst is not reserved for the rich, nor is it a modern phenomenon. Moses prayed to recognize the brevity of life: "Teach us to number our days that we may gain a heart of wisdom" (Ps. 90:12). The psalmist recognized human existence to be as fleeting as grass and as ephemeral as flower blossoms (Ps. 103:15). Even Jesus, who lived long before we measured time in its most incremental parts, understood our greed for more time, and in his Sermon on the Mount, chided the first-century audience for their worry: "Can any one of you by worrying add a single hour to your life?" (Matt. 6:27). Each of us is powerless against the raging river of time that carries our earthly lives to their impromptu conclusions.
As Paul Harding describes in his novel, Tinkers, human beings are like insects crawling over a clock face. We see time at close range but fail to understand the larger design of the cosmos "beyond the fact that there is [a larger purpose], assigned by God and known only to him, and that it is good and that it is terrifying and that it is ineffable and that only rational faith can soothe the desperate pains and woes of our magnificent and depraved world. It is that simple, dear reader, that logical and that elegant."
Time is indeed running out—that is, for everyone but God.
And maybe that is why the Christian faith can calm the nervous tic of time angst. As Moses declared, "Before the mountains were born, or you brought forth the whole world, from everlasting to everlasting you are God" (Ps. 90:2).
Our "times" are in his eternal hands (Ps. 31:15).